Kaldor Public Art Projects (the series that brought Marina Abramovic to Sydney's Pier 2/3 in 2015) once wrapped an entire coastline for #art – so Royal Botanic Gardens must seem like a cinch. Lol, JK.
Jonathan Jones is the artist behind Kaldor Public Art Project #32 (titled barrangal dyara, or Skin and Bones), which has seen 15,000 white shields laid down within the Royal Botanic Garden, to mark out the perimeter of the Garden Palace, a mammoth building spanning 20,000 square-metres that burned down more than one hundred years ago, destroying priceless Aboriginal artifacts housed inside.
Unsurprisingly, the best way to see this in full effect is from above – as this aerial footage, courtesy of Kaldor Public Art Projects, shows:
Ask most Sydneysiders about the Garden Palace, and they'll give you a blank look. The 19th century copy of London's 'Crystal Palace', designed specifically to house the Sydney International Exhibition (the equivalent of Prince Albert's Great Exhibition) in 1879, doesn't exist any more – it burned down in 1882. The site where it stood, in the Royal Botanic Garden, was long ago razed – and memory of the building has all but vanished.
Jonathan Jones first found out about the Garden Palace around 20 years ago, when a search for information about his family led him to the Australian Museum's collection. He discovered that the Palace's store of Indigenous cultural objects (including those of his Wiradjuri and Kamilaroi ancestors) had been destroyed in the fire. Later, at university, one of his lecturers had done a PhD on world fairs. "That really clued me in to the background information and politics of World Fairs and Aboriginal materials, and how they were included," he says.
The most visible component of barrangal dyara (Wiradjuri for 'skin and bones') is the thousands of white ceramic shields – but the most affecting parts of the installation are the least visible. Tucked away in a circular garden, where the central dome of the Palace once stood, a small meadow of native Kangaroo grass now ripples in the breeze. At eight different locations within the imaginary Palace, you can hear soundscapes containing stories, oral histories and songs in language, by members of the communities whose cultural treasures were lost in the 1882 inferno – including, from New South Wales, the Gadigal, Kamilaroi and Wiradjuri language groups.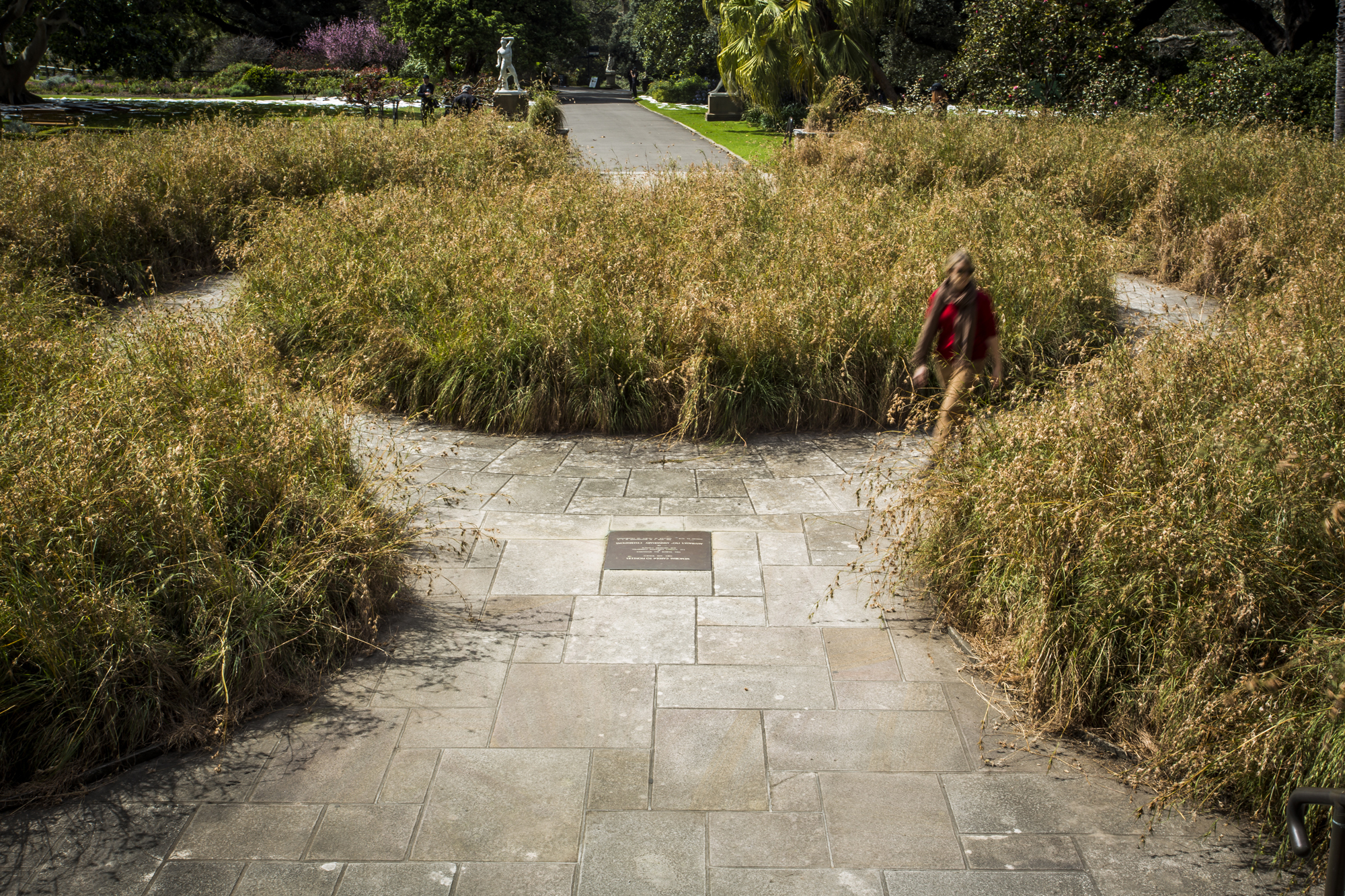 The final piece of the artwork are the 'invigilators' who have been trained to engage with members of the public and talk about memory, history and culture. More than half of these guides are young Indigenous university students from different disciplines.
It's the most elaborate work Jones has made. It's not just the scale of the project that held Jones back for 20 years, however. "The biggest issue for me has been how to deal with this story and not hurt people, cause pain, and compound existing trauma," he explains. "How helpful is it for communities to realise that all their cultural objects were piled together and then burned? It has taken me a long time to process the story and understand what it means."
On a practical level, he says, the project was also potentially a nightmare: "I don't think there are any institutions who could do this project, besides John [Kaldor] and his team. The Art Gallery of New South Wales would have trouble because it's outside their physical footprint; the Royal Botanic Garden would have trouble because it's an artwork…"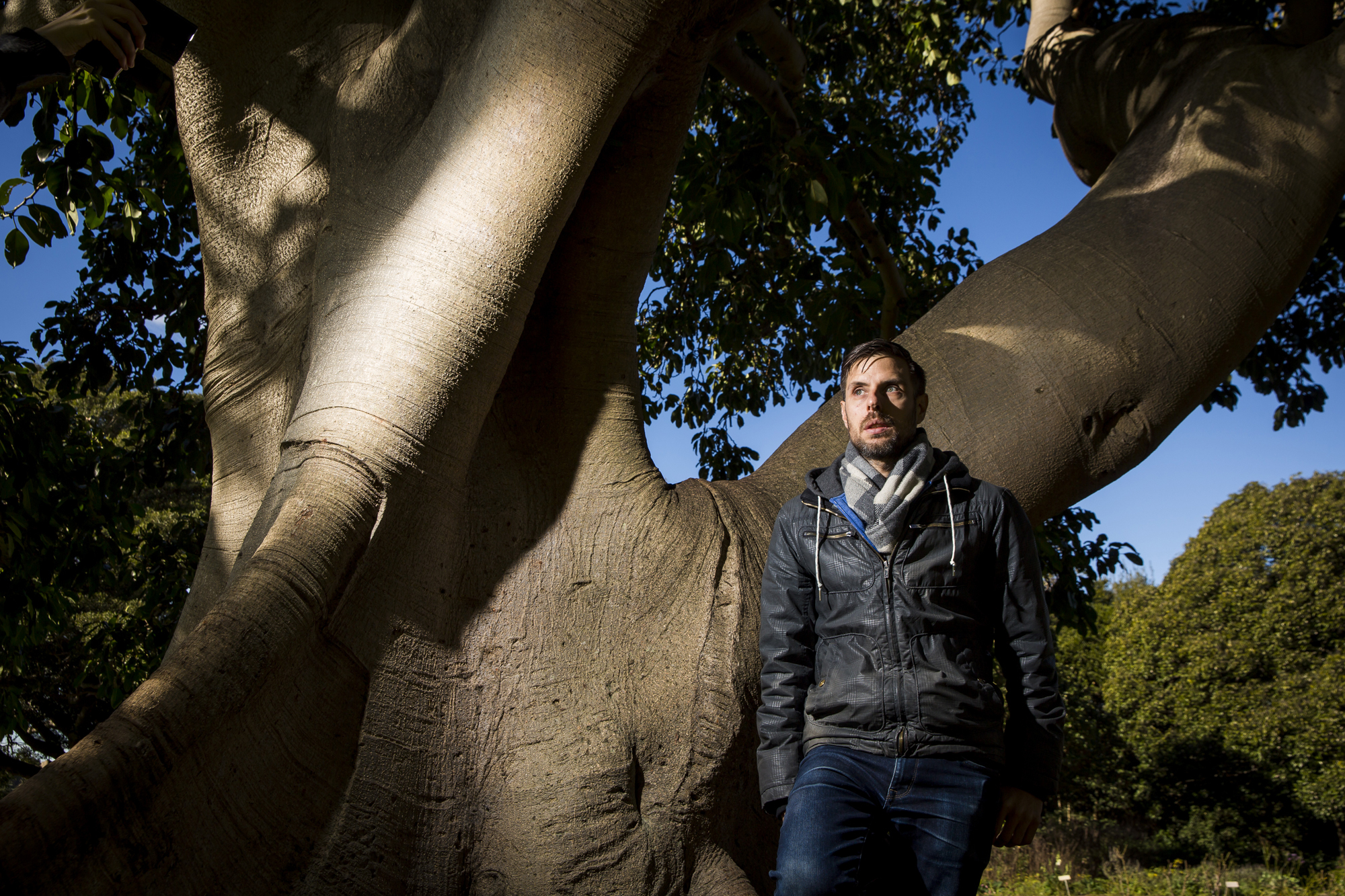 Jones says he encountered a lot of anger when he spoke to Aboriginal communities about the destruction of their heritage in 1882. "But on the flipside, it helped a lot of people in those communities understand why we aren't well represented in museums. When you know that you're the world's oldest living culture, and you know that the south east region [of Australia] is made up of at least 60 different nations – and then you go to the museum and you're represented by a handful of objects? That's confusing, to say the least. So in that way, when you start telling people these stories about why there has been that cultural erasure, it is comforting in a way. It does help heal some of those wounds."
Jones was adamant that the communities should be given a position of power within his project. Given his on-going interest in the revival of Indigenous languages (which he explored in his 2015 installation at Carriageworks, guguma guriin, inspired by Indigenous language leader Uncle Stan Grant), Jones thought it important that each community should tell their own stories in language.
"There are a lot of people in community who start learning language and it's a huge turning point in their life: they feel really connected for the first time, they become grounded in their culture, they start thinking differently and acting differently… For Aboriginal people, where language has been often forcibly taken away, it really means so much."
Find out where and when you can see Kaldor Public Art Project 32: barrangal dyara.