For her last appearance in Australia Patti Smith read from her books Just Kids and M Train to a tangibly chuffed crowd at the Sydney Opera House last night. The Joan Sutherland Theatre was filled with people who had most certainly read both of her books, yet the added intimacy of her reading passages aloud, interspersed with personal anecdotes (Robert Mapplethorpe's taste for expensive choccie milk, for instance), imbued the room with a breathless energy. This was certainly Patti Smith 'In Her Own Words', a real treat for Sydney as she said goodbye after an Australia-wide round of gigs.
Shows like this – in divey little spaces, not Opera House halls – are how Smith got her start. In the beginning of her career she performed a mixture of prose, poetry and song. It felt right to conclude with it.
She entered the stage to rockstar levels of applause and screams, then quickly pulled the tone to a dimly lit lounge room-closeness with her relaxed drawl. Telling the room about how she had always wanted, and failed to be, an opera singer. Now she was finally able to perform in a place devoted to that particular craft, Patti's laid back charisma and self-deprecating humour made the sold-out 1,500 seat theatre feel like you were just having a nice yarn at the pub with a mate, rather than an internationally acclaimed musician. She went on to talk about finally living her dream of seeing Uluru and even booking multiple tours so as to see it many times. "I don't know what happened to my hair, I think it must have a few Ayers rock clumps left in it" she said gesticulating towards the silvery mass at the back of her head and going on to tell us she still had red dirt on her boots that she hadn't yet cleaned. Oh Patti, she's just like us! We were all in the palm of her hand.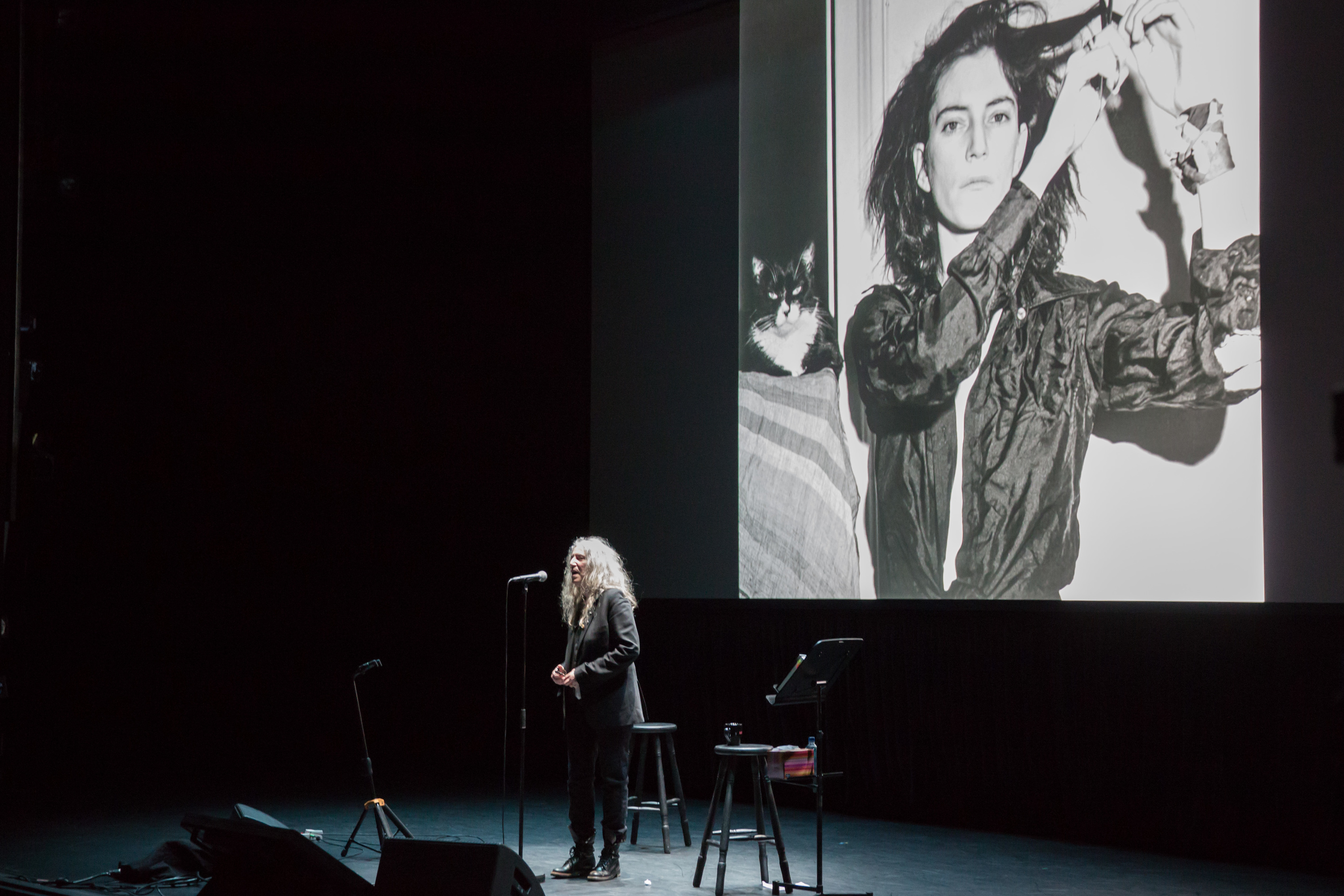 Patti went on to talk at length about her relationships with Robert Mapplethorpe and her late husband Fred Smith. In front of a slideshow of black and white photographs, she presented an autobiographical powerpoint with portraits and meaningful objects (Virginia Woolf's cane!). "I don't really have anything to say about this one, it's just Robert's camera and the background is my wall" she joked at one point. Stories of bad dates, LSD, sewing curtains for a boat she shared with her husband only to have it crushed by a willow tree in their yard and Mapplethorpe's declaration "you got famous before I did, Patti". She spoke of meeting Allen Ginsberg who mistook her for a "very pretty boy" and reflected on her time living in the Chelsea Hotel. Every rock and roll life anecdote you could hope for was delivered in poignant and funny succession.
The audience was also treated to stripped back renditions of songs between readings. Playing an acoustic guitar (she shrugged and confessed that she only knew a few chords on it) or belting songs accapella, Patti's voice filled the Opera House and invoked a reverend silence from the rapt audience. There's certainly something to be said for hearing a raw rendition of a songs after an hour and a half of personal prose and candid reflection. Capping off the evening with a version of 'Grateful' and coming back for a sing-along encore with 'Because the Night', the feeling of having experienced something really special lingered. It did feel like the tenderest goodbye and we were all lunatics for it. Thanks for coming Patti.