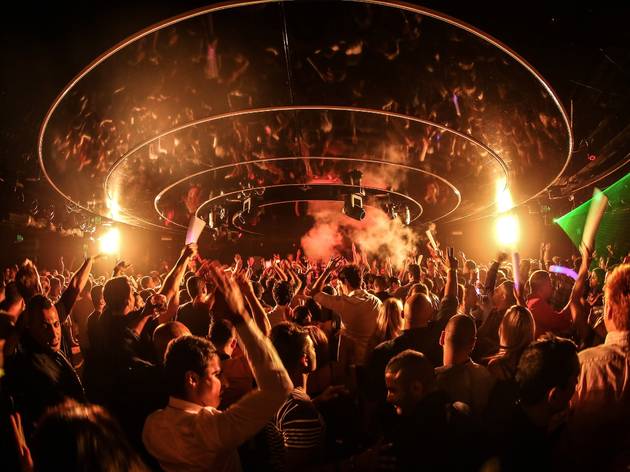 Time Out says
The superstar nightclub of the Star Casino
I've never been to Las Vegas, but if I'm led to believe what I've seen on celluloid, Marquee Sydney comes pretty close to a night out in the Entertainment City. The latest venue to open as part of the Star's $870 million redevelopment is a super club that is anything but subtle.
Unfortunately, Time Out missed the club's opening night party with Afrojack and will.i.am, so we headed over to check it out the following week. Swedish superstar producer (he took out the sixth slot on DJ Magazine's Top 100 DJs list last year) Avicii was on headline duties. And his popularity was on show from the minute we stepped inside the Star. It was all of 11.30pm and both the general admission queue and guest list lines were snaking along in the tens of metres. And Marquee has a whopping capacity of 1200.
If this turnout is anything to go by, you'll want to arrive early. Inside the club is a big step up from the city's other establishments, like Home, offering this kind of clubbing spectacle. And it's a tried and tested formula – Marquee also boasts venues in New York and Las Vegas. The sound system is an absolute ripper, the LED screens and go-go dancers add to the drama and the staff behind the bar and on the floor move at a cracking pace. There are plenty of rooms to explore, too. The main room dance floor is where you'll find the most excitement, but you can get a good view of the action from an alcove behind the stage, or have a conversation and a cocktail in the book-lined library off to the left of it. Curiously, the best view of the harbour is glimmered from the unisex bathrooms, and this is where you'll find many of the patrons trying to outsmart the many security guards to dabble in their vices.
Avicii is a very mainstream DJ and it came as no surprise that he laid down a very mainstream set. In fact, you'll never guess which track he played first... Mmm hmm, just a little tune he made called 'Levels', which is currently sitting at around 33-and-a-half million hits on YouTube. The set also included a mash-up of 'Levels' with Gotye's 'Somebody That I Used To Know' (seriously!) and Skrillex's popular remix of – you guessed it – 'Levels'. Sigh: not exactly the dance music journey Time Out normally looks for on a Saturday night out.
At Marquee, like in Vegas, money talks. Cover on an average night will set you back $30, for a night like Avicii you're looking at $60, a glass of house wine goes for around $15, the bar has a minimum card charge of $100 and to sit down at one of the club's tables you'll need to drop a cool $10,000.
We wouldn't recommend it for a laidback late night boogie or if you're keen to catch some cutting edge electronic music. Instead, it's a place to be seen, hear banger after banger and get a taste of the celebrity lifestyle. Basically, if you're feeling the need to pull on a skinny mini, drop some serious dosh and spend the night with your arms in the air, Marquee may well be what you're looking for.
Details
Address:
80 Pyrmont St
Pyrmont
Sydney
2009

Price:
$20-$120
Contact:
Opening hours:
Fri-Sat 10.30pm-4.30am, Sun 7pm-1am