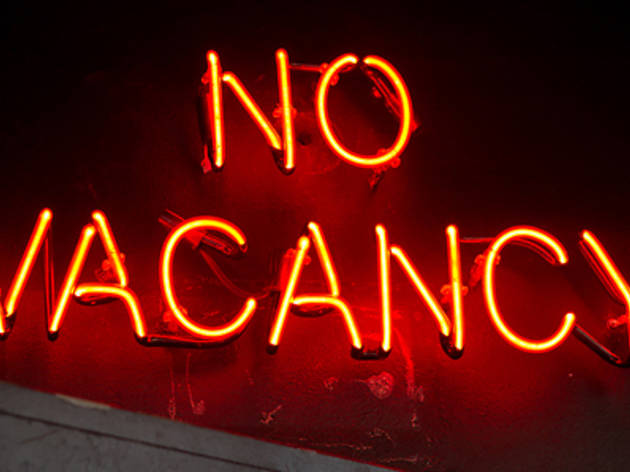 Kellett Street's 21 is reborn as a cool, LA-style club
On Kellett Street, just one metre from a poster for the 'We Heart Kings X' project, a precinct effort to halt the NSW government's plan to tighten up alcohol restrictions, is the sign for a brand new nightclub. 'No Vacancy' read the flickering, red lights above the doorway of the former 21 and Melt nightclubs.
Through it, a stairwell opens on to a long, thin room lined on one side with black leather booths. Above each of them is a button – beneath them, a gold plaque reads 'Press for service'. Right now seems a risky time to open a new late-night venture just metres from Kings Cross's troubled 'strip', but the newly opened No Vacancy isn't the average heaving-with-teens club. And the man in charge of setting it up, Experience Entertainment Group's director Graham Cordery, has worked hard to make it that way.
"A lot of the clubs in Kings Cross are geared toward 18 year olds," says Cordery, who has gained a good reputation in Sydney clubbing circles for his long-running and very popular Saturday night knees-up SHE at the
ivy
. "But the beauty of a club this size is that we can target a specific, and slightly older, demographic without the worry of filling a huge venue." That means less lycra mini dresses and slutty centaur shoes, and more folks old enough to know better.
The place is indeed a lot smaller than the average Kings Cross club, and feels more like a place you'd stumble across in Darlinghurst or Surry Hills. The exposed brick walls in the club's main room, a large square area beyond the booths, make the place feel warm, and there isn't a gelled spotlight or roving laser in sight. Instead, the lighting comes care of several antique lamps – dotted around the room beside armchairs, wooden framed paintings and bookshelves. And on the far wall, in front of a beautiful semi-circle, NYC-style window, is a queen-size bed – not exactly Time Out's taste, but it certainly adds to the 'cosy' feel.
"I want it to feel like breaking into a cool old house," explains Cordery. "But despite the lounge-room look, it'll definitely be a party." In keeping with the desires of Sydney's older crowd of club kids, the music policy has a cool, nu-disco undercurrent, and Cordery has a few solid international DJs including buzzy Belgium house and disco producer Mickey.
No Vacancy and its tunes are inspired by Cordery's recent travels in Berlin and LA, and, in particular, the Sayers Club, an only-if-you're-in-the-know Hollywood nightspot tucked discretely behind a hot dog stand. "In Sydney it's only small bars that are like that, but in LA and Berlin nightclubs have a more interesting feel, and that's what I'm trying to create here."
Behind the bar, the focus is cocktails and bottle service – hence the 'press for service' buttons. If you book a table or the, er, bed, at No Vacancy, you'll have your own host for the night, which thankfully means no queueing, four deep, at the bar for 15-minute slabs at a time.
No Vacancy feels like a nice midway point between small bar and heaving club. It's a good bet for those clubbing twilight hours between 11pm-1am, or for those just a bit too old to relate to teen club tribes and their strange wobbly bass anthems. Let's just hope those proposed Kings Cross alcohol restrictions don't hamper No Vacancy's bottle service plans before they have even really begun.
Venue name:
No Vacancy
Address:
12 Kellet St
Kings Cross
2011

Opening hours:
Fri & Sat
You may be interested in: