ComedyTorrent TV with Neel Kolhatkar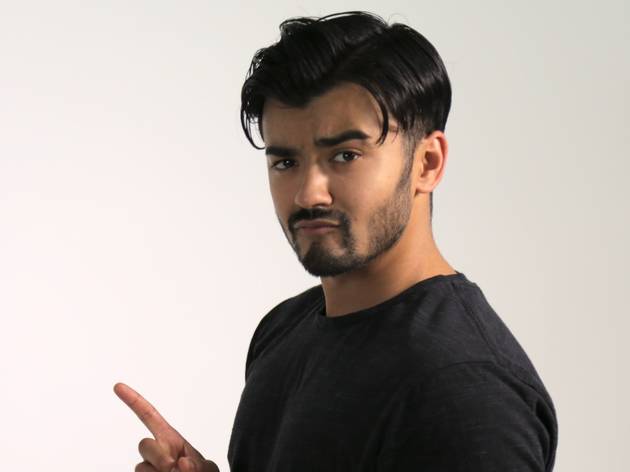 Time Out says
The Sydney stand-up comedian joins a host of funny mates for a gig that's both IRL and live-streamed
Laughs have been thin on the ground for the last few months, for obvious reasons, with Sydneysider and stand-up comedian Neel Kolhatkar mostly resorting to entertaining the masses via Instagram, with posts on everything from toxic relationships to alter ego Charles D's somewhat dubious business advice.
But he'll make a grand return to the Factory Theatre stage, home of the Sydney Comedy Festival, on Monday, July 27, at 8.30pm alongside Fady Kassab, Alice Fraser, identical twin duo the Stevenson Experience and host Daniel Muggleton to present ComedyTorrent.tv.
Producers More Talent have teamed up with live streaming platform Twitch to produce a hybrid comedy club experience that offers all of Australia a ticket to a series of three shows, over the next three Mondays. The good news is you can either return to an appropriately socially distanced gigs at the Factory for the IRL experience or tune into the livestream online. You can even heckle digitally if you so desire.
We asked Kolhatkar what it means to be back in the game in front of a live (and online) audience.
A few comedians have done some small gigs after the lockdown, but I haven't performed for a couple of months – the first time I've gone that long in my career. So I'm excited, but I'm not gonna lie, I'm actually a little bit nervous, too. Mostly excited to get back into it, and it's good to see that comedy is at least attempting to evolve with the times.
We reckon the simultaneous livestream is pretty cool, so everyone can get in on the act even if they can't get there in person.
That's exactly it. It also gives people who otherwise might not be exposed to live comedy a taste of that interactivity and being part of the audience. So I think it's a brilliant idea that has a lot of legs. It could transform the comedy scene with everything currently going on.
Will it be back to basics for you up on stage, or is it a brave new world?
It's still really up in the air, because it's hard to ascertain exactly how this has affected comedy. Straight off the bat, a lot of comedy rooms and bars have closed down, so there's a lot less opportunity for live performance. But if I were to look at some of the positives, it has opened the door to some ingenuity with events like this, and a lot more comedians are utilising social media, whether that be at YouTube or TikTok or whatever. I've been flexing my comedic muscle online, so I've been able to keep my spirits up that way, but it's really decimated the live club scene, unfortunately.
Is it too soon for lockdown jokes?
You have to involve something about the lockdown. I've written a few jokes in a lockdown that I'm gonna try when I get on stage. I'm still moulding them a little bit and, look, they're quite dark compared to my usual stuff, because it's been such a dark time, with so many of the political events globally, so I think it only makes sense that the comedy might take a bit of darker edge? The best thing you can do is laugh, and that's what I've been striving to do.
Any jitters?
Nothing like this is really been done before. So obviously I think I want I want to bring my A-game, but at the same time, I'm not putting too much pressure on myself. It just comes down to having fun. As clichéd as that sounds, especially with comedy you've got to be comfortable onstage. And I'm just going to try and be funny, really it's the simple as that.
We're intrigued by the digital interaction, and the fact folks can heckle online. Have you ever read the comments? Can. Of. Worms.
There's no shortage of those sorts of people. At least this gives us an opportunity to shut them down and give them a taste of their own medicine. So I think it's a great experiment, and I'm keen to see what people have to say about me, even though I'm sure I'll be a little bit rough because it's been a few weeks, but I'm confident I can take a few of these hecklers down.
You can catch Neel Kolhatkar and co Monday, July 27 at 8.30pm. Comedian Tahir will be joined by Ciaran Lyons, Demi Lardner, Jordan Raskopoulos and Cameron James on Monday, August 3 at 8.30pm with Nat's What I Reckon hosting Gen Fricker, Craig Quartermaine, Anthony Salame and Tommy Dean on Monday, August 10 at 8.30pm.
Socially distacned seating at the Factory must be purchased as double tickets at $18.50 each. You can see the live digital stream, not to be repeated, for free online here. All proceeds from ticket sales will be donated to charity.
This article is supported by the Judith Neilson Institute for Journalism and Ideas

Details