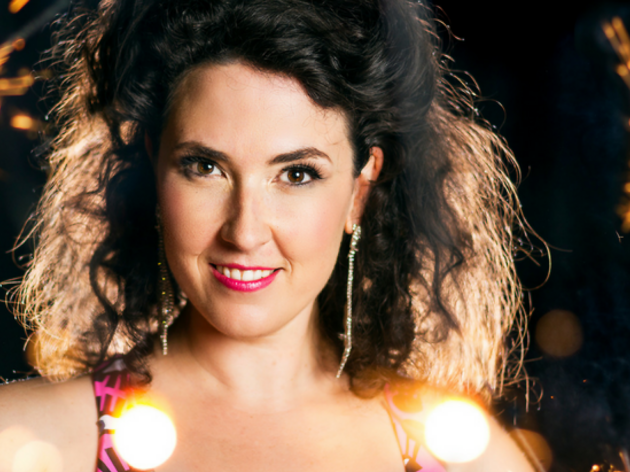 The stage is this explosively joyous comedian's happy place
This is a review of the Melbourne International Comedy Festival season of Volcano.
It may be impossible to feel anything but happy when Tessa Waters is on the stage.
Waters was born in Queensland, studied in France – where she was called a truck – and now lives in Melbourne – when she isn't touring. She knew the stage was her happy place when she was three and wearing her mum's frock, smoking a wooden spoon and singing Shirley Bassey.
Dressed in a gloriously bold black and white print, she welcomes her audiences like they are long lost friends and proceeds to convince us why we shouldn't eat her first if the apocalypse happens that night. If someone does push a button and we're left in a nuclear winter, being stuck with the Volcano crowd could be awesome, especially because Waters has helped to chart the funniest spots in the room.
The sketches (that all star "Woman"), anecdotes, improvisation and games (audience interaction that's fun!) are linked by stories about the women in her family. The Waters women pass on unquestioned love and amazing strong thighs to each generation. But the show is named for Great Grandma, who saved herself and her companions from an exploding volcano in Papua New Guinea. Really. She even took a photo to prove it; it's on Waters's Instagram.
As Waters develops her work each season, Volcano is different from the Melbourne Fringe version, and every audience gets a bespoke show that finds exactly what they need to laugh and celebrate the women in their lives.