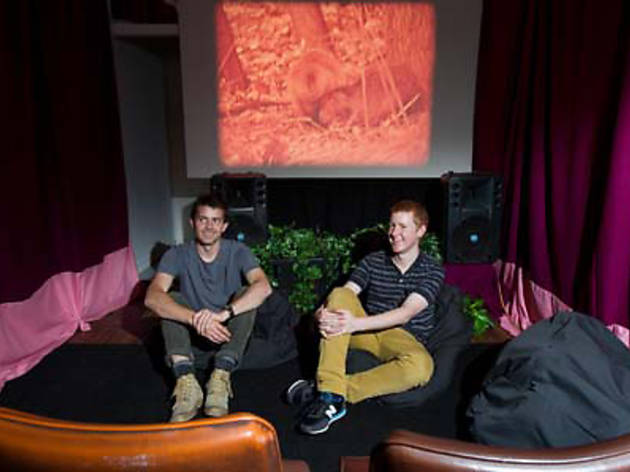 The little Leichhardt film collective shining a light on cinema classics, indie productions and edgy art-house films
The stretch of Parramatta Road in Leichhardt looks a little like a ghost town of boarded-up shops and mystery stores, but behind the curtains of one shop, signposted as 'AV Union', is a treasure trove of bygone cinematic classics.
Liam O'Donoghue and Bryden Williams run Kinema there. It's a film society that screens rare, and sometimes kitschy, films. When
Time Out
first visited, the pair were screening films around the theme 'vagrancy', which is interesting, because Kinema, like jazz bar
505
, first operated underground.
O'Donoghue and Williams, both 22, met at Sydney College of the Arts, but insist that their film nights are not meant to be academic – even if you do learn a thing or two about cinema culture while you're there. "It can definitely be a great resource for students who are studying film, as well as a casual viewer or cinephile," says O'Donoghue, who curates the screenings with friends Jack Latimer and Reuben Holt. "I choose films that I haven't seen and have heard good things about, and Jack and Reuben tend to pick prints they want others to experience."
The theatrette is sparse; 20 seats, a few beanbags, purple drapes framing the walls and faux plants. And Kinema is one of the only cinemas that Time Out has ever known to launch with a digital projector, only to replace it with a 16mm antique.
So, is it a gimmick, or a new generation discovering a dying art form? O'Donoghue agrees that there's a novelty to it: "It does have the practical purpose of opening up a huge section of the National Film and Sound Archive, simply because they haven't digitised the majority of their collection." That's 442,000 moving-image works from the past hundred years.
Williams dug the projector out of a storage booth at his old high school. "It was really exciting that it still worked and it's from the late '60s. It plugs you back into that era, and into works that wouldn't otherwise be available. They're more eclectic sorts of movies, unusual films that are educational, or obscure."
Recently, the group screened an anthology of East-German animations, from the start of official DDR (German Democratic Republic) productions. O'Donoghue describes them as really optimistic films that show the virtues of the social state right up to the fall of the Berlin Wall. "It was a really different viewing experience," he says, "because the physical film was experimented with – scratched, spliced, looped, dyed, or magnetised."
"You lose a certain receptiveness when you watch movies at home alone, or on your phone," he continues. The group believes that coming together to worship or question a classic enhances an appreciation of modern filmmaking. Some things need to be seen in a cinema, or a Kinema for that matter.
Venue name:
AV Union
Contact:
Address:
2/365 Parramatta Rd
Leichhardt
Sydney
2040