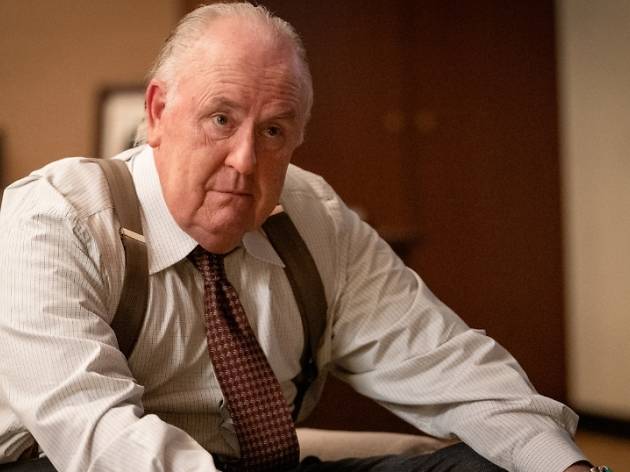 Bombshell actor John Lithgow on playing Trump, Churchill and sex creep Roger Ailes
Don't be fooled by the parts he plays: John Lithgow is actually an incredibly nice guy
"We've been just horrified at the news. I'm so sorry. I mean, my God. What a thing you've lived through. Has it been horrible the entire time? Has it ebbed at all?"
John Lithgow has just picked up the phone to Time Out Australia, and he's already bringing it back to what actually matters. The bushfires have been raging for two months, and the footage has galvanised the world's concern, including the New York-based actor, 74. Lithgow says that while he's never been to Australia (fun fact: he did visit New Zealand in the early '80s shooting Mesmerized with Jodie Foster), he has a long history of working with Australians, "starting with George Miller on The Twilight Zone [movie], and I spent five months in the Amazon jungle with a team of Australian assistant directors who just saved the entire experience [of making At Play in the Fields of the Lord]. I've got so many great Aussie friends, so I'll get there eventually."
Indeed, if the Time Out Sydney office is a fair survey sample, everyone, without exception, seems to consider John Lithgow like an old friend. Whether it's for being a TV regular on 3rd Rock from the Sun, Dexter, Trial & Error or The Crown, or for the more than 60 movies he's appeared in since 1972, Lithgow is one of the most recognised actors on the planet. And like Helen Mirren and Judi Dench, his career is only getting hotter the older he gets.
Relatively recent triumphs include playing James Franco's Alzheimers-afflicted dad in Rise of the Planet of the Apes, a commanding Winston Churchill in The Crown, and a gay man whose marriage throws him into late-life poverty in Love Is Strange. And that's on top of the huge number of small movie roles he has continued to play in everything from Pitch Perfect 3 to Interstellar. To that list, Lithgow now adds the part of late Fox News CEO and conservative cheerleader Roger Ailes, whose sexual predation upon news anchors (played by Charlize Theron, Nicole Kidman and Margot Robbie) is the subject of Bombshell.
"Somehow having survived into my seventies, I'm on a very short list for a lot of fabulous roles," Lithgow says. "So I'm working more than I've ever worked before. I'm a glutton for it."
John, did you make any new Aussie friends on this film?
Well, Nicole and Margot are just splendid. I've been a very lucky actor working with people of that calibre. It's been just great.
What appealed to you about playing Roger Ailes?
There were a lot of things. It was an incredible role, an extremely complex character. I'd worked with director Jay Roach before on a comedy, The Campaign with Will Ferrell and Zach Galifianakis, and we became great friends, and even then I talked to him about 'When are you going to start making serious films? You're such a great filmmaker.' The script was written by Charles Randolph, who won an Oscar for The Big Short. And Charlize, Nicole and Margot. And all those people were in place by the time they offered it to me. And I leaped at the idea before I even read the script. I knew it would be a huge challenge – I'm so unlike Roger in all sorts of ways. The challenge is always to get beyond just two dimensions and find out what makes him tick.
What made him tick?
He was a man who carried a lot of demons. He was a very unhealthy man. He hated people looking at him. He wanted his glamorous Fox News people front and centre on television, but he himself wanted to stay backstage. A character like that is bound to be shot through with insecurities. In spite of the fact he had a bombastic temper, he had a kind of charisma and was very skilful at using his power to extract tremendous loyalty out of people. It's fascinating to play a part where there's that duality between a very powerful, charismatic man and his inner insecurities and compulsions that make him behave this way in secret. These are fascinating challenges for a character man.
Was he in any way a Churchillian leader? Did you connect the two roles at all?
I couldn't help sort of connecting them in little ways. It mainly had to do with both of them being fat and wearing a fat suit in both cases. But they're vastly different. They were both very commanding figures, but I don't think Churchill had Ailes' brutality and cruelty. Churchill was tough as nails, but he was a kind and empathetic man.
It must be an occupational hazard that you find yourself playing a role and then somebody else is also playing it – and this happened with Gary Oldman playing Churchill in Darkest Hour and Russell Crowe playing Ailes on TV in The Loudest Voice.
I've never met Russell, although I admire him tremendously as an actor. I deliberately didn't watch his performance. I don't know whether he's seen mine. We were bound to be very different from each other. Besides which my role in Bombshell is a supporting role, it's very much about the women of Fox and their reactions to Roger. They were all dealing with a malevolent force, a crisis, and I was playing the crisis.
You did correspond with Gary Oldman, I believe.
When I did The Crown there were about four actors playing Churchill: Michael Gambon, Brian Cox, Gary Oldman [and myself]. It's a funny thing, I was watching the Oscars the night Gary won his Oscar, and I'd already won my Emmy. I was happy for him. It was a big year for Churchill.
My earliest memory of you is watching you play Roberta Muldoon in The World According to Garp [1982] and having my mind blown by the empathy you brought to that. Was it a watershed film for you?
Oh God yes. Very much so. It was the first time I got people's attention for my work on film. It was such a captivating role and an extremely unusual character, a transgender woman long before this whole subject of transgender people had become such a front and centre issue. And I got an Oscar nomination and won awards for that. So yes, it was a huge watershed.
But you already had ten years of work under your belt by then.
My whole career in a general way has been divided into three acts. All through the '70s I worked in New York theatre. All through the '80s I worked exclusively in film, and in the '90s along came 3rd Rock from the Sun and for six years I played a major role on a TV sitcom. And ever since then I've been bopping from one to the other and adding things like entertaining children and doing concerts with orchestras, and I even wrote the narration and performed in a ballet for the New York City Ballet. I've just had all these wonderful opportunities come my way in a life of surprises. And now I'm like an old man character actor, and there aren't many of them around and there are these fantastic roles.
And you recently played Trump in a live streamed play, The Investigation: A Search for the Truth in Ten Acts.
It was two or three weeks after the Mueller Report came out, and so much had been done to obsuscate and dilute it in the public's eye. And Abigail Disney had the idea of doing a live streamed internet performance of the second half of the Mueller Report edited into a 75-minute drama by playwright Robert Schenkkan. And very quickly they assembled New York actors, whoever was available – this included Kevin Kline, Annette Bening, Michael Shannon, Jason Alexander, Alfre Woodard, extraordinary people, and we all played the roles of the major figures in the Mueller Report. And I was the first person they came to, so I thought well, Donald Trump is going to be a big part in this one, so I [chose] Donald Trump. I didn't do an imitation of him, it was really bringing those extraordinary lines to life. It's structured in ten chapters and these are the ten charges of obstruction of justice that are included in the second half of that report, so it really nailed the issue.
Having been in the entertainment business for so long it must seem inevitable to you that this #metoo moment has come along. Have you witnessed abuses of power like the one Ailes perpetrated?
I've never witnessed it first hand. I've heard an awful lot of things. I've heard about astonishing bachelor parties, for example, where high-class escorts were engaged... You hear these lubricious rumours. And as these [#metoo] stories came out there was this queasy feeling that I kind of knew that this was happening combined with a sort of shock at hearing it irrefutably exposed. And I knew some of the people involved. People I'd worked with. It was stuff that had to be revealed. People had to be accountable for it. And things have to change.
Are they changing?
They are changing, but they haven't changed enough. I do feel it's a very different atmosphere in Los Angeles. For one thing, I've worked with far more woman directors and producers in the last couple of years. It's amazing how quickly that has changed, and that's very good. And I think Bombshell is the first major [dramatic] film to address the subject. And of course I'm biased, but I think it's a remarkable film.

Bombshell opens on Thu Jan 16.