Free Film Series: Putting on a Show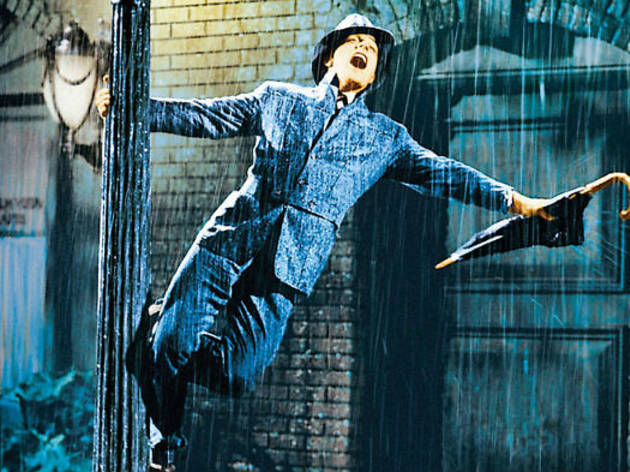 The latest season of free movies at the Art Gallery of NSW celebrates the joy of performance
Running parallel to the 20th Biennale of Sydney, Putting on a Show is a series of free movies that explore performance and theatricality in film. Presented by the AGNSW, the series has everything from musicals to rock documentaries and psychedelic horror. Tickets are issued at the Domain Theatre from one hour before each screening commences; don't arrive too late or you could miss out.
Wed Mar 23, 2pm & 7.15pm; Sun Mar 27, 2pm
Singin' in the Rain (1952)
Gene Kelly and Debbie Reynolds star in the perhaps the most popular musical of all time, a film about the introduction of sound to Hollywood in the '20s. Look out for Donald O'Connor's acrobatics in 'Make 'em Laugh'.
Mon Mar 28, 2pm
The Kids are Alright (1979)
This documentary chronicles the Who in their heyday and encapsulates through live performance, interviews and backstage footage the intensity of their rock'n'roll mayhem.
Wed Mar 30, 2pm & 7.15pm; Sun Apr 3, 2pm
Cabaret (1972)
The famous musical set around a Berlin cabaret club during the rise of the Nazi party in the last years of the Weimar Republic is wonderfully choreographed by director Bob Fosse, with an Oscar-winning performance by Liza Minnelli.
Wed Apr 6, 2pm & 7.15pm; Sun Apr 10, 2pm
Santa Sangre (1989)
A frightening and psychedelic avant-garde horror from Alejandro Jodorowsky which celebrates the circus is a landmark in surrealist film.
Sat Apr 9, 2pm
Rockaby (1982)
Documentary maker DA Pennebaker chronicles the rehearsals and premiere of Samuel Beckett's 1981 play Rockaby, starring Billie Whitelaw.
Sat Apr 9, 3pm
Poetry In Motion (1982)
This filmed anthology of 24 poets reading, chanting and singing their work includes the likes of William S Burroughs and Tom Waits.
Wed Apr 13, 2pm & 7.15pm; Sun Apr 17, 2pm
The Harder They Come (1973)
The first Jamaican- produced feature film, The Harder they Come is about rural boy Ivanhoe (Jimmy Cliff) who goes to the city in hopes of making it in the music business only to discover the dazzling and harsh reality of Kingston. Shot on location and almost entirely improvised, the film features a great reggae soundtrack.
Wed Apr 20, 2pm & 7.15pm; Sun Apr 24, 2pm
An American In Paris (1951)
Starring Gene Kelly as a frustrated artist, this Oscar-winning musical elaborately recreates Paris on an MGM soundstage and features several dance numbers choreographed by Kelly himself.
Sat Apr 23, 2pm
Highway (1999)
This documentary follows a circus family travelling from Central Asia to Moscow on a tightly cramped bus directed by Sergei Dvortsevoy. He captures their performances along the way as they make their living in the towns they visit.
Sat Apr 23, 3.15pm
'New Circus' (unknown)
This 14-minute documentary follows the rehearsals of New Circus, a group who started the contemporary circus movement in the 1970s.
Wed Apr 27, 2pm & 7.15pm; Sun May 1, 2pm
Nightmare Alley (1947)
This moody melodrama centres around a con man (Tyrone Power) who rises to celebrity after exploiting a mind-reading performance he learnt at another carnival. It's an extraordinary example of late film noir.
Wed May 4, 2pm & 7.15pm; Sun May 8, 2pm
Bullets Over Broadway (1994)
Woody Allen's film concerns a 1920s playwright (John Cusack) who is forced to cast the talentless girlfriend of a mobster in order to get funding for his plays. Featuring a strong ensemble cast, this comedy is one of Allen's best films.
Wed May 11, 2pm & 7.15pm; Sun May 15, 2pm
The Red Shoes (1948)
Framed by the story of a dancer's life (Moira Shearer), The Red Shoes showcases a ballet within the film. Based on a fairy tale by Hans Christian Andersen and inspired by the story of the Ballets Russes and the hold its founder Diaghilev had over the dancer Nikinsky, this hugely entertaining film is often regarded as one of the greatest in British cinema.
Wed May 18, 2pm & 7.15pm; Sun May 22, 2pm
Satin Rouge (2002)
A Tunisian widow is drawn into the world of a underground cabaret club where she becomes a dancer, whilst keeping this a secret from her straight-laced in laws by maintaining the façade of a grieving widow.
Sat May 21, 2.30pm
'Dance in the Sun' (1953) + 'Flamenco at 5.15' (1983)
'Dance in the Sun' is a short film jumping between the studio and an outdoor performance to showcase the talent of dancer Daniel Negrinas as he performs the titular dance.
'Flamenco at 5.15' is an Oscar-winning short about two Spanish flamenco dancers teaching their art form to a class at the National Ballet School of Canada.
Sat May 21, 3.15pm
Dancers (1978)
This impressionistic semi-documentary makes use of experimental techniques as it portrays the day-to-day lives of dancers at a British dance company, the Ballet Rambert.
Wed May 25, 2pm & 7.15pm; Sun May 29, 2pm
Freaks (1932)
This unique and unsettling film concerns a circus 'midget' falling in love with a trapeze artist who tries to poison him for his money. Director Todd Browning cast the film with real-life circus performers and portrays the sideshow performers as normal folk and the 'normal' trapeze artist and strong man as the monsters of the film.
Wed Jun 1, 2pm & 7.15pm; Sun Jun 5, 2pm & 7.15pm
The Wizard of Oz (1939)
Victor Fleming directed the popular tale of Kansas girl Dorothy and her journey through the exuberantly colourful land of Oz. This much-loved musical will be screened in a special 35mm Technicolor print.
Wed Jun 8, 2pm & 7.15pm
Latcho Drum (1993)
Tony Gatlif's documentary explores the history of the Romani peoples and their migration from India into central Asia and then Europe. He uses the power of performances rather than characters or narration to move the viewer from place to place.