Merrily We Go to Hell Film Series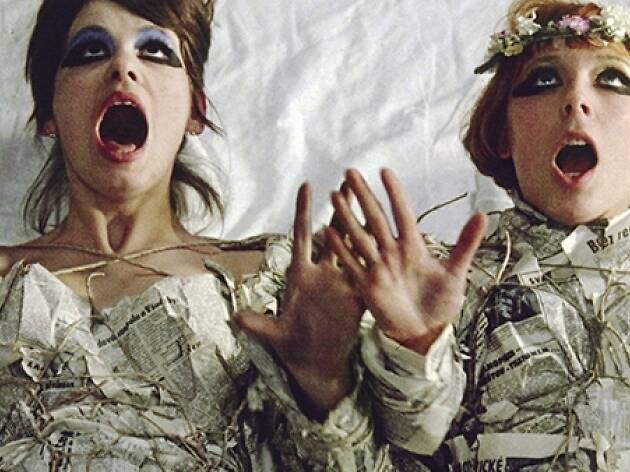 Time Out says
Kick-ass movies directed by women screen for free at the Art Gallery of NSW over winter
Women who kill, women who cheat, women who upturn gender conventions – expect all this and more with the latest season of free movies at the Art Gallery of NSW. On show will be ten great movies directed by women – many of them overlooked classics.
Held in the comfortable surrounds of the gallery's Domain Theatre, the screenings showcase themes of female rebelliousness, which programmer Ruby Arrowsmith-Todd says is a product of the way women directors have had to fight against the entrenched patriarchal systems of film production. The series features movies spanning the 1930s to now, and each film will be introduced by a leading critic, filmmaker or scholar.
The series gets its title from 1932's Merrily We Go to Hell, Dorothy Arzner's romcom about adultery in New York starring Sylvia Sydney, Jerry Corbett and Cary Grant. It's a pre-Code movie, meaning it was able to explore adult themes with more frankness than would later be the case.
Just Another Girl on the IRT is a 1992 film by African-American director Leslie Harris. It's a coming-of-age story about a smart Brooklyn teen who wants to break out of her blue-collar background and go to med school.
The Hitch-hiker from 1953 is unique as it's the only classic-era film noir directed by a woman, the remarkable Ida Lupino. In the film, two fishing buddies pick up a notorious psychopath who forces them to drive to the US-Mexico border at gunpoint.
The 1966 Czech film Daisies is a bit of a legend. Directed by Věra Chytilová, it's about Mary I and Mary II, two young women pranking and cavorting their way across Prague, culminating in a food fight. It's a satire that annoyed the hell out of the authorities at the time. It screens with a notable 1964 short film, 'Meat Joy', depicting a crazy performance by pioneering artist Carolee Schneemann.
Growing in reputation after all these years is the 1971 comedy A New Leaf, from comedy legend Elaine May. May plays a scatty botany professor who has inherited a fortune, and Walter Matthau plays the smooth playboy who schemes to marry and murder her.
Another neglected US comedy of the 1970s is Girlfriends (1978), from director Claudia Weill. Susan (Melanie Mayron), a young New York photographer, is discombobulated when her best friend Anne (Anita Skinner) moves out and gets married. Watch out for Christopher Guest and Eli Wallach in the supporting cast.
A modern-day witch uses magic to get men to fall for her in The Love Witch, Anne Biller's 2016 homage to 1950s melodrama and 1970s Italian horror. A darkly feminist comedy, it boasts acting that is hilariously camp.
Acclaimed UK director Lynne Ramsay (We Need to Talk About Kevin, You Were Never Really Here) made a striking debut in 1999 with Ratcatcher. The film is about a 12-year-old boy (William Eadie) coming of age during a garbage strike in Glasgow in the 1970s. Also screening is Ramsay's 2002 film Morvern Callar, about a free-spirited young woman who sends her dead boyfriend's manuscript to a publisher under her own name; it features a star-making performance from Samantha Morton.
Sally Potter's 1992 film Orlando features one of Tilda Swinton's earliest starring roles. Swinton plays the title character, an Elizabethan gentleman who lives for 400 years and mysteriously changes sex. It's based on a novel by Virginia Woolf.
Argentinian film The Headless Woman (2008) is Lucrecia Martel's movie about a dentist who may have killed someone with her car and spends the movie in a state of denial. And from Indonesia comes Marlina the Murderer in Four Acts (2017), a crowdpleasing feminist western in which a young widow takes revenge on a group of bandits.
Screenings are on Wednesdays and Sundays plus the occasional Saturdays – click on Dates and Times to book (and don't forget to use the drop-down Month menu). Tickets are free, but booking ahead online is recommended.
Details