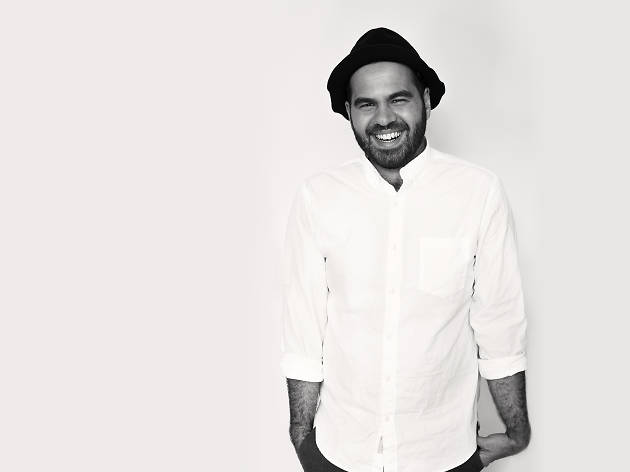 Five in Five
How five men of style get ready in the AM
Everyone has a different morning routine. Some jog to wake up and some throw down a litre of coffee; some spend a minute on their hair and others a lifetime. We spoke to five men of style about how they get ready in the AM, from fashion designer Felix Chan to former Australian idol host Osher Günsberg aka Andrew G.
Felix Chain is a celebrated Australian menswear designer, best known for co-founding the highly successful Vanishing Elephant brand. He worked for Incu for five years as a buyer, before starting 'VE', and now works from Hong Kong where he consults on a number of labels. He's a busy man, in other words.
"It normally takes me about ten minutes to leave the house. I've got pretty long hair so honestly I just tie it up or wear a hat. It's that simple. I'm a pretty casual person so I'm pretty easy going about how I look. I go for efficiency! I work in an industry where everyone has a look, but I'm pretty relaxed. I'm quite Australian in that sense.
I go through phases with skin care products. Right now I don't use anything but I did use Aesop. I used to a cleanser and moisturizer but that's mostly for winter. But in Hong Kong I don't need it, because it's always warm.
I do use deodorant though! A spray on for ease.
I dress for the weather. Right now I throw on a pair of shorts and sneakers basically every day, because it's warm here. I wear sand shoes, like Converse-looking shoes, plus some shorts and a t-shirt or linen shirt, and that's it. I have to be comfortable more than anything. I appreciate and admire people that really go to the effort but I'm not going to be wearing a wool suit in Hong Kong!"
Style maverick Sean Gallagher runs an events and touring company called 'Mosaic' that creates bespoke live music events. He's also the curator of 'the Velvet Cave' — a long running kaleidoscopic underground club night, which showcases International, interstate and local live acts and rare vinyls. He's done parties with bands like The Horrors, Toy, Bo Ningen, Ty Segall and a whole lot of great Australian acts. He's a busy man, but he always takes the time to get his look right.
"My hair-styling routine involves way too much hairspray and constant teasing of my hair until it's as full and voluminous as humanly possible. I've always had big hair and a fringe — I'm obsessed with Japanese hairstyles. There's a constant layering of a lot of makeup, eye glitter and way too much black eyeliner, too.
On my body, I use deodorant and a lot of perfume. I'm obsessed with Burberry Brit and definitely spend too much money on perfume. Scent has always been my biggest attraction.
My wardrobe is 85% black. I do wear a lot of black. Maybe it's because I'm colourblind and scared of colour. Think I use that as an excuse. I'm mostly obsessed with wearing leather and adding bondage accessories like chokers, etc. My room looks like a bomb went off though when I'm looking for an outfit. I go through a million outfit changes. I have so many pairs of the same type of shoe. Black leather boots. The higher the better. Shoes are an easy decision."
The Toronto-born photographer and blogger Giuseppe Santamaria is the style guru behind popular Australian website Men In This Town. It combines street style and fashion editorials, and has inspired his own magazine MITT, not to mention a book, too.
"I'm very low maintenance, so it doesn't take me too long to get ready. I pick out my clothes of which I have a limited amount. I usually have eight good outfits to hand. I tend to dress on the casual denim side. Actually, I never get too dressed up. Skin care wise, I'll use a good moisturizer that doubles as an oil eliminator — because I'm Italian and I therefore have very oily skin. I use a roll-on deodorant and then a little bit of cologne, especially Tom Ford 'London'. Moisturizer, deodorant, and cologne — that's it. And as I leave the house I usually grab my backpack, which always has my camera in there. I take my camera everywhere. I wear hats a lot so I'll grab a good hat — it's usually a wide-brimmed hat but lately I've been really obsessed with this really small hat from Japan. It's like a baseball cap without the brim — that's the best way I can describe it. I'll probably go back to the wide-brimmed hat in winter. I wear a casual or dress-up loafer depending on where I'm going. If I'm shooting, I'll wear a Chelsea boot, cause I'll be walking all day. Often I'll throw on a denim jacket. My hair takes no time at all — I normally shave my head because my hair gets pretty wild and curly otherwise."
Byron Spencer is a very exciting young fashion photographer, who's best known for his ongoing collaboration with Sydney surf-inspired designer Emma Mulholland. He's also worked with notable publications like Oyster, Milk, i-D Australia, and various international iterations of Nylon. He's also a DJ, so, like many of the men here, he's got to get ready to go in a hurry.
"I'm pretty low-key. I don't have a whole 'getting ready' regime; I'm usually out the door pretty quickly. I use a scrub in the shower and then I moisturize when I remember but I'm pretty bad at remembering that kind of thing, I sometimes use under-eye cream to get rid of bags — I'm always working after all. When I'm working, I almost always wear a hat. When I do my hair, though, my hair is pretty curly but it's also quite fine, so I spend a bit more time on it to make it voluminous. I always feel better when I take the time to do my hair. I use a wax or a powder — whatever I have in my cupboard. And then I'll spray on a bit of deodorant — whatever smells good."
Osher Günsberg is a well-known Australian television presenter (and podcaster!) who is best recognized by his former stage name Andrew G. He's hosted Australian Idol and Channel [V], and his currently filming the next series of The Bachelor.
"Before I leave the house, I make a robust cup of coffee with my extraordinarily opulent Sunbeam espresso machine. I feed the dog and make sure he's been outside. He's a 16-week-old cavoodle (that's a Cavalier King Charles Spaniel x poodle) called Frank we got from an ethically awesome breeder. Anyway, then I check that I have the battery pack for my iPhone and grab the other half of the smoothie I've made for breakfast to drink later in the day.
If I'm working, I don't wear a hat, because I know that my makeup and hair artist Carla Mico will do my hair magnificently. But if I'm not working I'll usually wear a hat or my bicycle helmet. Everyone should have a Carla! We've been working together since Channel [V] in 1999.
Much to my fiance's chagrin, I wear a UNIQLO flannel everyday. I have about seven of them. I was wearing flannels before they were hip. In Brisbane, where I'm from, that's formal wear! I wear my flanno, black vans, and a John Varvatos t-shirt, but thankfully when I'm working someone usually puts me in a suit."