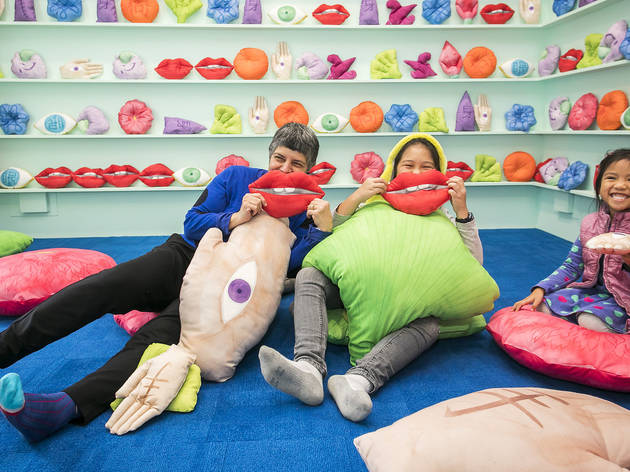 1/7
Photograph: Anna Kucera
2/7
Photograph: Jacquie Manning
3/7
Photograph: Jacquie Manning
4/7
Photograph: Jacquie Manning
5/7
Photograph: Jacquie Manning
6/7
Photograph: Jacquie Manning
7/7
Photograph: Jacquie Manning
Surround yourself with lucky charms in this weekly family playtime at the MCA
When we visit the Bella Room, tucked away inside the National Centre for Creative Learning at the Museum of Contemporary Art, a three-year-old child picks up a friendly-faced cushion and says "strawberry" – and we can see why. The anatomical heart cushion is painted eggplant purple with a Chinese symbol that looks like a cheeky face and a green leaf, like a beret, which makes it look botanical (and also a bit French).
The heart is one of 11 cushion designs created by Melbourne artist Kate Beynon, who has filled the corner room with 600 colourful squidgy shapes in a work called 'Room of Lucky Charms'. "People bring their own associations to the room," says Beynon. "It's great how these symbols, which have personal significance to my artwork, generate discussion. One of the things I love about it is seeing the room transform as people interact with it; there are lots of ways people can rearrange or create their own patterns."
'Room of Lucky Charms' is the sixth work to be commissioned for the Bella Room, which was created as part of the gallery's commitment to being an accessible space for people with disabilities. It's a work of art that is also a play space for adults (as part of the monthly Bella Plus program), but also for children and their families as part of the weekly Artplay sessions.
Every Wednesday, kids under five kick off their shoes and pounce around on the soft sculptural artworks in a two-hour drop-in session. We crash in on Siobhan's tummy-time with her ten-month-old daughter: "It's a sensory overload. It's good to interact with all the mums, dads and grandparents, too," she says. Jaya, who is a psychologist from Westleigh, is with her three year old and a friend's one year old. "I'm a working mum, so when I have a week off I make the effort to have a city date. I don't get the opportunity very often. I like the way it's unstructured and structured, so you've got storytime but also lots of tactile play."
Beynon's lucky charms include a 'Happiness bat', which is a play on words in Chinese as 'biānfú' sounds like the word for happiness. Some of the symbols draw on her Chinese and Welsh parentage; some are continuing themes in her practice. The lucky bat is something she saw printed on textiles and furniture growing up, whereas the endless knot is symbol of enduring love and friendship that's seen in Buddhism and Celtic iconography. "Growing up with a mixed background I was always intrigued by symbols and how they related across different cultures," she says.
Each design was hand painted in watercolours, which were then digitally printed on cotton canvas by Next State and made into hundreds of pillows by the Social Studio – a non-profit organisation in Melbourne that employs refugees and new migrants. "They were able to replicate my samples beautifully, retaining the feel of the watercolours." Sixteen larger cushions were made by Kate, who sewed them at home and tested them on her 18-year-old son Rali for optimum stuffing feel and lounging comfort. As the artwork will be on display for 12 months – and played with as often as possible – it needs to take some serious cuddling. The artist's favourite is the giant hand with an eye in the palm, which represents the Goddess of Mercy, Kwan Yin/Guanyin. "She's often portrayed as a multihand goddess, reaching out to those in need and offering compassion and comfort." Like the room itself, which is a social and therapeutic hideaway.
Its visitors, however small, can engage with the space in any way they choose. If you want to learn more about the Chinese characters painted on the back of the cushions there's a key to the symbols pinned to the wall outside the Bella Room. The art educators at the MCA worked with Beynon to expand on her designs, creating playful resources like felt cut-outs that you can peel off and stick on the furniture, or Velcro shapes that you can rip off colourful cubes and spread all over the floor. There's also a colouring-in sheet, stacking blocks, stamps, ribbons and rattles that all incorporate the theme of the Bella Room, but also of other artworks in the MCA.
On our visit, there are at least 30 adults and as many children; everyone is engaging in the activities and artworks in their own way. Toddlers are playing peekaboo in the giant jellyfish suspended from the ceiling, babies crawl around the cushions, and pre-schoolers listen to storytelling and songs in different languages. Susie Rugg, the MCA's kids and families co-ordinator, makes some of the activities at home. She says, "The dynamic changes so much from one week to the next. People love the kitchen tongs [activity], for example, which was my son's favourite activity when he was younger. This week we're focusing on the Bella Room, but we try to bring new things to make it interesting for older kids too."