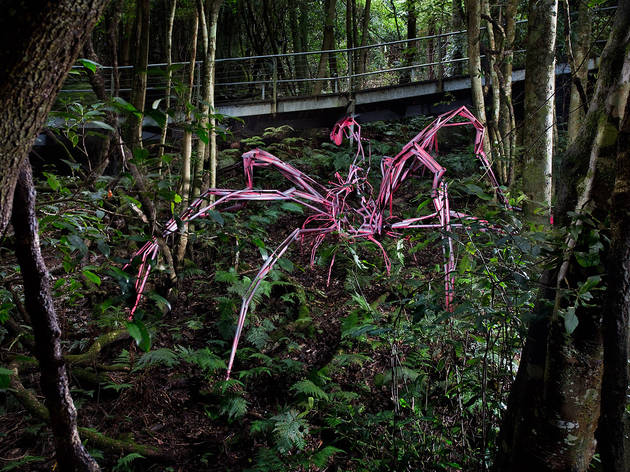 1/12
Photograph: Keith Maxwell
Henrietta by Harrie Fasher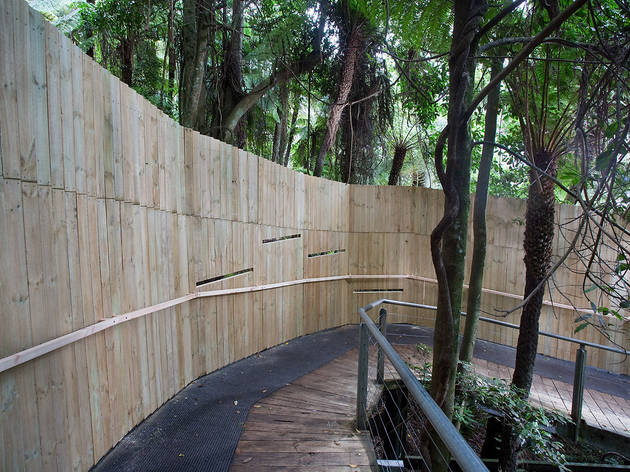 2/12
Photograph: Keith Maxwell
Foreign Body By Christopher Trotter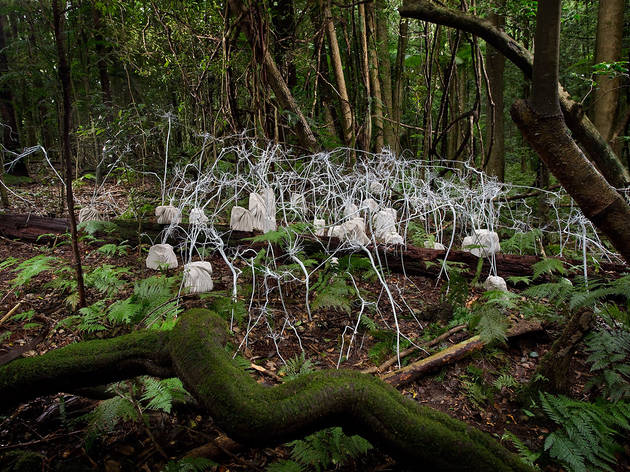 3/12
Photograph: Keith Maxwell
Anthropocentric Rhizome by Emily Kaar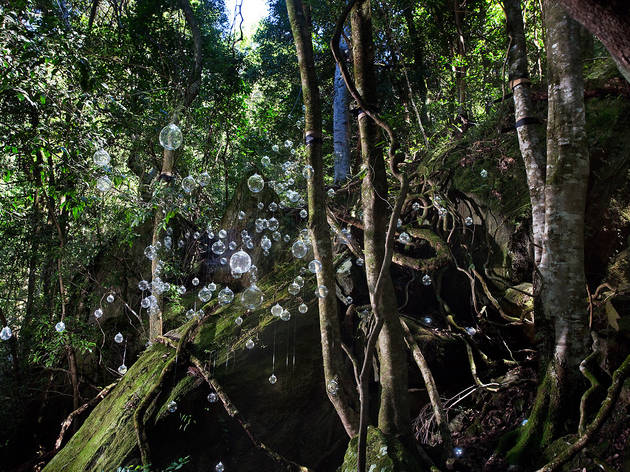 4/12
Photograph: Keith Maxwell
Illusion by Kayo Yokoyama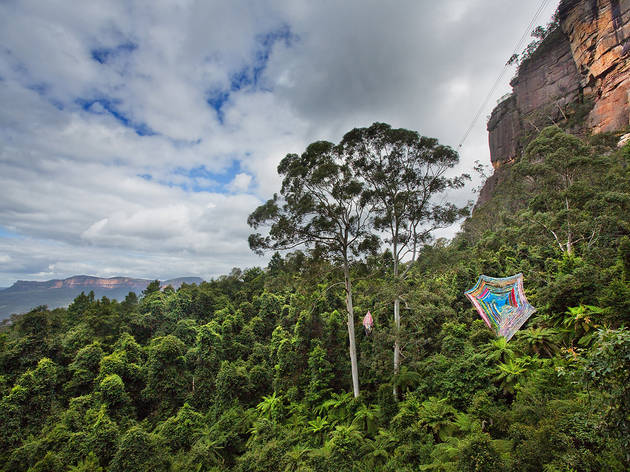 5/12
Photograph: Keith Maxwell
Dance of the Peacock Spider by Kevina-Jo Smith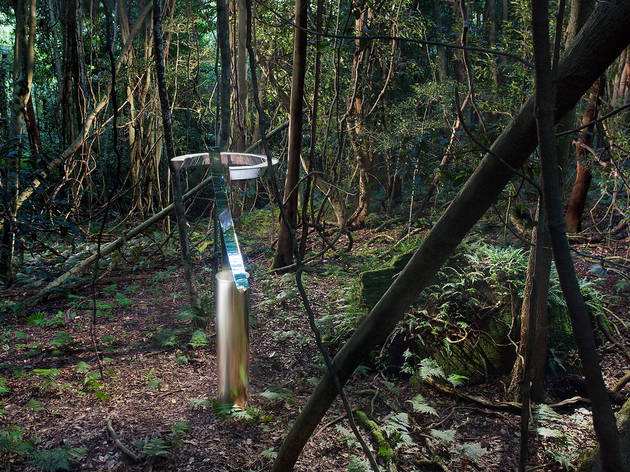 6/12
Photograph: Keith Maxwell
In the depth of the forest by Koichi Ishino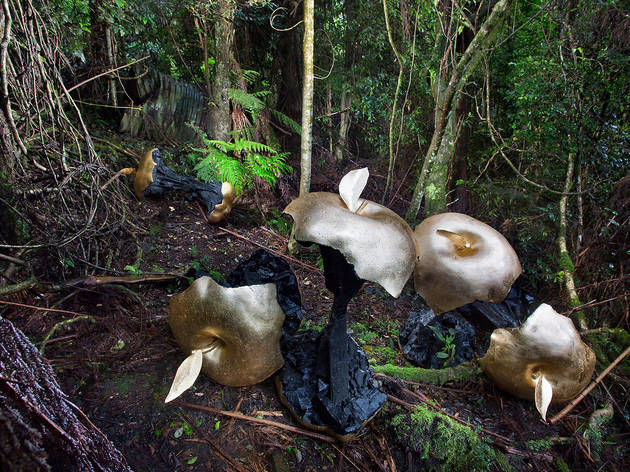 7/12
Photograph: Keith Maxwell
Consumption by Louis Pratt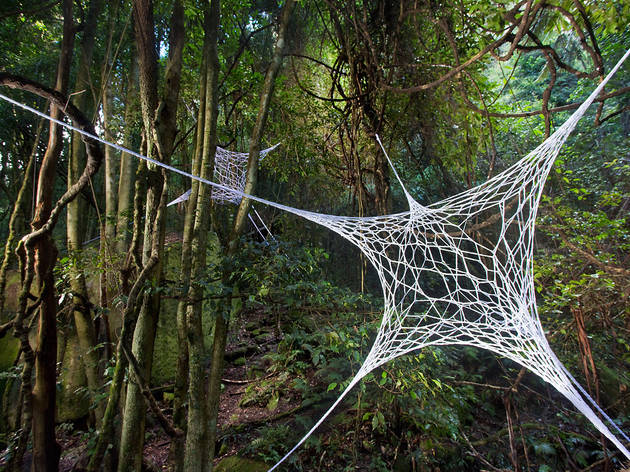 8/12
Photograph: Keith Maxwell
3D Webs by Louisa Magrics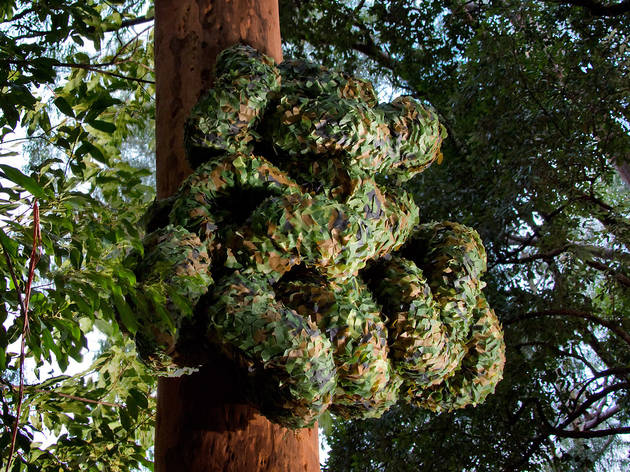 9/12
Photograph: Keith Maxwell
Jellybean by Mark Booth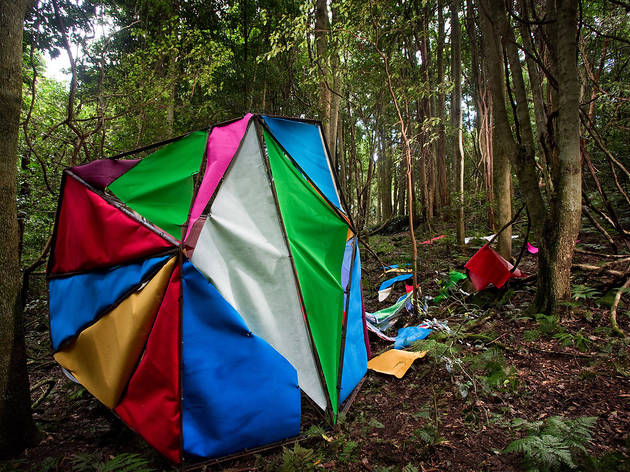 10/12
Photograph: Keith Maxwell
La Subida Rhizome by Miguel Valenzuela & Francois Limondin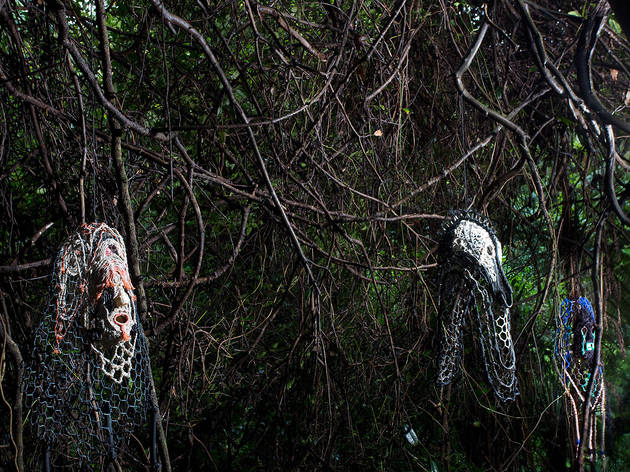 11/12
Photograph: Keith Maxwell
Ritual Masks for an Unknown Future Museum by Sally Simpson
12/12
Photograph: Keith Maxwell
Digital Forest by Tully Arnot
The Blue Mountains' top attraction brings art to the rainforest as Sculpture at Scenic World returns for the school holidays
When art escapes the galleries and gets out into the landscape, magical things can happen. There's nothing quite like trekking through a Jurassic-era rainforest, rounding a corner and suddenly spying a cloud of red snowballs, a mosaic of mirrors, a convoy of toy trucks, or a squadron of ninja koalas.
That's the appeal of Sculpture at Scenic World – the element of surprise, delight, to have our senses confounded, our minds provoked – and the reason why the event is enjoying a sixth season in 2017.
The exhibition, which kicks off on April 7 and goes for just one month, brings another dimension to Scenic World in Katoomba, and makes a visit especially appealing for parents who want to expose their kids to art as well as the great outdoors.
Take the trip down the steepest railway in the world (the Scenic Railway), then make your way along Australia's longest elevated boardwalk (the Scenic Walkway) to discover the exhibition. Thirty-five local, interstate and international artists have created works specifically to be installed in the rainforest along the Scenic Walkway.
As part of this year's Sculpture at Scenic World, there is a program of workshops for children called Sculpture for Small People that encourages kids to engage with the artists and their works. These are fun, educational workshops on Saturday and Sunday mornings that cost $15, including all materials, in which children can create their own artworks to take home – from ceramics and Easter Eggs to spider webs and paper sculptures. These can be booked ahead online.
Other opportunities to explore the works include Sculpture Otherwise – an indoor art exhibition at the Blue Mountains Cultural Centre – and an outdoor exhibition of artworks at various locations throughout the upper Mountains.
Tickets to Sculpture at Scenic World include entry to the rainforest, exhibition and unlimited rides on the Scenic Railway, Skyway and Cableway, plus entry to Sculpture Otherwise. Cost is $39 for adults and $21 for children. Family tickets are priced at just $99, which includes two adults and up to five children.
Accommodation offers include the Ultimate Sculpture Pass to Scenic World, along with breakfast, parking, gym facilities, free Wi-Fi and more. For more information about accommodation packages, visit Sculpture at Scenic World's website.