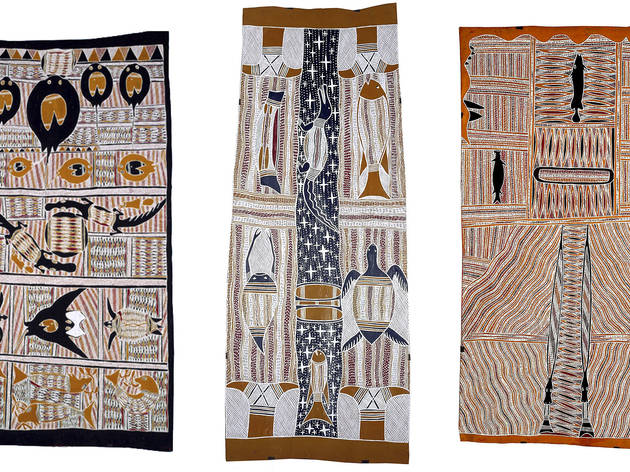 Discover how the Yolŋu people of North-East Arnhem Land fought for and won their case for Indigenous sea rights
In 1997, Madarrpa clan leader Djambawa Marawili discovered the head of a crocodile in a dumpster, the head of a sacred animal in the North East Arnhem Land area. It sparked a campaign by Marawili to stop illegal fishing in the area, which resulted in Yolŋu artists from 15 clans and 18 homeland communities creating sacred bark paintings of the Indigenous peoples' connection to the land.
The Yirrkala bark paintings were later deemed the equivalent of title deeds to the sea rights of coastal waters and in July 2008 the High Court of Australia confirmed what the people of the Blue Mud Bay region had known for thousands of years – that they were the traditional custodians and owners of the waters in North-East Arnhem Land.
In the free exhibition, there are 40 sacred bark paintings displayed alongside the history of the momentous sea rights win, as well as oral histories, aerial photography and traditional and contemporary Indigenous objects, such as Mokuy (spirit) carvings and Larrakitj (mortuary pole paintings on hollowed trees).