Reserve Bank of Australia Museum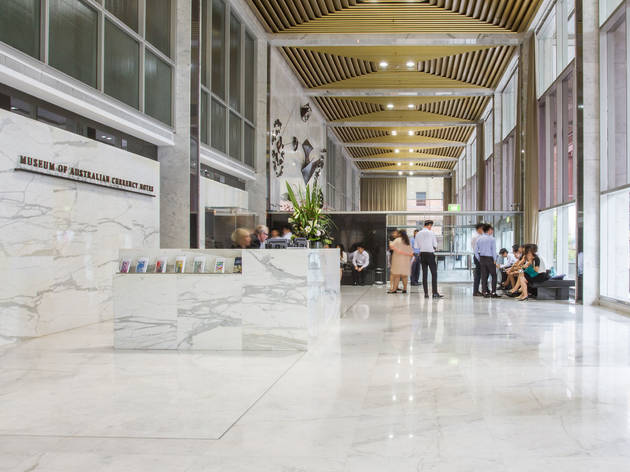 Time Out says
Pop quiz: what was the first unit of legal tender in Australia? If you said the pound, think again: technically, it was the Spanish dollar. As a penal colony, New South Wales was intended to be a currency-free, agrarian society. The idea lasted only four years before Spanish dollars were hastily shipped in to alleviate the fighting that broke out as a result of a failure of the ad-hoc barter system that was being used. The Spanish coins were valued by Governor Phillip at five shillings each.

That's one bit of monetary history to be gleaned from the Museum of Australian Currency Notes, a free showroom open to the public behind the intimidating black marble facade of the Reserve Bank of Australia building at Martin Place. Spanning from colonial times to now, the museum demonstrates how notes and note designs have evolved through history, reflecting on times of economic hardship and referencing the great note forgery scandals of the past.

"Currency notes are a by-product of life," says John Murphy, the Reserve Bank's resident museum curator. "They serve a very practical function, while exploring the social values of the time. They are less commonplace in their telling of Australian history because they're manifestations of what life was actually like."

Banknotes, as we know them today, came into existence from 1910. The original fifty-pound note featured a sheep grazing on the land to reflect our dependence on agriculture for economic survival. "It is commonplace in currency designs to focus on ideas and industries we took for granted in a particular period. Currency can therefore be a very informative way of looking back at things," says Murphy.

Cultural change in Australia can also be mapped through an exploration of printed money. Australia was one of the first nations to put non-royal women on notes, for example. "Caroline Chisholm [the English humanitarian worker] represents caring, philanthropy and women's rights. A note first appeared in the 60s that placed a boomerang at the forefront of the design, while today a portrait of David Unaipon features on the front of the $50 notes for his contribution to science, literature and the improvement of living conditions of Aboriginal people."

Perhaps the most interesting section of the museum is dedicated to how money is made. Having been in circulation since 1988, Australia's plastic notes were designed to be as environmentally friendly as possible. Notes are 100 per cent recyclable, and can be broken down into small pellets to make anything from new money to wheelie bins.

And if you were thinking of forging any of today's notes, you're wasting your time. Each note manufactured today contains a large number of distinct security features, specifying size, shade of ink, and texture. Each has a clear window, a unique serial number, and micro lettering. Fluorescent lines that glow under UV lights are even printed on the notes to filter out the fakes. "Note forgery is a far smaller problem than it has been in the past," says Murphy. "Electronic identity theft is more common."
Details
Address:
Reserve Bank of Australia, Ground Floor, 65 Martin Pl
Sydney
2000

Contact:
Opening hours:
Mon-Fri 10am-4pm