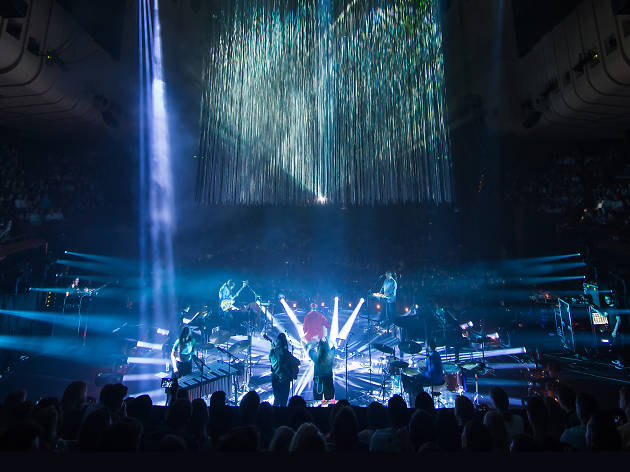 Cue tears, feels and some seriously beautiful falsetto vocals
On Friday night Bon Iver made a firm case he's the brightest and most endearing spectacles on the Vivid program, flashing lights, big ideas and all.
34-year-old frontman Justin Vernon began by looping the poetic lines of 'Woods' as lights illuminated the circular stage. Though Vernon is ever the star, each member of the eight-piece ensemble brought their own reflections to the intricate architecture of the songs. When guest folk sister trio the Staves, joined in the clan took their consuming sound to another level, and an almost heavenly frequency permeated the Hall.
The evening's highlight was an intimate piano standoff between lead vocalist Vernon and pianist Sean Carey, who he fondly refers to as his "favourite one". The two sat facing each other from opposing ends of the circular platform, each commandeering their own grand piano as they belted out a heart-wrenching rendition of 'I Can't Make You Love Me.'
An illuminated display to rival the Vivid lights seeped through the yarn canopy, bouncing off the faces of awestruck audience members, plenty of whom had eyes glittered with tears.
To bring the evening to a close, Vernon took the stage alone. In his red shirt and trucker hat, he finished off on a literal high note with fan favourite 'Skinny Love'.
Vernon reclaimed the song as his own (after Birdy's highly played radio cover) showing off his seamless vocal range with a rather aggressive take on the usually calming ballad. It left the audience wanting more, and after a resounding chorus of on-foot applause, Bon Iver walked out for one more sing-along.
After almost ten years in the musical spotlight Vernon and his band's shine has never worn off.