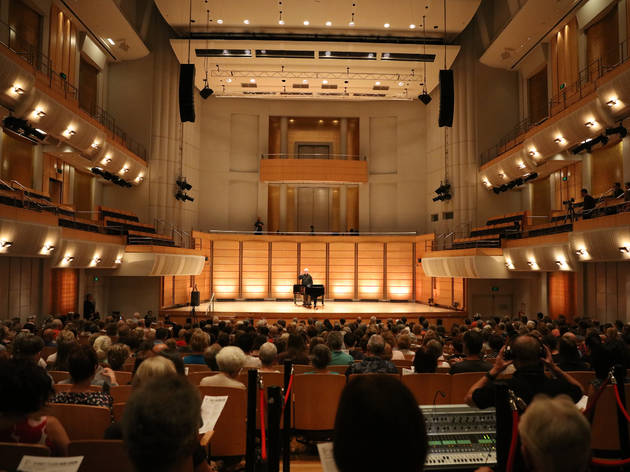 Time Out says
How did the City Recital Hall become the best chamber music venue in Sydney?
The world's favourite performing arts centre, our deceptively named Sydney Opera House, has three halls used for various kinds of classical music - not one of them ideal for their diverse needs. The 1,500-seat Opera Theatre is notoriously too small for the performers, and the Utzon Room, seating 350 at most, is too small for an economic audience. (It does, however, boast the only authentic interior designed by building's Danish architect, for whom it was named in 2004, plus a spectacular view of the harbour, so the occasional piano or voice recital there tends to sell out fast.)

Venues for top-flight chamber musicians are tricky because the promoters' break-even point is at several hundred punters, all of whom will want to be close to the musicians and hear each one distinctly, so the design problems rival those of aircraft. Critical is reverberation, measured in seconds from the time a note stops to when its echoes become relatively inaudible. In the cavernous Concert Hall this figure is high at about 2.2 seconds, but it can be slightly adjusted according the height of 18 large transparent doughnuts that hang from the ceiling, officially called "acoustic reflectors" but nicknamed "clouds" or even "perspex calamari." Big symphony orchestras need long reverberation times, which render individual speech mushy; the Opera Theatre comes in at a less indistinct 1.5s, slightly more than the 1.25s of the Glyndebourne Opera House in Sussex, England – regarded as ideal for Italian opera. The sweet spot for chamber music, however, is in the middle at around 1.8s, which for decades left Sydney with a problem like Goldilocks's.

The hall that was 'just right' for small ensembles opened in 1999, tucked away between Pitt and George Streets in a small laneway called Angel Place. The site was implausibly challenging. Its location between Wynyard, Martin Place and Town Hall stations is convenient for commuters, but due to railway rumble the entire auditorium had to be 'floated' on purpose-built rubber pads. But, with a lot of consultation with acoustic engineers, a classical 19th century European shoebox-shaped concert hall seating 1,246 was ingeniously fitted into a corner with little room for external insulation, constrained by heritage listings, champagne tastes on a merlot budget, and the Tank Stream running through the basement.

With one millionth the visibility of its white-shelled cousin downtown on Bennelong Point, the City Recital Hall Angel Place (CRH) has triumphed among concert-goers as one of the world's finest chamber music venues, and is now the Sydney home of several prestigious national organisations such as the Australian Chamber Orchestra (ACO) and Musica Viva.

But this happy result was, for decades, uncertain. Its architect, Andrew Andersons, a devoted Musica Viva subscriber, included such a hall in his 1992 design for the much-loathed Toaster building on East Circular Quay. The hall was deleted due to cost, but the basement did get rehearsal rooms and offices for the ACO. In the years 1992-94 a debate raged over proposals to cram a hall into the nearby 1845 landmark Customs House, but no satisfactory plan could be found and in 2005 the grand old sandstone box became the flagship branch of the library of the City of Sydney. One of its 400,000 books, available there for loan or purchase from the CRH box office. is Musical Chairs: The Quest for a City Recital Hall, by Lisa Murray, who is now the city's historian. It tells an intriguing tale of politics, planning processes and parking: how the council's decades of negotiations with property developer AMP over car spaces in the enclosing 36-floor office tower eventually landed a superlative hall at a peppercorn rent for 99 years.

The near-universal satisfaction of stakeholders of the CRH contrasts with the fiasco of Opera House's delays and cost overruns, which now seem insignificant, but which alientated Utzon from the World Heritage Site that he designed. An evening at the CRH may lack a sense of tourist adventure, but it reliably delivers a concert experience of superb quality.
Details
Users say