Classic Album Sundays Sydney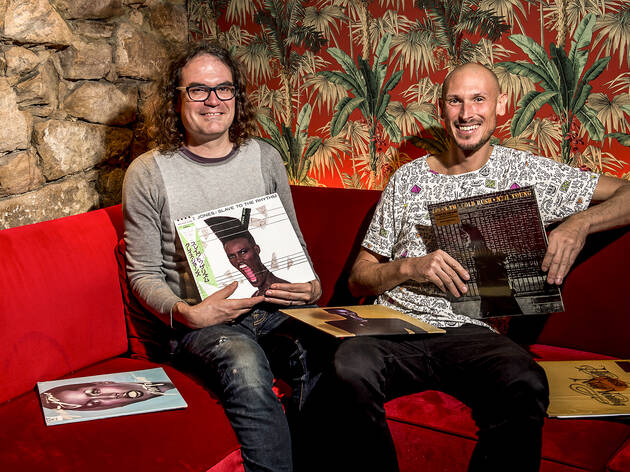 1/8
Photograph: Cassandra Hannagan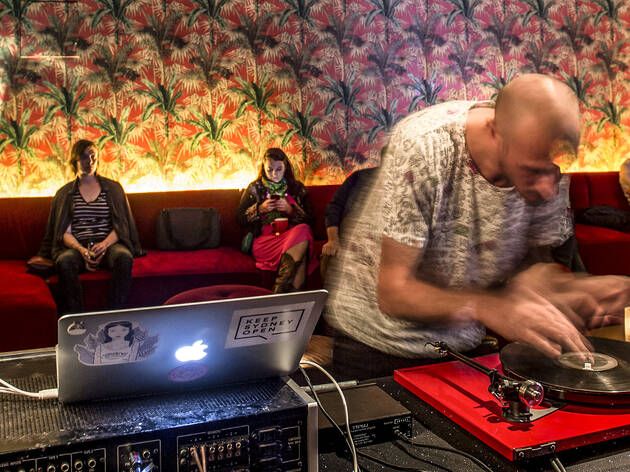 2/8
Photograph: Cassandra Hannagan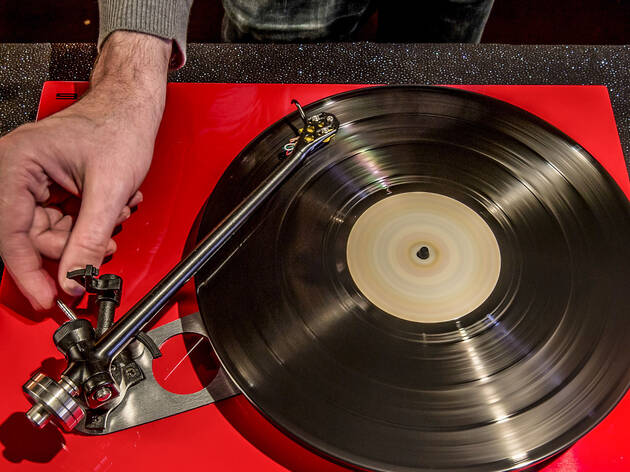 3/8
Photograph: Cassandra Hannagan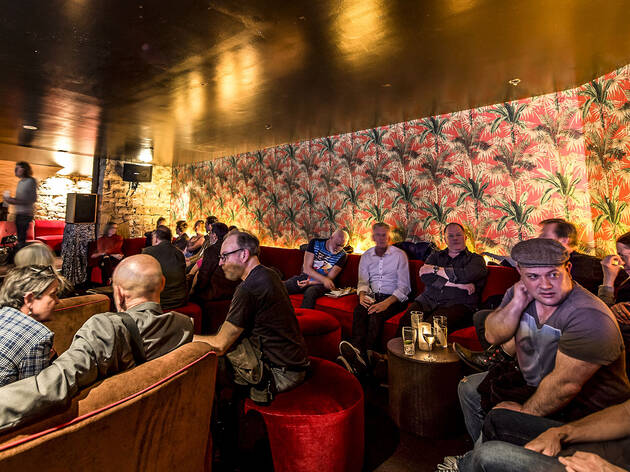 4/8
Photograph: Cassandra Hannagan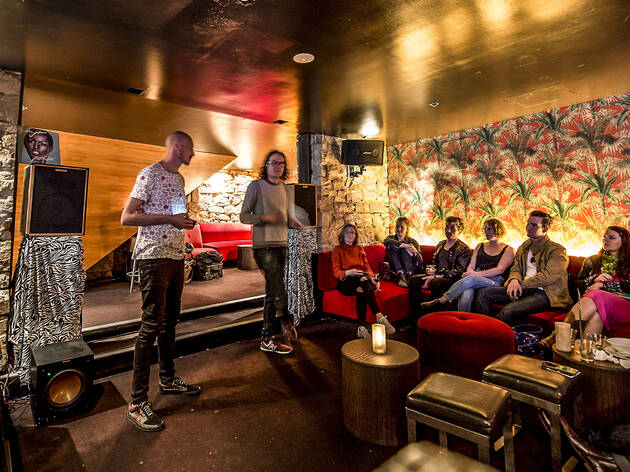 5/8
Photograph: Cassandra Hannagan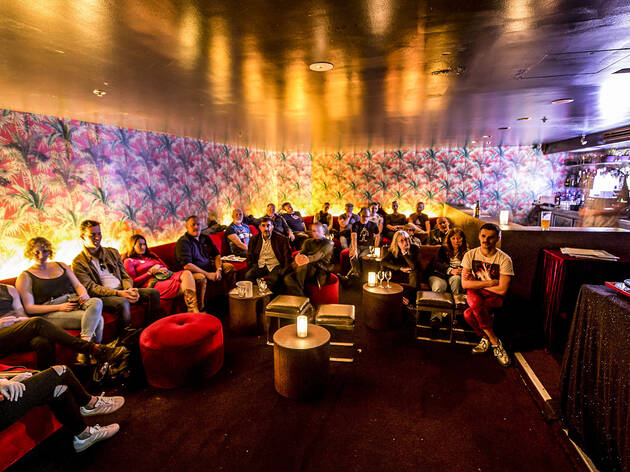 6/8
Photograph: Cassandra Hannagan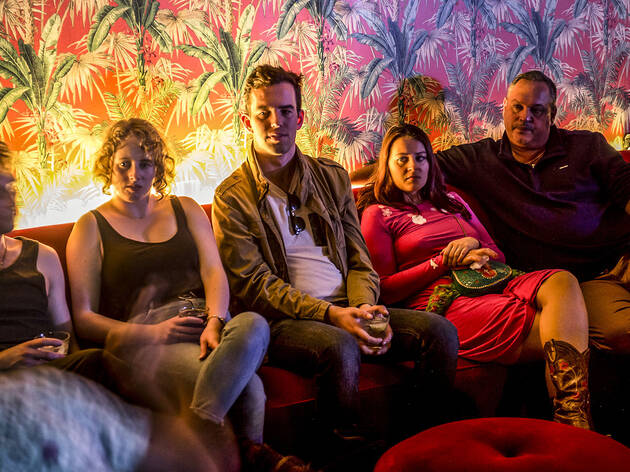 7/8
Photograph: Cassandra Hannagan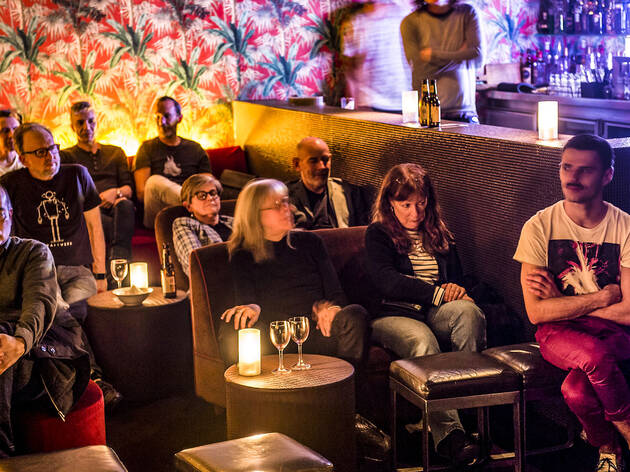 8/8
Photograph: Cassandra Hannagan
Time Out says
Ever thought of sitting in a darkened room and immersing yourself in the aural experience of one album?
In the cosy, dimmed basement of the Beauchamp Hotel, a small congregation has gathered. Ice cubes clink, warm lamplight spills on plush velvet seating, and a faint incense perfumes the air. Soon, in this intimate, multisensory haven, one sense will be attended to most: listening.
This is Classic Album Sundays (CAS), where an ever-changing, all-inclusive tribe of audiophiles gathers to experience the unbroken journey of a well-loved record, from the first track to the last. A global phenomenon, with outposts in New York, Japan, Oslo and Berlin, CAS was founded ten years ago in London by Colleen Murphy, a long-time protégé of house pioneer and creator of "by invitation only" parties in New York, David Mancuso.
"After she became a mum, [Colleen] was looking to do a more mellow kind of party, and at some point she got into taking her Klipsch speakers down to her local pub to play some of her favourite albums for her friends," says Jim Poe, one half of the Classic Album Sundays Sydney hosting duo. "It worked so well that soon strangers started rocking up and she had to charge entry. It wasn't long before it ballooned into a full-on event series and brand."
Murphy reached out to Poe, an old friend, and asked if he was interested in hosting a CAS event in Sydney. He was. In late 2016, together with fellow DJ JP Ducharne (Bondi Beach Radio), they launched the only event of its kind in the Southern Hemisphere, at the World Bar. When the venue closed last year, their new home in Darlinghurst accepted them with open arms.
Time Out attended an evening, a special double-album session of Neil Young's After the Gold Rush and Harvest on the turntable.
The hosts take the hunt for a high-quality record pressing seriously. They found these two at Mojos Record Bar, and as the needle touches down, it's clear their efforts have paid off. Spinning on a cherry red Rega RP6 Turntable through 1982 Klipsch Heresy loudspeakers and a vintage Japanese amplifier, a rich, three-dimensional and multi-textured sound weaves its magic, as Neil and his band croon tales of old men, Alabama and broken hearts.
Serenity levels are high. Many listeners close their eyes; couples snuggle into each other; some gently bob their heads or feet. Young and old are here, digging the vibes together.
"It's all-encompassing, it takes over your consciousness," says Poe. "And that brings out the narrative qualities of the music – it's a journey. But at the same time it's communal, you're in a room with other people and their reactions affect yours."
The event itself was born from nostalgia, with Colleen remembering the pleasure of listening to albums in her darkened bedroom in the '80s. It's also a big draw for the older crowd.
"This is how I used to listen to albums," says Filipe, a CAS regular. "The excitement of when an album came out – I'd buy it, take it home, shut the bedroom door, listen to the whole thing. Doing it with other people adds to the enjoyment, too: people loving the same thing you love."
The event format is hugely important to the experience in this sense. Apart from JP hopping up to flip the record to side B, there's no pauses. There's no skipping tracks. No Spotify ads.
Giving our attention over to one thing, wholly and unconditionally, is a rarity nowadays. There's our busy schedules, the glorification of multitasking, the onslaught of distraction, the easy instant gratification of finding our favourite tracks and forgetting the rest. Music listening has become fragmented, algorithmically geared to our particular tastes and personal convenience. The whole idea of an album as a coherent thing in itself, a structured linear experience purposefully laid out by the artist, is fading.
"We're always having younger attendees say things like, I love Radiohead but I've never heard OK Computer all the way through," remarks Poe.
Murphy remains the movements leader and master programmer. Months in advance, she'll curate the album that music fans across the world will listen to. Despite the name of the event, the albums aren't always the obvious classics, but "more often an album that was pivotal to [an artist's] career or to the evolution of a style or genre," says Poe.
There's also a deliberate care to diverse programming, so that alongside bigger names like the Cure, Public Enemy or Steely Dan, there's Alice Coltrane, Lauryn Hill, Kraftwerk and Sade. In 2017, they collaborated with Afrobrasiliana Soundsystem to present Fela Kuti's Zombie and Expensive Shit.
When they played a tribute to Aretha Franklin, "everyone in the room cried," says Poe. Wet cheeks could also be found at their first ever Sydney event, baptised by Prince's Sign O' the Times, six months after the pop icon's death.
Programming for diverse music tastes means that while there's a core fanbase of followers, the broader audience body is always shifting.
"I gotta tell you it's a challenge to market in an entirely different genre of music every month," Poe admits. "But it's also really fun."
Details