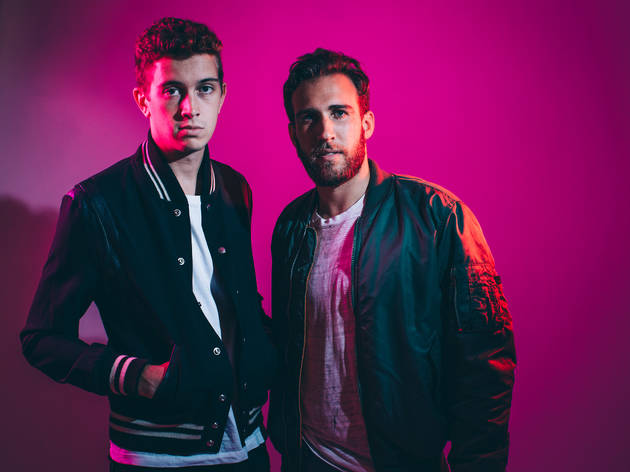 The boys from Flight Facilities finally push back from the gate
Earlier this spring, Hugo Gruzman and James Lyell – better known as wildly beloved Australian production duo Flight Facilities – surprised everybody with a crash landing of sorts. After years of speculation and even Hugo's insistence that it would only happen when they were "both in wheelchairs and nobody cares anymore," they had finally completed a debut album.
Till now, Flight Facilities has been known primarily for slinky singles featuring an array of female vocalists – stuff like 2010's 'Crave You' (recorded with Sydney's Giselle Rosselli) or 'Claire De Lune', the 2012 smash featuring American singer Christine Hoberg. The tracks came at a trickle, earning the boys a reputation for being either incredibly sluggish or overly perfectionistic. But maybe both assumptions were false.
"Not enough people wait to create demand for albums," says Hugo. "That was the first thing we wanted to do. The second was to not tell anyone we were doing it in the first place, because then you only create nine months of stress and anticipation for yourself and your fans on the basis of knowing."
Down to Earth opens with ambient noises meant to ape an airport terminal – the whoosh of departing jets, whirring propellers, clicking heels, the dulcet dings of a xylophone and a cheeky announcement that directs listeners to "move about the cabin as much as possible" and "be sure to loosen those belts".
"We wanted to let people know they're in for a listening experience," explains Hugo. "We already play a lot to the theme of our name, so we thought we should give it that extra kick."
There are eight collaborating vocalists on Down to Earth, including Owl Eyes, rapper Bishop Nehru and American comedian Reggie Watts. "We start writing a track, get to a certain point, get a certain kind of voice in mind and create a shortlist of no more than three vocalists," says Jimmy. "And we've been pretty lucky. People – even if they haven't heard of us – think we're at least reasonably credible. We're not Radiohead… but we're not some crazy dubstep band, either. More often than not, people will take that chance with us."
Touring the songs on the album could prove trickier – or perhaps not. "We'd love to be able to drag people around the world with us to sing just one song, but logistically it's a nightmare," sighs Hugo. But Jimmy teases it might happen anyway. "We've basically written songs with at least one person in every continent. You could be at a show and any number of people could come on stage with us… you never know. That's the beauty of what we do."