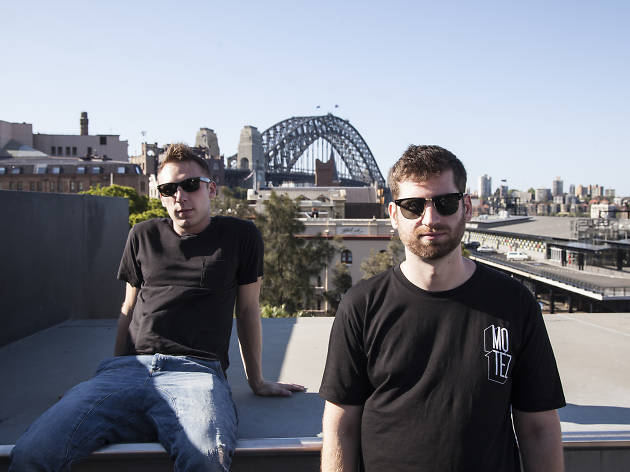 Time Out meets Clayton Knight and Harrison Mills, the electronic duos riding at the crest of the 'chill-wave' genre
You guys have pretty much been touring non-stop since the release of your second album In Return. Have you learned to write music on the road?
Clayton: You get better at it but it's still tough. We like to get in a creative headspace and to do that you've got to kind of decompress. When you're on the road there's so much transition and you're moving so much, it's like 'you've got 30 minutes to be creative', it's not like a switch you can just turn on and off you know? It comes and goes.
When it comes to the Australian music scene, who is on your radar?
Harrison: The very first show we ever played out here was with Rüfüs and Hayden James so we're really good friends with them. It's such a genuine and supportive community in Sydney – it's something I wish we had in Seattle.
You've been known to bring a full marching band onto the stage – how'd that come to fruition?
C: We wanted to do that since we were little kids.
H: We love that big band sound and making things big, theatrical cinematic events and that's kind of where our live show is leading – big, powerful moments. If we could we'd love to have a symphony, a full drum line with us!
You guys have visited Australia a lot – what keeps bringing you back?
C: If I moved anywhere overseas it'd definitely be [to Sydney]. The electronic music scene here is a very positive, supportive community. Not even musically, just as people. I could live here tomorrow and I wouldn't miss anything back home, which is pretty crazy.
H: Yeah, you guys are very open-minded. In the US and the top 40 charts are the dominant force. Here you guys are very open to new and weirder stuff which is refreshing to see. That doesn't happen everywhere in the world, that's for sure.
What's one piece of advice you would have given yourself a few years ago?
H: (Laughs) Don't hang out with Clayton… That guy is going to ruin your career.
C: Yeah same. But seriously? Take care of yourself a little more and don't try and stop learning. Don't be afraid to jump into really new experiences and don't let the stress get to you too much.