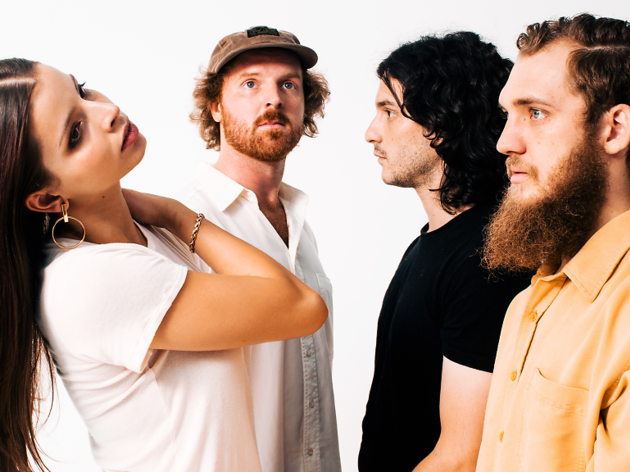 Time Out says
Groove to mystical new tunes by this energetic four-piece
Ever since 'Mr Polite' was released in 2011, with 'She's a Riot' drumming in soon after in 2012, the Jungle Giants have had us hooked. Now that their third album Quiet Ferocity has earned a place in Australian hearts and airwaves, they're becoming increasingly well known for their danceable tracks and comfortable sing-along style.
They dropped new single 'Heavy Hearted' in 2019, and have organised a national tour to accompany the track and their discography of boppy pop. The new creation leans more towards house music than the rest of their sound, with solemn strings leading into techno beats and synthy backing vocals, but it still retains that signature get-up-and-dance style.
The familiarity in their sound is a credit to their shared history – the band members attended the same Brisbane high school. Add a smidge of competitive spirit (they formed opposing bands in their formative years) and you've got yourself a wonderfully cheeky indie-pop gang.
They'll be getting audiences moving at Luna Park's Big Top on October 11. Before the troupe dances onto the stage, Sydney DJ Adi Toohey will be riling up the crowd with her jazzy club set.
Details