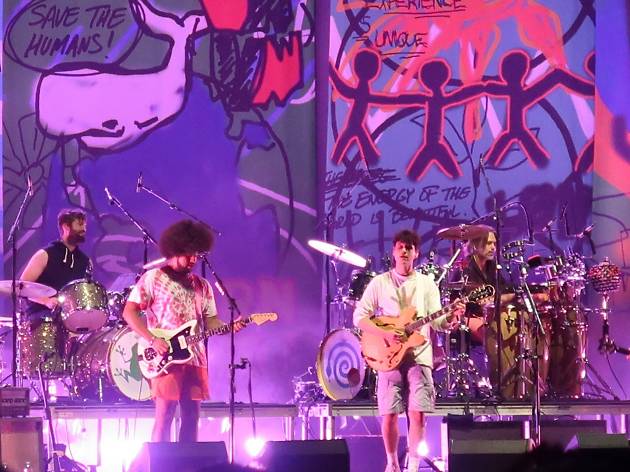 Time Out says
Catch these poppy indie rockers at an intimate Enmore Theatre performance
Currently on their world tour for their latest album Father of the Bride, this influential American indie-rock band are back in Aus, six years after the release of their 2013 Grammy-winning Modern Vampires of the City.
Although rather different from the warmer and upbeat tunes of their previous tracks, the 18 new songs in Father of the Bride have proven very popular and the album marks the group's third consecutive collection to debut at the top of the US Billboard 200.
Long-standing fans will be served well with this gig's setlist of more than thirty of their latest hits, old favourites and covers. With seven talented bands members and news faces to look out for, this is like a rebirth, out of a sexy vamp coffin, for Vampire Weekend.
Father of the Bride includes three special duets where Danielle Haim, part of the sister trio pop-rock band HAIM, joins the indie rockers on stage. The pair's voices fit together effortlessly and the result is a stunning collection of songs with each song addressing a problem in their relationship, their marriage and then in their final duet, a love song, they realise 'We Belong Together'.
Other hits that'll make it to the stage include 'Harmony Hall', 'This Life', 'One (Blake's Got a New Face)', 'A-Punk', 'Cape Cod Kwassa Kwassa' and many other synthy electro-poppy sounds.
Details