Sydney Opera House has announced an impressive line-up of international speakers for the second year of Antidote – the hopeful talks and workshops festival that aims to inspire local and personal solutions to global issues.
The biggest names on the bill include American journalist and former government advisor Ronan Farrow, whose New Yorker article on Harvey Weinstein won the 2018 Pulitzer Prize for Public Service, and activist and politician-in-the-making Chelsea E Manning, who'll be appearing in conversation in the Concert Hall.
Speaking to Time Out ahead of the announcement, festival director Dr Edwina Throsby says she wants the festival to be about change.
"What I want this festival to do is to make people think about their place in the world in a constructive and productive way," says Throsby, head of Talks and Ideas at Sydney Opera House. "So people don't feel overwhelmed, so they feel like they have some agency in changing both themselves and their communities. We need knowledge and skills and know-how in order to be able to move things forward, and I hope this is what the festival provides."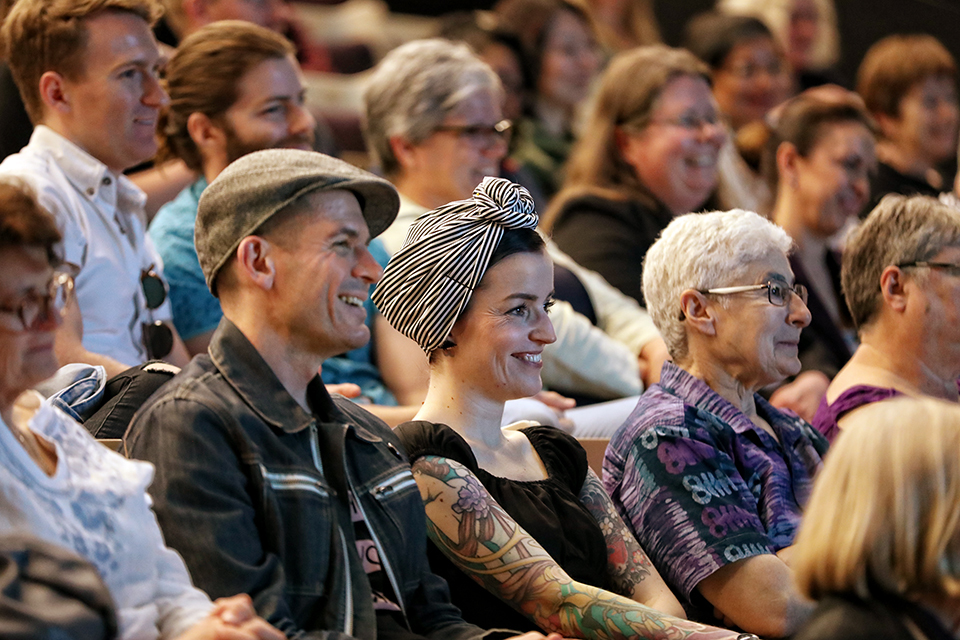 The festival's speakers can be linked by four themes, one of which is 'truth and lies', especially around how we understand or receive knowledge about the world.
"The very notion of what is truth and what is not truth has been called into question at the highest levels of power. Someone like Ronan Farrow brings it back to the best journalistic basics and provides a framework for these things to be critically assessed. It's more and more important to have people who have the time and capacity to do be able to do those long-term forensic investigations – in fact, it's never been more important."
Then there's 'technology and design'. "No one really knows what the future holds in these areas and the risks we're taking with our data day to day," says Throsby. "One of the most important figures in this space is Chelsea E Manning. As well as being such a high-profile spokesperson around surveillance and data privacy, she's also one of the most important and recognisable trans activists today, and her advocacy for trans communities is a really important part of her work."
The third and fourth themes at the two-day festival are 'culture and identity' and 'storytelling and connections' – or not feeling alone in this world.
"Now I'm going to fangirl about this next speaker, Ta-Nehisi Coates, because his writing is some of the most nuanced about popular culture, race and identity today. He's written about Obama and Trump in The Atlantic, talking about the aftermath of a black president of America, he's written about Kanye West in relation to race and power – and if you're not familiar with him I urge you to check him out."
Throsby is also bringing Syria-born architect Marwa al-Sabouni to the Opera House. The author of The Battle for Home: The Vision of a Young Architect in Syria spoke at TED a couple of years ago via video link from her home in Hom, which had been devastated by the war. She'll be at Antidote – in person – to talk about how buildings are conducive to a peaceful society.
"She's on the team tasked with literally rebuilding Hom. One of the things she's thinking about is how architecture contributes to community and – ultimately – to peace. The background is that the French colonialists didn't pay attention to the fact that the original cities were courtyard focused and there were lots of group meeting areas; the shared outdoor spaces were integral to the architecture. The colonialists built towers, which segregated and ghettoised communities, and her argument is that's one of the contributing factors for tensions is because there weren't spaces for communities to meet and form bonds. This is one of the things she's trying to apply in the rebuild of the city now."
Also on the line-up are South African-born writer Sisonke Msimang, who gave a TED Talk in 2016 called 'If a story moves you, act on it'; Jonathan Drori, author of Around the World in 80 Trees; Raj Patel, author of The Value of Nothing; and biologist Lisa Gershwin, who has spent her life describing 200 species of jellyfish.
Edwina's advice for Antidote newbies is to look beyond the names you already know and to open your mind to a thought or argument from a speak who might be new to you. "Think about who you want to see and book that, but also consider the smaller events and elect to hear from new voices," she says. "Take a punt on a speaker you haven't heard of before now."
Antidote Festival returns to Sydney Opera House on September 1-2. Tickets start from $29. Multipacks go on sale on Friday June 22. All tickets go on sale at 9am on Friday June 29.
Festival fomo? Here's what you missed at Dark Mofo last weekend.