.
.. according to Angie Goto and Sue Wright, deaf art educators at the MCA
Every sign name tells a story
Angie: "My name is Angelina, which means angel. So my sign name is like a thumb going above my head in a circle, but it's tilted on the side, which means I'm not absolutely perfect."
Sue: "My first sign name is a bit rude – but I won't tell you what it was, as some deaf people give each other rude sign names. But a friend from New Zealand gave me my current sign name, which I absolutely love. It's a thumb tucked into my index finger and pushed outwards – it means 'to sue', as in legally. When I meet people, I stir the pot a little – it's a nice little icebreaker."
Auslan is less stressful than lip reading
Sue: "I grew up more oral, by speaking and using lip reading, and as I went through my teenage years I learned and used more sign language. Nowadays I'm more comfortable using Auslan."
Angie: "My journey is similar, in that I talk but I'm learning sign language more. I feel more relaxed, instead of concentrating lip reading all the time."
Art is how we express ourselves
Angie: "[I create] large acrylic paintings with a mixture of oil sticks and aerosol; it's very neo-expressionist, mainly on body language and emotion, because that's how I read people and try to communicate – so hearing people can understand what I'm really like, and what I see in my world as a deaf person."
Sue: "I'm a photographer. Just recently I've started studying visual arts. I've done a lot of research on different artistic styles, because I'd love to set up a workshop for deaf people or people with disability to use art as therapy, or as personal expression. Art has positively impacted my life."
Our Auslan tours bring more deaf people to the MCA
Angie: "They used to have a hearing person doing the tour, but with an interpreter – hardly any deaf people came – they needed a deaf art educator who could really connect. Once [deaf visitors] found out I was deaf they started coming – and it just grew from there."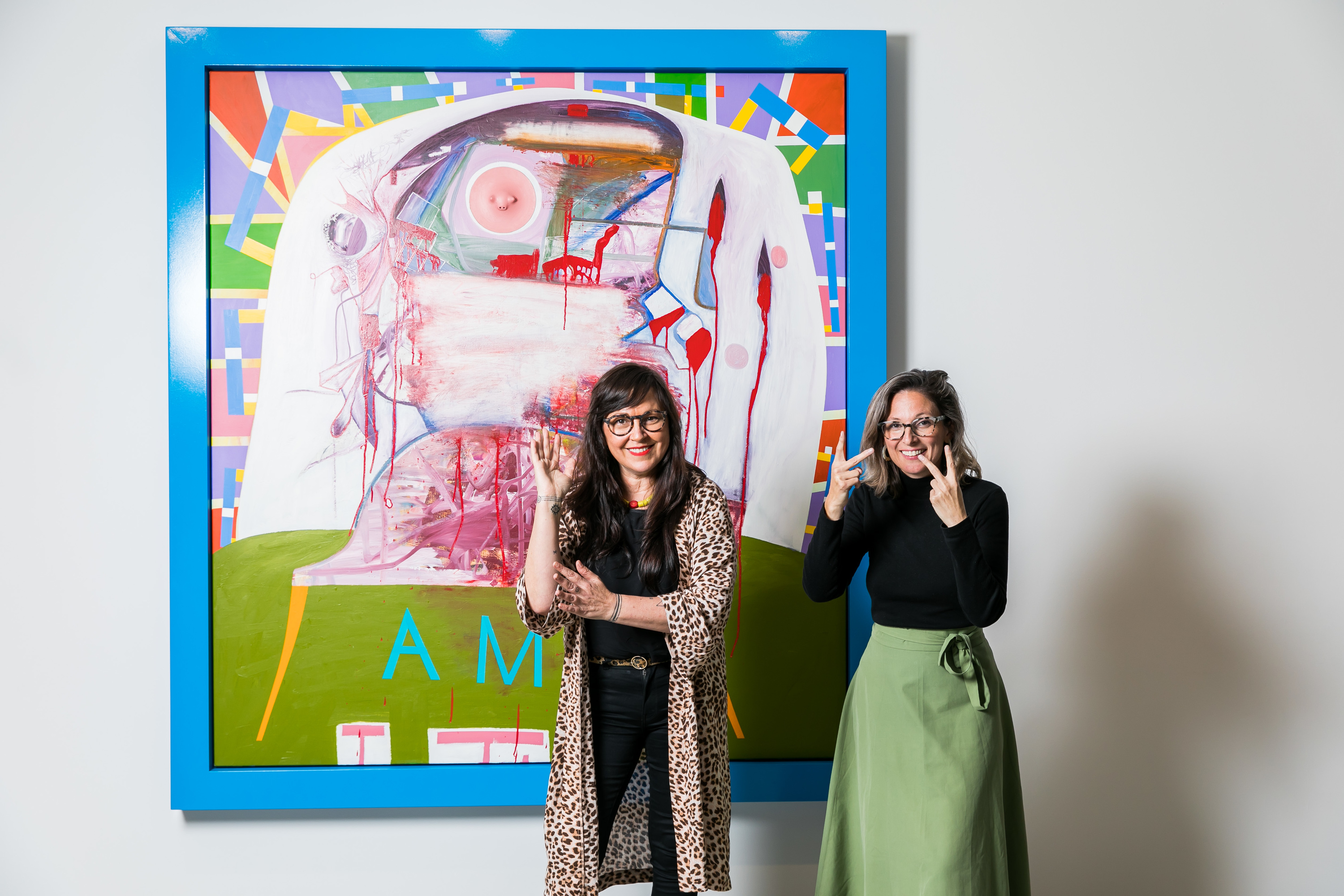 Dark exhibition spaces are very challenging for us
Angie: "Pipilotti Rist's exhibition was hugely challenging because it was dark. We had to get them to feel it and experience it, then go outside to explain things."
Sue: "It was a little difficult because lighting was the point of that particular experience, but the way it was set up was too dark to explain on the spot."
There are easy ways to make art galleries more accessible
Sue: "Captions on video are really important – if you've got wording for the artwork on a plaque, for some deaf people English is not their primary language and they may not understand how it's written. An Auslan video explaining the work would be fantastic. Things like wheelchair accessibility is such a no brainer. We all like to talk about accessibility and inclusion, but sometimes we miss simple things such as a step in the way and people can't get up the step."
Angie: "For deaf people, more video promotion – because they're very visual. And it really works. We tried it a month ago, and more deaf people showed up."
Auslan isn't universal, but body language is
Sue: "Body language is the same – so you can kind of get through with gesture and expressions. Each country has its own sign language, but we have a way within ourselves, we can figure out a way through using common gestures and expressions."
Angie: "There was one man from Hong Kong who was so excited to see me signing, and we managed to work it out."
We'd love the MCA to become a social hub the deaf community
Sue: "A long time ago – maybe I was 16 or so – there was a deaf club in Stanmore and this was a regular social event on everyone's calendar. Since the advent of the internet and smartphones, everyone's just meeting up whenever and at any time, but this was a designated time and place. I would love it if the MCA had a similar vibe; if deaf people knew that on a particular day they could come hang out and socialise."
We love seeing deaf visitors connect with the artworks
Angie: "You can see their faces light up – especially deaf people – they have very expressive faces, and they don't lie. If they don't like it, they'll show you. When their faces light up that makes my heart sing."
Sue: "Absolutely. My sister in law led Auslan tours at the Art Gallery of NSW and she encouraged me to attend. I never imagined it would change my life. It was a completely new experience and I was utterly engrossed. It was something I never realised would have such an impact until I went on the day; I was hooked. That lit a fire in me – I wanted to replicate that experience for other deaf people."
Find out more about Angie and Sue's guided tours of the MCA.
Read our interviews with Indigenous astronomer Kirsten Banks, dugong keeper Samantha Hillman and Taronga Zoo bird keeper Grey Fisher.