375 Congee and Noodle House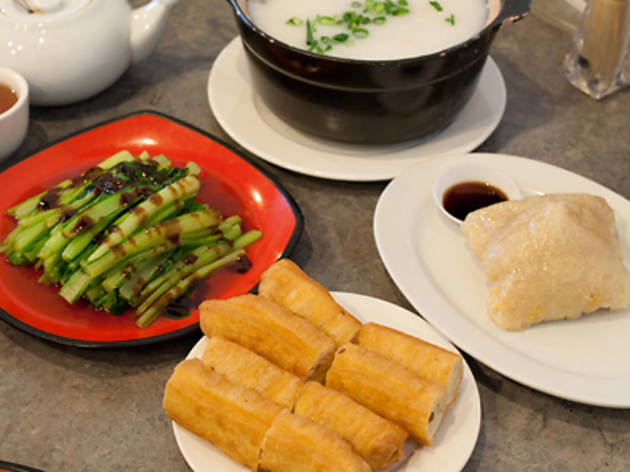 Rice porridge with deep-fried crunchy doughnuts? A delicacy we can get on board with
Take a handle of rice, cook it for hours in plenty of stock and you end up with congee or rice porridge, a soul-reviving elixir that will cure all your ills. Whether you're sick, seedy or ridiculously hung-over, congee is the Chinese version of penicillin. Rice porridge may not sound terribly exciting but that all changes after you add a deep-fried Chinese doughnut to the picture. See. That got your attention.
Congee is traditionally eaten for breakfast, but really it can be eaten any time. It's one of the specialties at 375 Congee and Noodle House in Chatswood, bare bones in décor but cheerfully chaotic with Chinese couples, friends and families getting their congee fix.
The magic of congee is what you add to it. Deep-fried Chinese doughnuts ($2.50) – yau char kwai in Cantonese or youtiao in Mandarin – are just one delight you can add, fluffy mouthfuls of crunch best dunked quickly in the rice porridge and eaten before it becomes completely soggy. Scoop right down to the bottom of the bowl to get to all the good stuff – your choice of chicken, minced beef, fish, seafood or pork and thousand-year-old egg, a sulphurous egg cured in lime that tastes far better than it smells. The congee comes in a bowl for one ($5.50-$10.50) or a cavernous pot ($8.50-$14.50) to share. The congee set menus ($21.80-$28.80) offer even better value, with variations of Chinese doughnuts, vegetables, sticky rice and noodles included.
The four-page menu offers no shortage of other, non-congee options, from Hong Kong café classics like baked seafood spaghetti in Portuguese sauce ($14.50) to 18 types of sizzling hot plates, from Mongolian lamb to king prawns in garlic sauce (both $15.50). On the Chef's Suggestions list, stir-fried salmon head in XO sauce ($15.80) is our pick of the lot, a jumble of deep-fried salmon chunks coated in sweet and spicy XO made from dried scallops, dried shrimp, chilli and garlic.
The Chiu Chow section offers a large selection of noodle soups, too. Braised beef in clear noodle soup ($9) is the most popular, and with good reason. You'll be rewarded with a clear sweet broth filled with a huddle of slippery rice noodles and slices of tender and gelatinous beef.
Venue name:
375 Congee and Noodle House
Contact:
Address:
375 Victoria Ave
Chatswood
Sydney
2067

Opening hours:
Daily 9am-10pm
Price:
$45