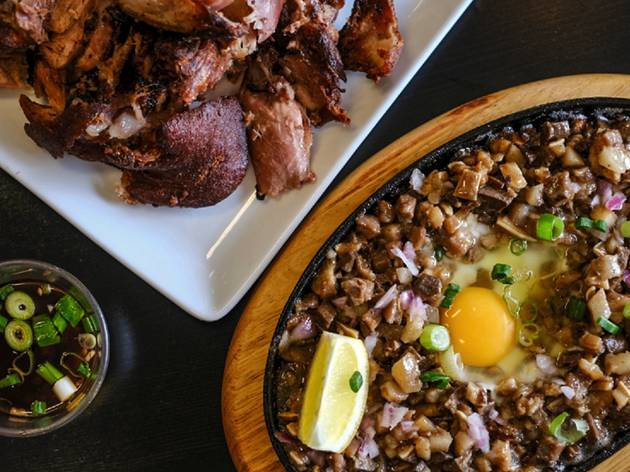 1/3
Photograph: Helen Yee
2/3
Photograph: Helen Yee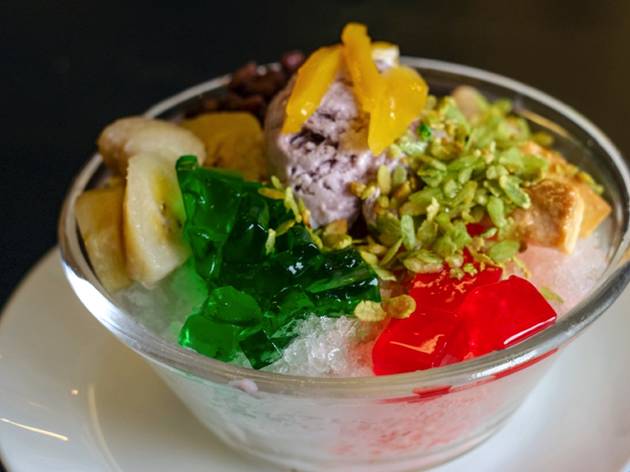 3/3
Photograph: Helen Yee
Time Out says
If you haven't tried sizzling sisig, this family-owned Filipino diner in Rooty Hill will convince you that it's time
The first thing you need to do with sizzling sisig is mix the egg yolk in quickly. You'll want to burst that quivering golden orb and spread the yolk so it drenches every inch of chopped meat across the entire plate. The meat should be hot enough to cook the egg yolk as you stir it through, creating a sticky and rich sauce. The meat? It's a mix of everything that exemplifies nose-to-tail eating. We're talking bits of chicken liver tossed through with sliced pigs' ears, pork cheek and – if you're lucky – pig snout.
Is that the sound of you freaking out? Don't. Sisig is a dish that originated in Pampanga, popularly known as the culinary capital of the Philippines. The seasoning is the key here, a heady combination of salty, sour and spicy notes. Each mouthful is different, a little bit fatty here, a little bit crunchy there, interspersed with accents of red onion and fresh chilli. It's a hearty and rich dish, best contrasted against the simplicity of plain white rice.
You'll find sizzling sisig ($14 with rice) on every second table at A-Team's Kitchen, a low-key family eatery in Rooty Hill. It's the type of joint where you queue up with Filipino aunties at the register to place your order, then jostle with a rabble of kids to get your own cutlery. It's also the kind of place where you'll find free jugs of chilled water and the gastronomic funpark otherwise known as the self-serve condiment station. Discover the joys of Filipino banana ketchup (like a sweet and sour tomato sauce) and Mang Tomas all-purpose sauce, a thick and tangy concoction locals relish with lechon suckling pig.
If offal isn't your thing (and even if it is), make sure you order the crispy pata. That's a whole pork knuckle deep-fried so the skin turns into crackling. Dunk each piece into the accompanying sawsawan dipping sauce, a soy and vinegar combo that cuts through the heaviness. Otherwise, hoe into the all-day breakfast menu for a Filipino fry-up of eggs, your choice of protein and garlic fried rice.
Finish with the classic halo halo (a bargain at $10) for dessert, a wonderland of tinned fruits, jelly, creme caramel, sweet beans and purple yam ice cream piled onto a mountain of shaved ice.
Details
Address:
4/52 Rooty Hill Rd Nth
Rooty Hill
2766

Contact:
Opening hours:
Mon-Fri 8am-8pm; Sat 7am-8pm; Sun 7am-6pm
Best selling Time Out Offers