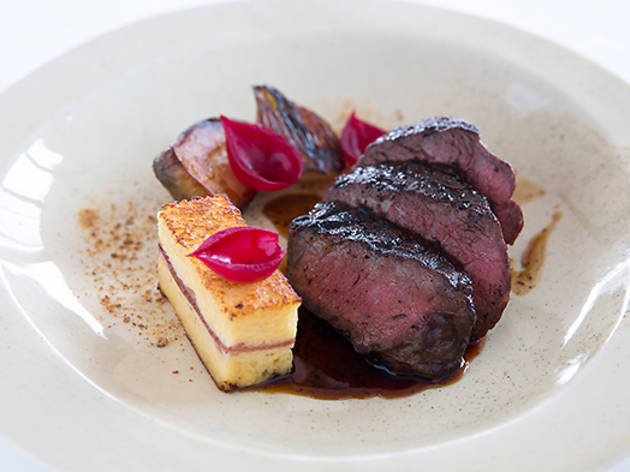 1/8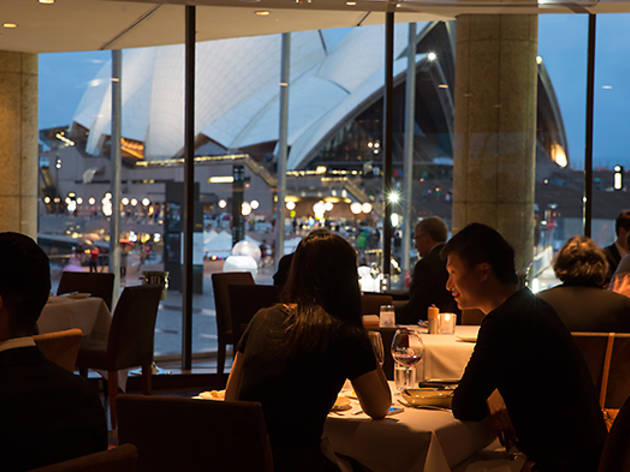 2/8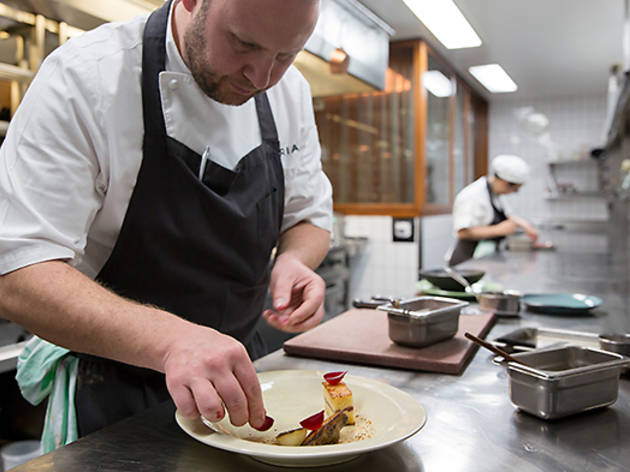 3/8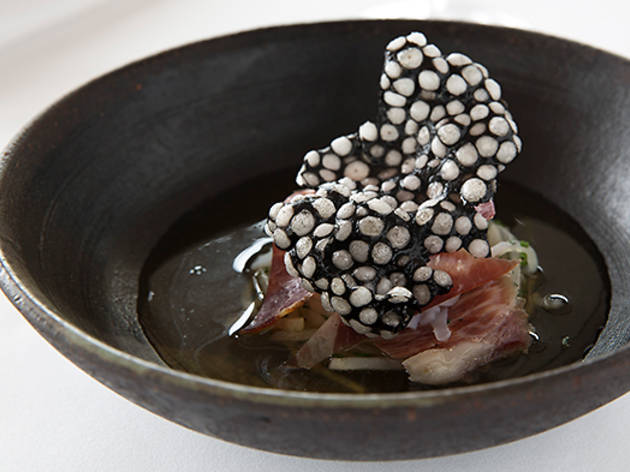 4/8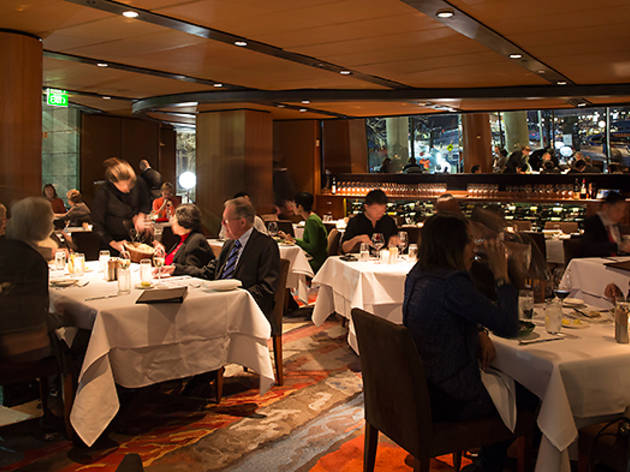 5/8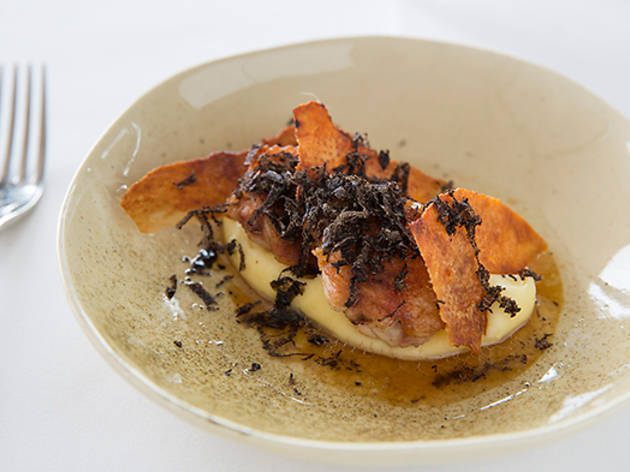 6/8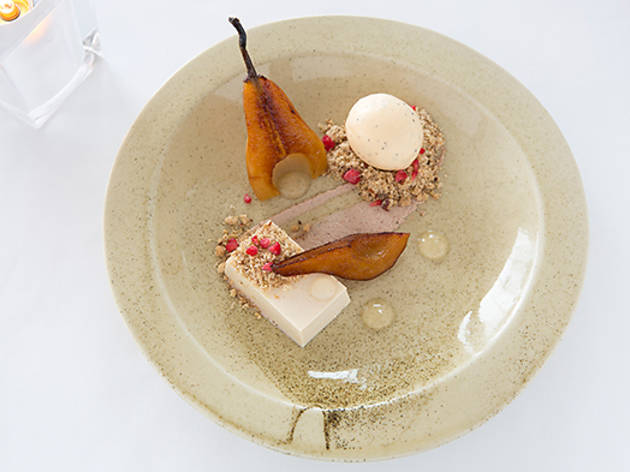 7/8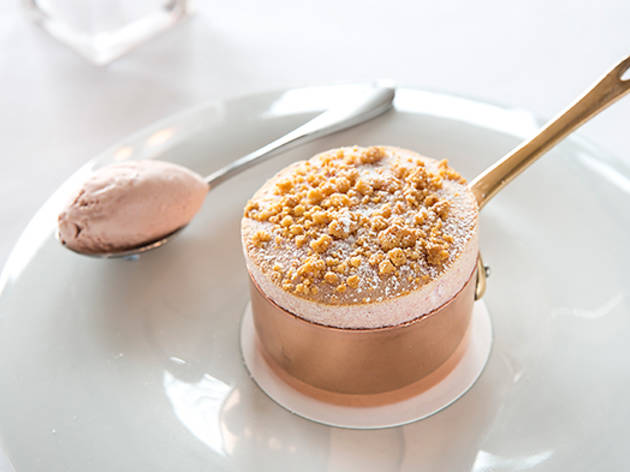 8/8
It may be 15 years old, but it feels like Aria has really grown up
There are stories. Mysteries. Legends. And they're all surrounding the window seats at this stunning Quayside locale. We've heard of people talking up terminal fatal illness to nab one. Others try the old 'I'm a very important friend of owners Matt Moran and Pete Sullivan'. Some just happen to get very lucky when they book.
So would you fake a serious (though presumably non-contagious) illness to get prime position here? Maybe if you'd seen the backdrop of Sydney Harbour, the Bridge and the Opera House. But maybe you wouldn't. Because even though the views are million-dollar-good, so is the service in the restaurant. Also, chances are you're not evil.
This is a restaurant of plush, subtly lit comfort: thick, heavily starched tablecloths, wait staff in crisp black suits, and a room that hums with subdued chatter. There's blood much richer than ours dining here tonight, and they've settled in. Right now there's eight knives, six glasses and three tablecloths dressing our table. "I'm eating a whole cheese!" says a member of the party.
How you order can mean the difference between very good and excellent. For instance, if you decide on the calamari fronds gently poached in shiitake broth, accessorised with a thin slice of jamon Iberico, you have chosen wisely. Double points if you let sommelier Paul Beaton pour the wine. ("We're going on a journey, if you'll allow me to take you.") He's certainly not afraid to push the envelope with his wine choices, matching that calamari with a tight, hard-working Romarantin from the Loire.
Roast chicken on creamy mash, covered with a stinking avalanche of sliced truffle, is paired with the briny, dry Equipo Navazos Palomino sherry. No rock star treatment or extra cost for that truffle, either – it's just another ingredient battling as hard as anything else on the plate. So it's a festival of richness here: the chook's skin is removed and crisped up even further, used as edible punctuation between slices of the meat, doused in really intense roasting juices.
We could take or leave a dessert of caramelised pear, brown butter ice cream and a sort of blancmange-y pecan custard. Toasty vibes might hit your nose as the plate hits the table but that's where it ends. Better go with the cloud-like, highly perfumed strawberry soufflé and with a heart of rhubarb gelato.
Aria serves straight-up delicious food. If you're after envelope pushing, you might not be in the right restaurant. Things can get a little loose when they try stepping into Sepia/Bridge room territory (why are there blueberries on the same plate as an otherwise beautiful piece of Murray cod?) But if rich, crimson slices of wagyu rump served with pickled onion petals and a tiny fried sandwich filled with slivers of smoked tongue makes you as happy as it makes us, you're exactly where you should be.
Venue name:
Aria
Contact:
Address:
1 Macquarie St
2000

Opening hours:
Lunch Mon-Fri noon–2.15pm; Sat noon-1.30pm; Sun noon-1.45pm. Dinner Mon-Fri 5.30pm-10.30pm; Sat 5pm-11pm; Sun 5.30pm-10pm
Rating Breakdown
5 star:

0

4 star:

0

3 star:

0

2 star:

1

1 star:

0
I left Aria a little disappointed and regretful thinking its reputation would live up in any way to expectations. The place is still quality, but there are too many shortcomings which make this restaurant low down the list for the price.
The service we experienced was a mixed bag, but just too many bumbling mistakes to forgive. It started to become comical. On three separate occasions we had dishes come to the table... but they were for another table. We went through at least 4 separate waiterstaff which is not a problem per se but between not following up on our requests, not hearing what they were saying and generally not having any personal touch, they did not endear themselves to us. And we are not demanding types I promise. The only waiter who appeared interested in making sure were comfortable, recommended a wine for my wife which for the first time in her life she knocked back after tasting it. It wasnt corked, it was just a bad wine, like goon. I personally have never knocked back a wine in my life - so this was a first.
Not the biggest issue, but I was shocked the wine list had won awards - the riesling I was offered was so bland I thought it was a joke. For the prices you expect something that you will enjoy, not have to endure.
It didnt help that we were placed next to the service area so we could hear their confusion - but when I had my finger in the air for almost a minute to attract attention and have 5 waiters walk by within a metre, and the waiter literally on the other side of the room saw me and came over, there was something not right.
It sounds small, but it makes a difference.
As food goes, it was all reasonably well presented without trying too hard to showcase, but you have to fix the lighting Aria. The chefs efforts arent showcased, at least on our outer edge table. The pre-game nibbles I think were leftover from lunch - a noticeable staleness, which is a shame because it's the first thing you eat.
However the highlights were there in several dishes - the souffle was an exercise in perfection, and the pre dessert olive oil sorbet was zesty goodness.
I will never go back and I thoroughly recommend you go elsewhere with your money, unless you want fine dining within a stone's throw of the Opera. And Bennelong is booked out.