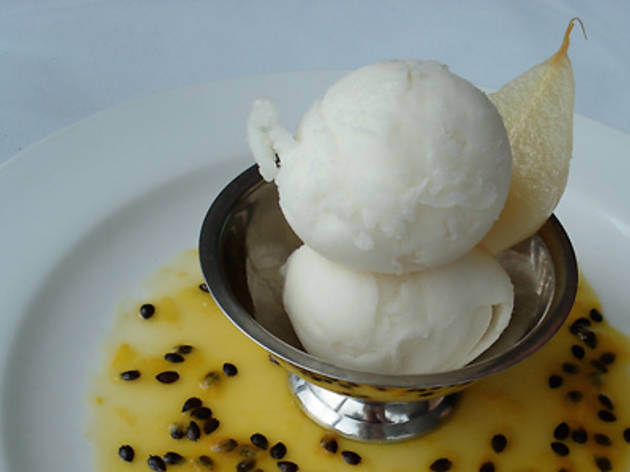 Time Out says
Though the restaurant would do well as a dinner venue you'd do well to make it a Saturday lunch to take full advantage of the Georges River, Sylvania Waters and Sans Souci police station
There's a life-size horse that welcomes you as you walk in to the huge, stark room. The most ridiculous thing about the giant horse in the middle of a restaurant is not so much that there's a horse in the middle of the restaurant but that there's actually a functioning lamp the size of a basketball perched on top of its head and providing about as much light as a candle on a windy day. That said, it's a nice looking room – light, open and airy with clean lines and kooky details like our friend Mr. Ed as well as a giant wooden stag's head.

It looks like we're the only ones in the joint who aren't celebrating an anniversary, engagement or twenty first. Instead, we're celebrating firm yet yielding nubs of gnocchi with pesto sauce. And it's not the type of pesto you find where the basil leaves have been gone at with an AK47 and a baseball bat. Instead, the leaves look like they've been hand cut. The sauce, as a result, is delicate, sweet and fragrant. Entrees here are light as a rule. Take the calamari – a whisper of batter coats the fish, which has been cut in a way that the flesh curls into itself and resembles something like a squid in a tutu while arancini with eggplant ragu sees the tomato stained risotto ball deep fried and stuffed with buffalo mozzarella which stretches across the table in long curls like a telephone cord (this is called supli in Italian).

Chef Riccardo Roberti's mains fall a little flat. Pappardelle with a wagyu ragu is good without being great – the pasta is very slightly overcooked and the pasta water needs more salt. The pork sausage, while firm and rich, is meant to come with pine mushrooms. When the dish arrives it's oyster mushies on the side. Not to mention the mystery jus the whole thing is swimming in. That said, the braised goat falls apart in beautiful, rich strands and every bite is delightful.

Another sleight of hand is the asparagus with poor man's parmesan – bright, lively and al dente but missing said parmo (poor man's parmesan is toasted breadcrumbs). Instead we get grana padano – rich man's parmesan. Pear sorbet sees a ramekin of delicate, creamy sorbet with a tiny, perfectly poached half pear teetering on the side of the dish. What we can't work out is the splatter of passionfruit pulp on the plate underneath the ramekin.

While there are a few downers on the menu, the meal as a whole is incredibly pleasant from order to execution. This restaurant ups the ante in Sans Souci which can count itself as a very lucky suburb. Listen to the horse – he'll tell you the same thing.
---
Details
Address:
Shop 1, 8 Water Street
Sans Souci
Sydney
2219

Contact:
Opening hours:
Lunch: Wed-Fri & Sat 12 noon 2.30 pm; Dinner: Tue-Sat 6-10pm.
Best selling Time Out Offers