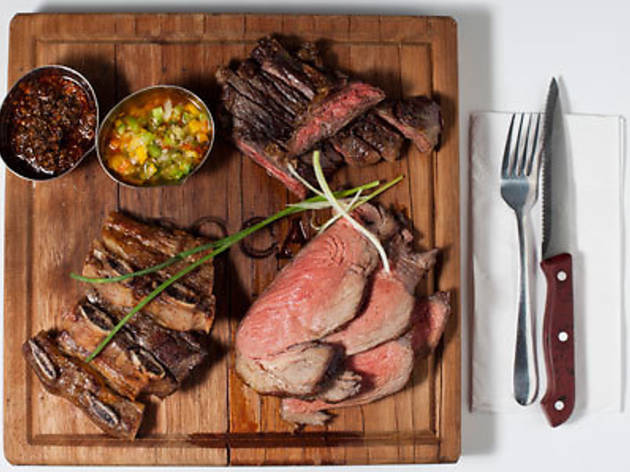 South America is the hottest meal ticket in town right now. There's Porteno, the new restaurant being opened by the Bodega crew; there's Boteco, that new Brazilian bar on Cleveland Street; and there's Argentine grillhouse, Boca.

Some of the greatest things in the world have come out of Argentina: Maradona, Malbec and meat. Lots of meat. Sit at the downstairs bar and watch the grill master at work or head upstairs to the brightly painted dining room, filled with old pictures of Argentine celebrities including the football legend (pre-fatness) wearing a very wide grin and a massive white fur coat.

A word to the wise: if you intend on meating it up to the extreme, don't start with the grilled provolone and tortas fritas (aka fried cheesy bread), unless you have a stomach of steel. And while the empanadas are good, they're not great – the pastry lacks that binding richness you find in a similar pastry at say, Bodega or Kogarah's Sugarloaf Patisserie. But if you're here, it's for the grilled meats. Choose from one of the ten different parrilladas (that's the type of platter the meat arrives on), with the likes of thin skirt steak; rump; sirloin; inside skirt and chicken. If you're into it, there are also veal chitterlings, blood sausage and tongue. The meat'll be grilled slowly with plenty of salt over hot coals. Unfortunately, all that slow cooking over coals business doesn't actually save the meat from being on the chewy side. What you'll want to do is slather everything in chimichurri.

Meat aside, there are plenty of cool things about Boca. The super-friendly service for one thing, and wine by the penguin, for another. That's right: by the penguin. For $23, a ceramic, penguin-shaped jug filled with house wine will be yours. While we're on the subject of weird-but-awesome, can we talk a bit about Fernet Branca and Coke? The incredibly pungent Italian bitters and the sweet cola somehow rock out together, despite seeming so very wrong. It's a very popular aperitif in Argentina, simultaneously waking you up and cleansing your insides.

Is Boca a restaurant you should rush to get to? Not really. But it's a great addition to Darlinghurst, offering solid fare, great service and reasonable prices.


Venue name:
Boca
Contact:
Address:
308 Liverpool St
Darlinghurst
2010

Opening hours:
Dinner Tue-Sat 6pm-late. Lunch Tue-Fri 11.30am-2.30pm; Sat noon-3pm (takeaway menu only).