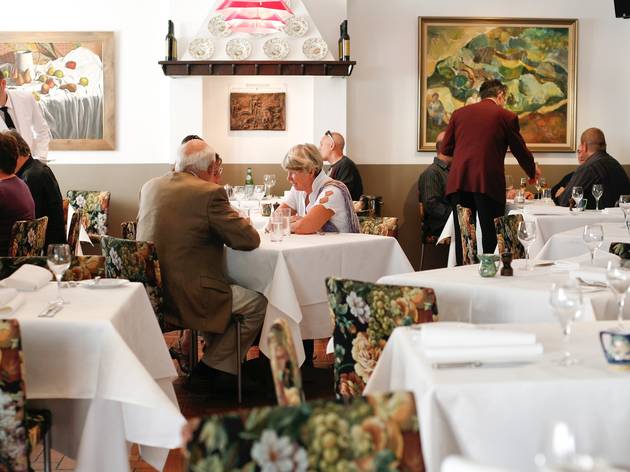 1/7
Photograph: Daniel Boud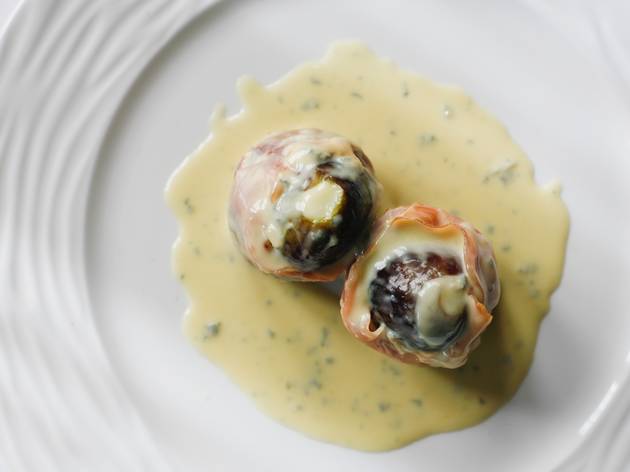 2/7
Photograph: Daniel Boud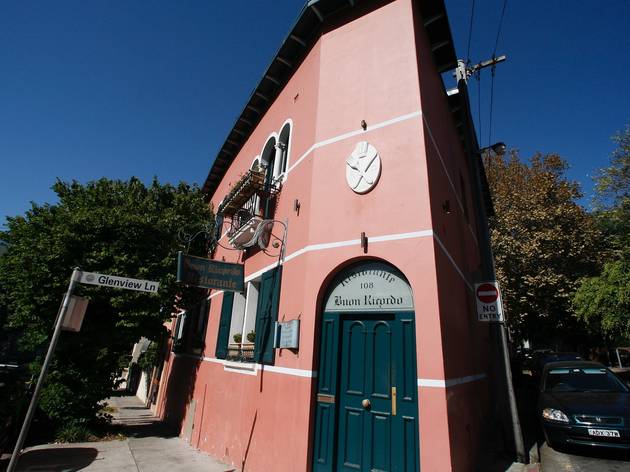 3/7
Photograph: Daniel Boud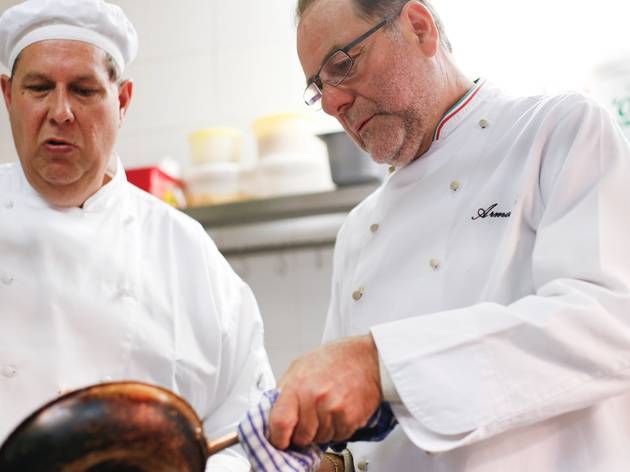 4/7
Photograph: Daniel Boud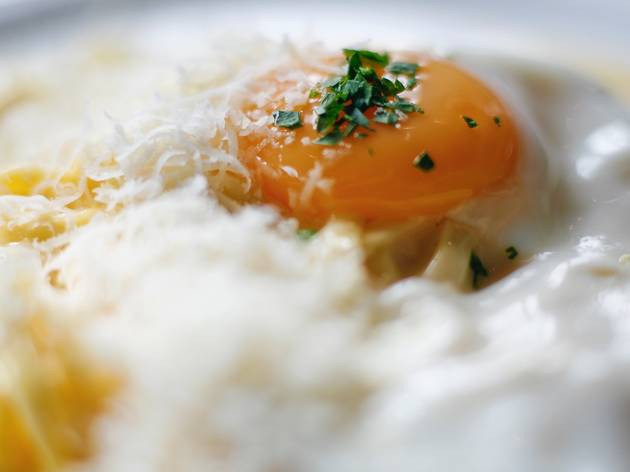 5/7
Photograph: Daniel Boud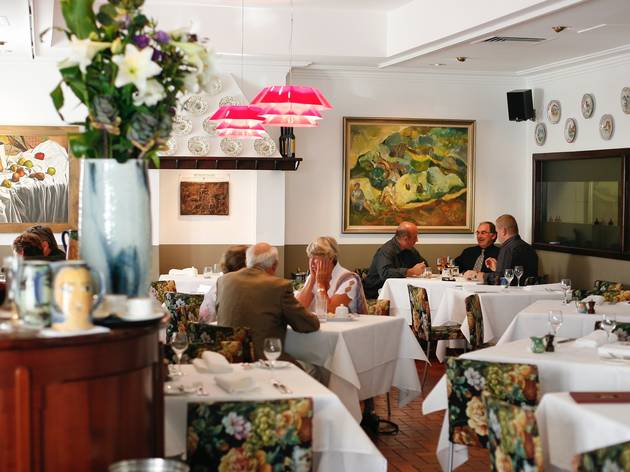 6/7
Photograph: Daniel Boud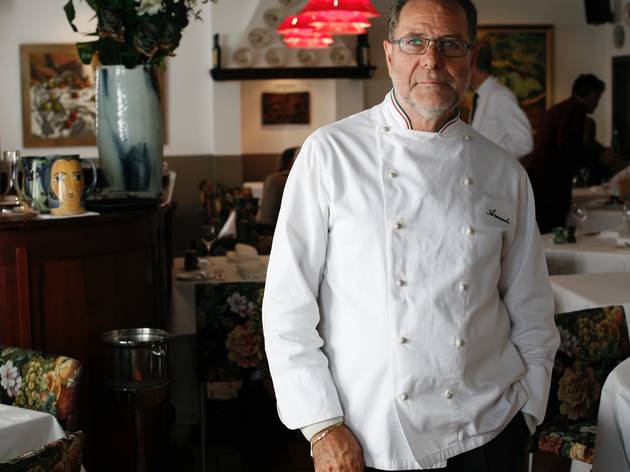 7/7
Photograph: Daniel Boud
Time Out says
If you've got the moolah, and you order right, you're in for something exceptional
Chef and restaurateur Armando Percuoco came to Australia in 1972 and brought serious, authentic Italian cooking with him, and he still stalks the floor today, kissing the ladies and grasping the men. He's all about keeping dishes pared back, and letting flavours speak for themselves. To take full advantage of the food here, stick to the entrees and pasta, and share them. If you're seated in the far back corner downstairs, look through the glass wall that stares straight into the kitchen, and you'll be able to see chefs creating the food you're about to eat.
The downstairs room itself is classically-styled, with embroidered chairs, tapestries on the walls and sculptures everywhere. Upstairs, meanwhile, had a refit this time last year which added a 1.5 tonne copper ceiling mirror – even the toilet doors are decked out with brightly painted madonnas.
Don't miss the the figs topped with gorgonzola sauce, melted all over the chubby, luscious fruit halves, or the calzoni fritti: fried parcels of waferthin dough filled with ricotta, salami and provola (an Italian cow's milk cheese), all topped with napolitana sauce in a combination that's airy yet rich, salty yet sweet.
There are some gut-busters here too, like the house special of fettuccine al tartuovo, a dish so rich you'll need the defibrillators on stand by. It's pasta mixed with cream and parmesan, topped with a truffl ed fried egg. The egg is broken and tossed through the pasta by your waiter at the table – and all-the-while they're adding more cheese. It's about as full on as it gets, and better off being shared, lest you ruin yourself for the business to come: the sugar-cured tomato.
This dish consists of a super sweet tomato served whole without skin, garnished with a little top hat of basil leaves, and subtly sliced so the whole thing dissolves into quarters at the very hint of a knife.
A slash of basil sauce brightens up the plate, while the most thrilling part of the dish is the ripped cheese, called burrata. Incredibly hard to find because of its short shelf life, it's flown in direct from Italy. Made from a mixture of cream and un-spun mozzarella curds, it tastes slightly buttery, with the outside of the cheese wrapped in a skin of stretched mozzarella sheets that hold an incredibly rich, gooey centre. It's truly a dish of awesome proportions.
Mains are right up there, price wise. Take the T-bone steak – it's tasty, sure, but for $49.50 you might expect a few more bells or whistles. Served simply sliced with a side of rosemary potatoes and rocket, it's a little bit of an anticlimax after such excellent entrees.
Dessert-wise, you can't look past the sfogliatella (pronounced ssfo- LEE-a-TELL-a): a traditional crisp, almond Neapolitan dessert. Layer upon layer of pastry make a shape a little like a shark's egg, that's then filled with citrus-tinged ricotta. Or finish with Vin Santo e biscotti – a sweet, fortified Italian wine served with an Italian biscuit twice-baked for dipping.
The best way to enjoy yourself here is to let the waiters guide you – it's all about creating your own degustation – and though it may be on the pricey side, the dishes that work shine very brightly indeed.
---
Details
Address:
108 Boundary St
Paddington
Sydney
2021

Contact:
Opening hours:
Tue-Sun noon-4pm, Dinner 6-11pm
Best selling Time Out Offers