Cafe Sopra at Fratelli Fresh - Potts Point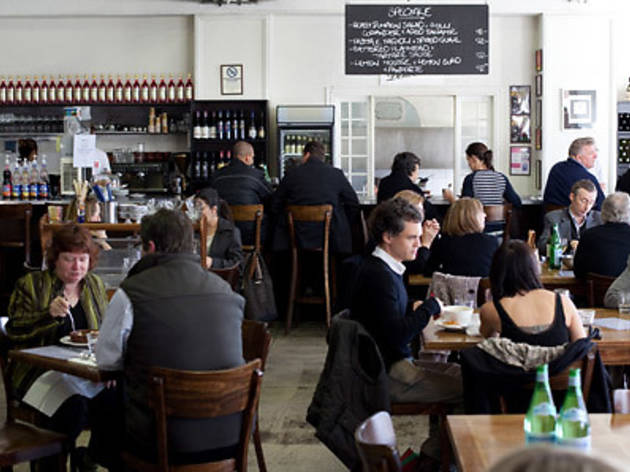 The second version of Fratelli, the massively popular Italian-with-a-British-slant-café-plus-fruit-and-veg-store has moved in on the site of the short-lived French/Indian restaurant, Le Khan on Macleay St in Potts Point.
Unlike the inner-city arts hub of Waterloo, Potts Point opens at brunch time and stays open for dinner (for those who can't drag themselves out of bed before Saturday arvo, this is a major blessing) serving the likes of a scotch steak - battered out until slim, covered with a herbed anchovy and caper butter and presented nude on the plate besides a cheek of lemon. Or try the crisp, roasted pork belly with sweet, well rendered fat served with a few rocket tendrils.
Sean Corkery, who's been with the Sopra family for two-and-a-half-years, is firing on all cylinders as head chef of the new venture under the watchful eye of Waterloo head chef Andy Bunn, who "pops in every evening" says Corkery. Already packed to spilling only a few weeks into the game, getting a table at the 49-seater can be a bit of a challenge. "Every lunch and dinner we've done since we opened has been busy."
Which is why the friendly yet harried wait-staff suggest ordering a drink and wandering about the shop to do a bit of impulse buying while you wait. Have a glass of Italian wine or a Negroni, that Italian cocktail favourite of equal parts Campari, sweet vermouth and gin (they make a really good one here and they're only $8.50). It makes a welcome change from buying the radishes sober.
Grab one of the outside seats under the big heaters, or sit up at the bar for a bird's eye of the action - word is owners Barry and Jamie McDonald are considering turning the area into a proper aperitivo bar with bar snacks. And if you're not the perching type and need contact with terra firma, sit in the main dining area.
Sopra is all about sharing. Try the vitello tonnato (veal dressed in a tuna-soaked mayonnaise) topped with capers, black olives, thin slices of lemon and anchovies, or a fantastic salade caprese with buffalo mozzarella, baby basil and chubby Johnny love bite tomatoes.
The orecchiette with pangrattato (poor man's parmesan made with breadcrumbs), prawns, salsa verde and a generous handful of parsley is a goer. And for dessert, you can't beat a big bowl of fragrant, juicy Sharpes strawberries with fluffy, sugared vanilla cream for dipping.
Although the mood is a little different from Waterloo and the experience feels more rushed - it's more an in-and-out style dining experience - the same rules apply at both: no cameras, no dogs. But the toilets are much nicer here - instead of having to trek all the way down from the top of the warehouse through the shop after three of their coffees (we're not caffeine freaks, they're just really good), they're a two step from the cafe, and a pic of Sophia Loren welcomes the ladies.
You may not get a seat straight away at this newbie and it's no bookings, but it's a must visit if you like your restaurants new, hot and Italian.
Licensed, around $65pp, incl wine.
Venue name:
Cafe Sopra at Fratelli Fresh - Potts Point
Contact:
Address:
81 Macleay St
Potts Point
2011

Opening hours:
Tue-Fri noon-3pm, 6pm -10pm; Sat-Sun 11am-4pm.