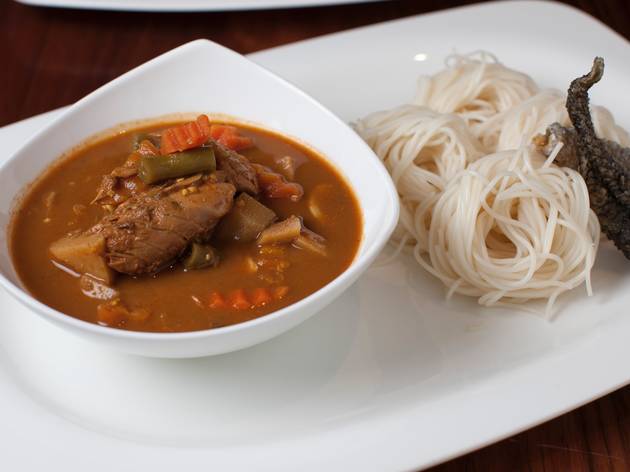 1/7
Photograph: Daniel Boud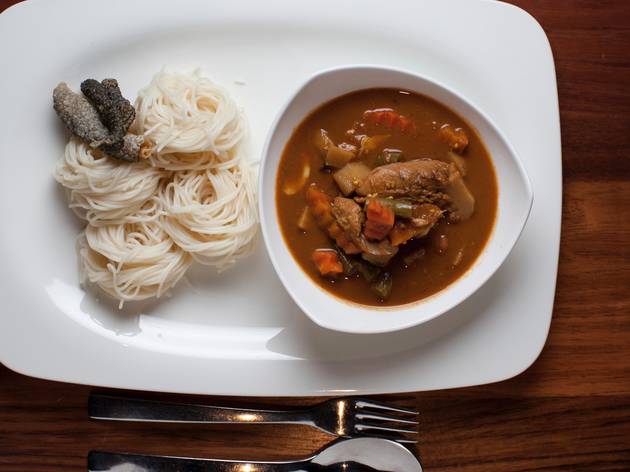 2/7
Photograph: Daniel Boud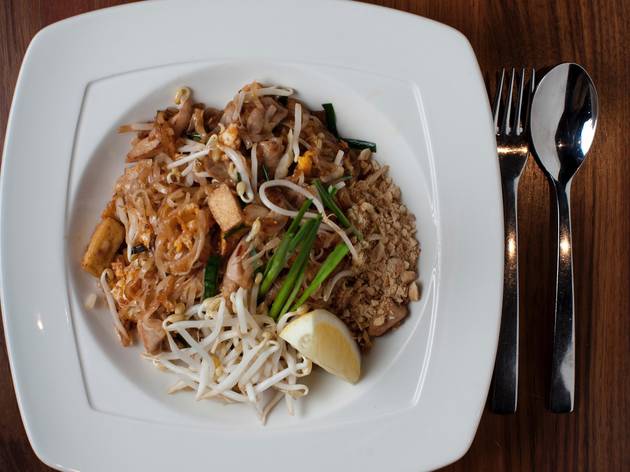 3/7
Photograph: Daniel Boud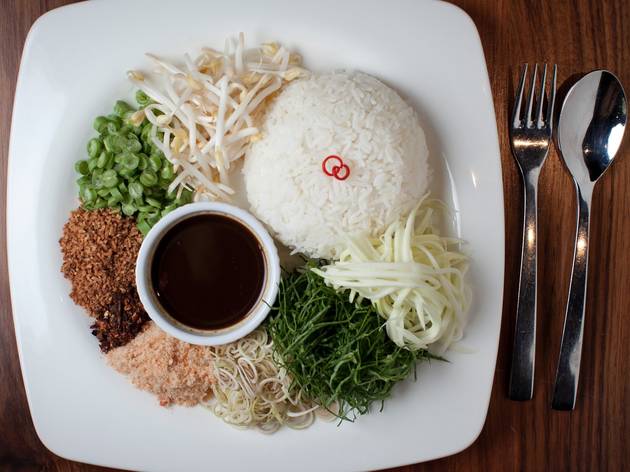 4/7
Photograph: Daniel Boud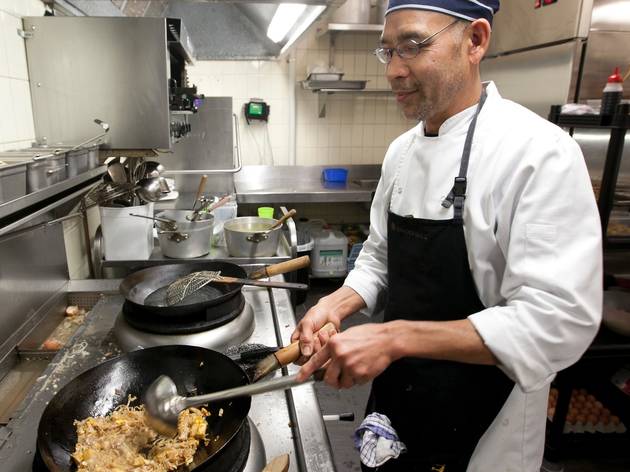 5/7
Photograph: Daniel Boud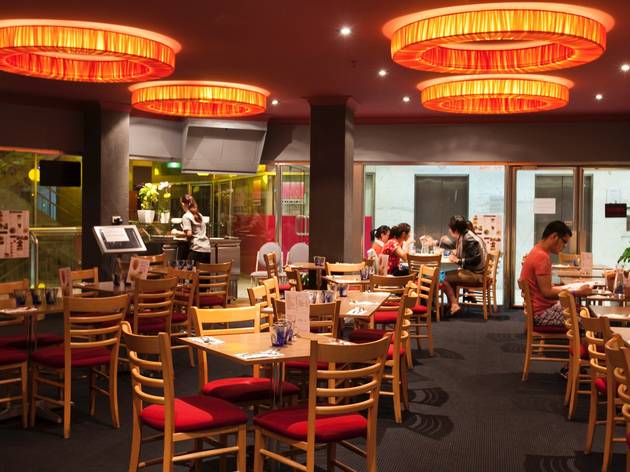 6/7
Photograph: Daniel Boud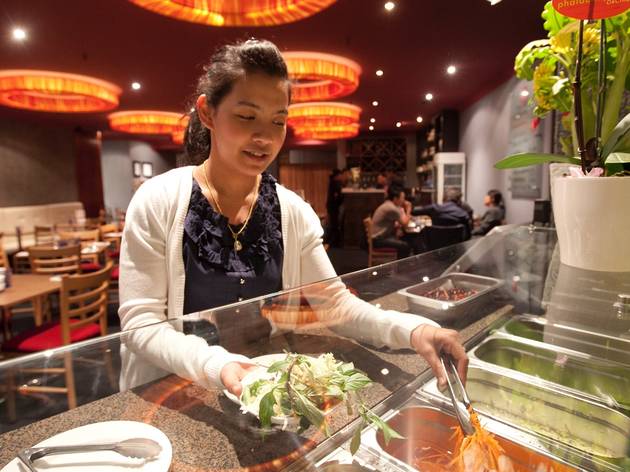 7/7
Photograph: Daniel Boud
Time Out says
Authentic southern Thai cuisine hits Haymarket
The more you learn, they say, the less you know. Take Thai restaurants in Sydney: just when we were getting a handle on the growth of Isaan food, from Thailand's northeast, along comes Caysorn, possibly the first place in town specialising in the cuisine of the southern part of the country. What's more, food fans, if this any indication of things to come, then we have plenty to look forward to.
It's a part of the world known for its heat, and if that's what you're after you won't be disappointed with Caysorn's menu. Kanom jeen - a vermicelli-like noodle made, traditionally, with pounded fermented rice - is offered in several versions (including lime leaf-fragrant nam ya fish curries with and without coconut milk and a green chicken curry with eggplant and bamboo). There's a self-serve station stocked with beansprouts, pickles, chopped snake beans and Thai basil. The house special is kanom jeen tai pla, the noodles sauced with a dark, complex salted fish curry that fairly seethes with chilli. It's seriously effin' hot, but there's more chilli on offer at the salad bar for the true masochists.
Nam priks are also a focus. In his authoritative Thai Food, Sydney scholar-chef David Thompson notes that these mortar and pestle-pounded are the most ancient style of Thai dish, and "are always accompanied by kreaung kiam (side dishes), ranging from a simple plate of raw vegetables to an omelette or deep-fried pork". So it is here, with the classic nam prik gapi - squares of omelette filled with cha om, an acacia used as a savoury green, while the pairing with the tamarind-based nam prik makaam is vegetables.
It's not all incendiary stuff. The room, for one thing, is more on the tepid side. The light fittings are festive, chef Phanhip Sriswan's dux certificate for Superior Cuisine from Le Cordon Bleu is framed on one wall, and the shopworn
Chinatown
mall location is thrillingly obscure, but that's about it.
This is not to say the food that isn't hot isn't worth the effort. Quite the opposite. Pad gapi sator makes a feature of the sator, an almond-shaped bean usually seen in Sydney in Malaysian restaurants, sold as petai, or its rather more colourful (but accurate) name of stinkbean. At Caysorn it brings contrasts of taste and texture to prawns and pork stir-fried with shrimp paste.
Kao yum is perhaps the most interesting and unusual of the signatures. The words mean more-or-less "rice salad": there's the rice mounded in the middle of the plate, surrounded by little piles of exquisitely finely shredded basil, roasted coconut, beansprouts, dried shrimp floss and dried chilli. There's a bowl of dark, sweet-hot sauce to the side, and you can customise it, mixing as you go, until you reach that Thai ideal of a dish of many flavours and tastes, all playing off another in perfect balance.
Caysorn's best dish, though, is another of the fiery numbers. It's a gang ped of pork rib in which the meaty ribs are bathed in an strong, coconut milk-free curry that gives you a jab of pure kaffir lime-leaf intensity, and, just as you're about to come to, follows up with a chilli haymaker. It's a KO you'll savour – at least, once you come back down to earth and regain your sense of smell and taste. You might want to follow this with a little toast and kaya – sweet coconut and egg jam – the perfect salve for a deep chilli burn.
With both unusual dishes, a perspective that's so far unique in Sydney, and clear evidence of care and skill in the kitchen, Caysorn makes a winning new addition to the city's Thai scene. Feel the burn, people.
Details
Address:
Shop 106-108a, Lvl 1, 8 Quay St
Haymarket
Sydney
2000

Price:
Up to $50
Contact:
Opening hours:
Mon-Sun 11am-11pm
Best selling Time Out Offers