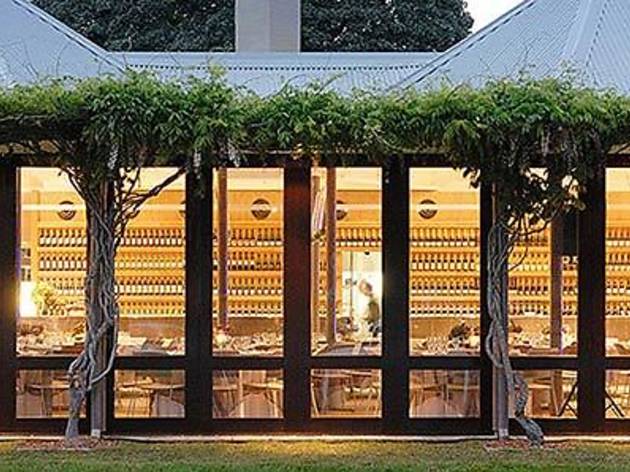 There's a bunch of dining options at the heart of Sydney's most famous park: there's a kiosk so you can grab something on-the-go, plus a private dining room and a café full of locally sourced produce.
Our previous reveiw of Centennial Parklands Dining under chef David Whitting


While there's always been somewhere to get something to eat on the grounds, there's never been anything as special as this. Split into three separate sections including a café and kiosk, this brand new fine diner offers interesting food in a beautiful setting. With views of the park including folks out walking their dogs and sweaty joggers puffing by, the room's absolutely huge. It's as close to eating on the lawn as you'll get in a restaurant.
Chef David Whitting is running the show, which is no mean feat when you're cooking a menu devised by six-star chef and head of Marque restaurant, Mark Best. The menu isn't super-experimental but it's well considered and utilises quality produce including line-caught fish and local meat. There's also a strong focus on seasonality featuring dishes like the green tomato gazpacho. A great summer dish, two very generous discs of firm yet yielding Italian buffalo mozzarella are doused in cool peppery soup garnished with a deep-fried basil leaf. It's a good concept and it works, but it's a lot for one person to get through before their main course. Likewise the suckling pig with crisp, sweet skin and tender pink salty meat served with braised red onions. As delicious as it is, it's the size of a mini roast. Offset some of that rich fat with a side of new potatoes cooked in ham stock and parsley and some perfectly dressed and seasoned green leaves.
First prize goes to the wagyu carpaccio: slender sheets of raw beef are enlivened with the salty pop of deep-fried capers, while the ruby raw meat is enhanced by the anchovies strewn over the top, with crisp onion rings and a squeeze from a cheek of lemon to cut the richness. Like a chip? The ones here are pretty special. Triple cooked, they're blanched in salted hot water, dried for a couple of hours, blanched again in oil at 110 degrees, drained, dried, then fried at 180 degrees. They're served with lemony aioli and strips of fried flathead, steamed beautifully inside their batter case.
Service here could do with a little polish in terms of keeping water glasses filled and bringing cutlery, but everyone's friendly, the food comes in a timely manner and they're good enough to call us a cab to get us back to work (sigh). Desserts are a bit of a let-down compared to some of the other dishes on offer - the blood orange frozen nougatine takes two people to tackle it (one person to hold it, the other to hack into it). We like the little shards of pumpkin praline served on the top though.
The prices are a little steep (our bill is over $150 with no alcohol) and may be a little more than you want to spend on lunch; we'd rather eat a little less for fewer dollars. That said, for a park restaurant, it's arguably the best in town.
Venue name:
Centennial Parklands Dining
Contact:
Address:
Grand Drive
Centennial Park
2021

Opening hours:
Daily, 12 noon-3pm