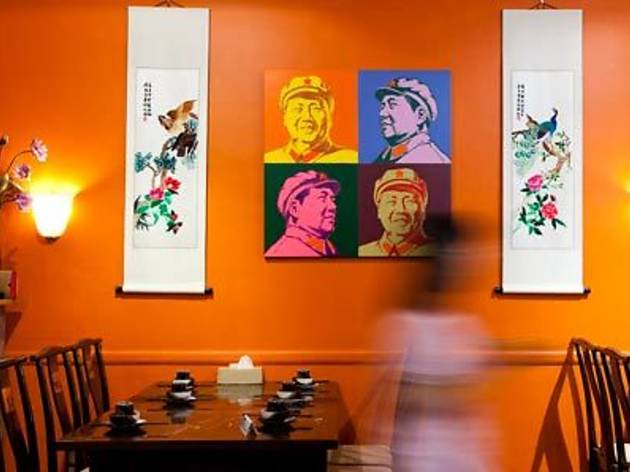 Sydney's Chinese restaurant scene is going from strength to strength. It's no longer a town of monotonous Canto-palaces but a thriving multiplicity of Yunanese, Hunanese, Sichuan, Shanghainese and Uighur joints – all serving some of the most interesting food in town.

At the forefront is Kensington's Chairman Mao, where husband-and-wife team Andrew Bao and Pinjun Li serve quality fare executed with skill. The striking thing about the dishes here is their elegance, subtlety and clarity of flavours in the face of so much fat, salt and heat. That said, it's the type of heat that blossoms and blooms in your mouth rather than attacks you like an angry bee.

The room juxtaposes a sliding glass door and Chinese pop music posters on bright orange walls with big, traditional-style cherrywood tables and generous, comfortable chairs. If you're after a glass of wine, you'd better be a sauv blanc fan or be prepared to BYO. Otherwise, drink Chinese tea, served in squat, handle-free ceramic cups.

It's the combination of textures at Chairman Mao that really get us going. Take the dish of broad beans with pork mince: the chalky, squishy, chubby little beans are all coated in spicy, sweet, fried pork mince – the combination is pretty much life changing. A side of pickled radish is slimy and salty and crunchy and sweet all at the same time, while a side of black fungus is gelatinous and hot. A dish of smoked pork slices sandwiched by slices of smoked tofu sounds better on paper – the pork meat becomes a little tight in the smoking process, but the smoked fat on the pork is delicious. Kick the heat up with shreds of lamb studded with more chilli than sense, and so cumin-heavy your eyes water (with joy). But if there's one dish that you should order no matter what, it's the steamed egg custard. A bed of firm-yet-yielding salty black beans is napped in a bland, silken custard – it's like eating gossamer.

The Mao's not only popular with Kensington locals, but also Sydney's chefs, including Neil Perry, Dan Hong and Morgan McGlone. If you don't want them eating all the good stuff before you get there, make sure to reserve a table.
Venue name:
Chairman Mao
Contact:
Address:
189 Anzac Parade
Kensington
Sydney
2033

Opening hours:
Mon, Wed & Thu 5-10pm, Fri-Sun 5-11pm