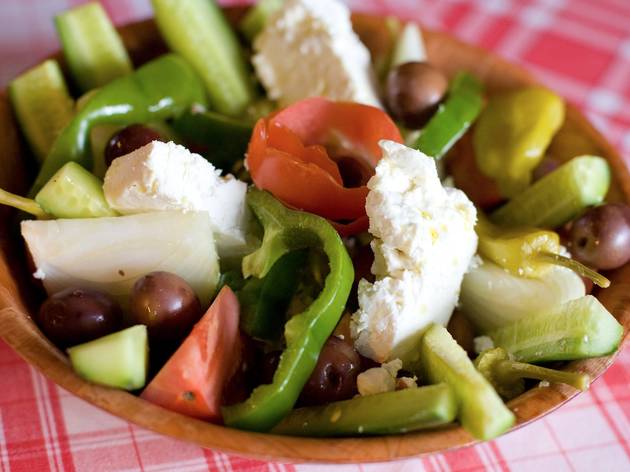 1/7
Photograph: Daniel Boud
2/7
Photograph: Daniel Boud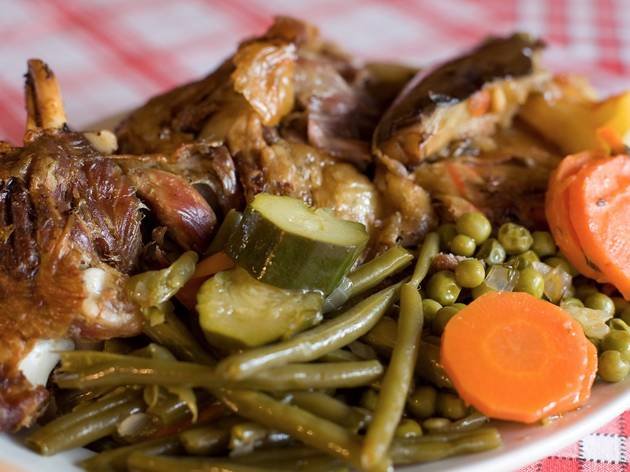 3/7
Photograph: Daniel Boud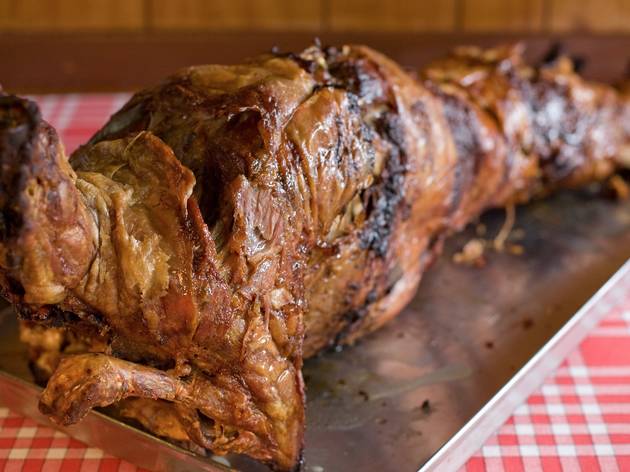 4/7
Photograph: Daniel Boud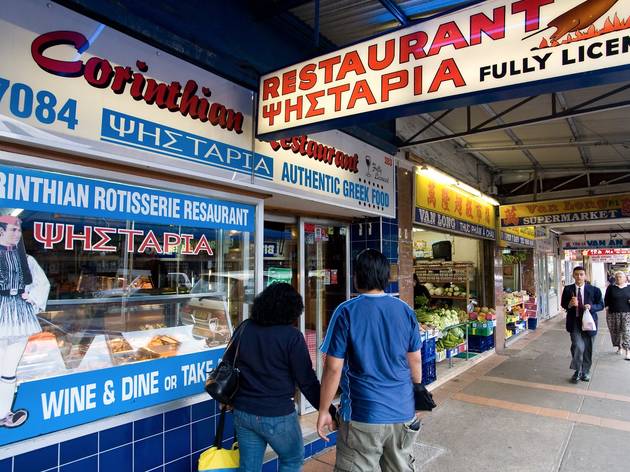 5/7
Photograph: Daniel Boud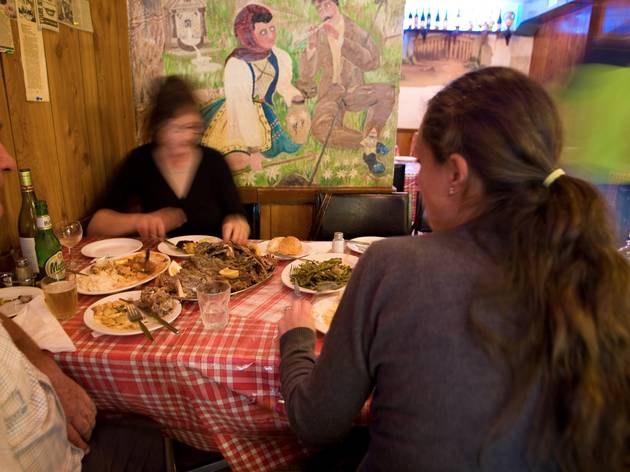 6/7
Photograph: Daniel Boud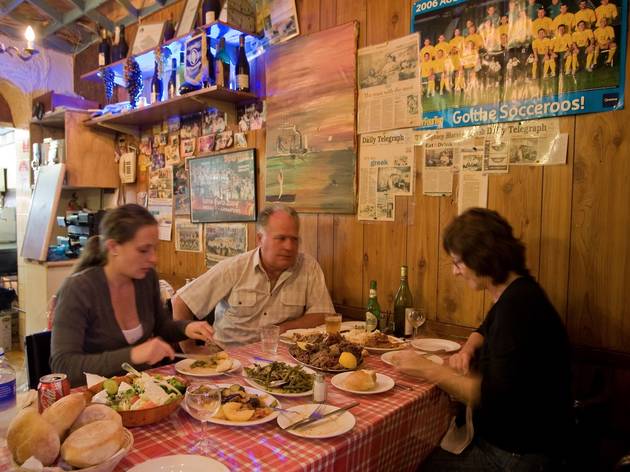 7/7
Photograph: Daniel Boud
If it's the Greek experience you're after, the Corinthian takes on all comers
Sheep's heads - you either love 'em or you're downright revolted by the idea of pulling the well-done brains and eyeballs out of a skull that still has teeth. There's not much meat on it but what there is, is incredibly flavoursome. All that intramuscular tissue stands up to a culinary caning. But we're obviously not dealing with our sheep skull in the correct way - while we're picking at the meat with forks, the table next to us are dislocating the thing like surgeons. Or hit men.
It's not all skullduggery and Retsina - there's plenty of other stuff on the Corinthian Rotisserie menu that isn't served with its own teeth. Start with a Greek salad - big chunks of fetta served with thin slices of raw onion, kalamata olives, tomato quarters, shreds of iceberg, pickled chillies and rounds of cucumber - bright, vinegar-y and fresh, it's what you want by your side when the serious stuff starts to arrive.
A cold platter of pickled octopus, skordalia (that's a dip made from potato, garlic, almonds and olive oil) and fresh, briny sardines served with spears of cucumber and pickles is a great way to start, or try the hot version. Grilled haloumi, deep-fried baby squid, dolmades and octopus tentacles, all served with chunks of lemon.
Retsina is a Greek wine where pieces of pine resin are added during the wine making process giving it a rather pungent (read: Pine-O-Cleen) flavour. For the uninitiated, it can be a little like drinking battery acid but once you're used to it, it 's quite pleasant. It's worth trying at least once - it'll put hair on your chest, if nothing else.
There are others that go highbrow, but here it's so old-school it practically wrote the book on it - red and white checked tablecloths are covered in clear plastic, big murals on the walls depict women being serenaded by sheep farming bouzouki players, Laminex tables and wood panelling everywhere.
Sideways, try the peas slow braised with tomato or broad beans cooked simply and a perfect accompaniment to a large platter of mixed grilled meat like crisp skinned pork, slice of tender garlicky lamb and pieces of chicken rubbed in oregano.
The servings are huge - there's enough food on any of these plates for six people or four with an eye to take food home to last through the apocalypse.
The baklava is just the right mix of sticky, squishy and firm without being too honey-sweet or wet - a fairly difficult balance to get right. And while dessert may be the last thing on your mind after your festival of meat, it's great with a syrupy strong Greek coffee on the side.
What this restaurant does well is the simple fare. Food that's basic, traditional and very homely. You won't find anything tricked up, foamed or soiled here - just honest earthy dishes made with care. And it's cheap, too.
Venue name:
Corinthian Rotisserie
Contact:
Address:
283 Marrickville Rd
Marrickville
2204

Opening hours:
Lunch: Tue-Sun noon-3pm; Dinner: Tue-Sun 6pm-3am
Transport:
Nearby stations: Marrickville
Do you own this business?
You may be interested in: