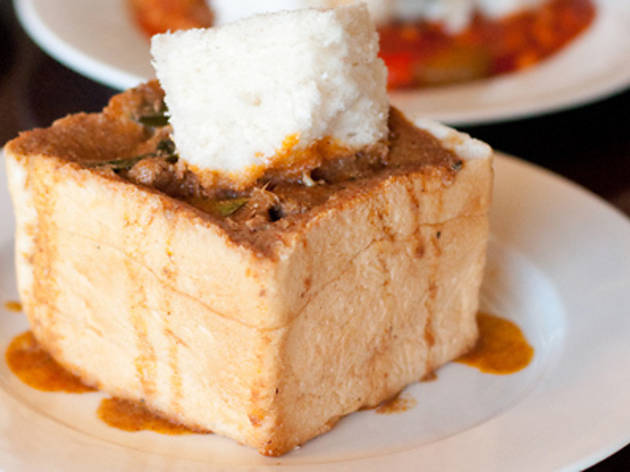 Eat this... Bunny chow
What is it?
Bunny chow ($9.90) is South Africa's answer to fast food. It's a hollowed-out loaf of soft white bread stuffed with curry, normally eaten hands only.
Where do I get it?
Durban Dish - a small eatery specialising in Durban-style Indian cuisine. Durban, in South Africa, has the largest population of Indians outside of India.
What's it like?
Look for the South African flag in the window. Part-restaurant, part-shop, it dedicates half its floorspace to South African products for homesick ex-pats.
What else should I order?
Bobotie ($13.90) is a thyme-scattered golden brown omelette over a bed of chicken or lamb mince baked with milk-soaked bread, nuts and dried fruits. The vetkoek ($2.30) is your excuse to have a doughnut with dinner - it's a deep-fried yeasted bun that's a cloud of fluffiness.
Anything for vegetarians?
Chilli bites are made from a packet mix but are a popular street snack in South Africa. They're small balls of deep-fried chickpea flour, spinach and spices that are best dipped in chilli sauce.
What's in the shop?
Upright freezers are filled with bags of different samosas, lamb curry pies and boerwor sausages. You can also stock up on biltong cured beef (like jerky), Tennis biscuits and Zarmite, the South African version of Vegemite.
Venue name:
Durban Dish
Contact:
Address:
1/6 Old Northern Rd
Baulkham Hills
2153