Eat truffle crêpes made by French chefs this Bastille Day
Four Frogs Crêperie will be serving très bonnes French-themed crêpes and galettes throughout July to celebrate the national day of France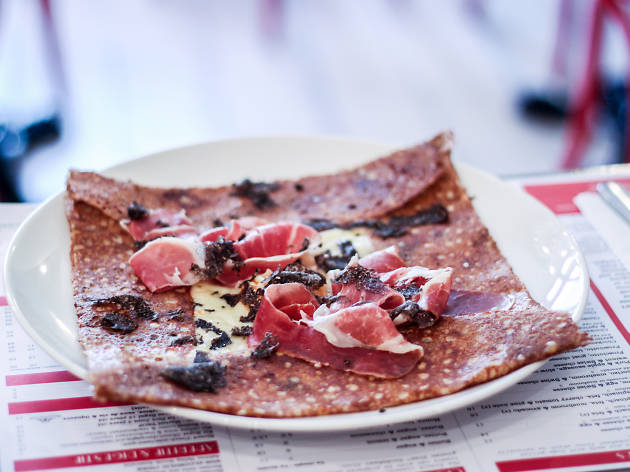 There's nothing quite like the crisp deliciousness of French crêpes, but they're a hard dish to master. First, you've got to get the perfect consistency for your batter, then fry it to the right thickness with the intended level of flakiness without worrying a hole into your sizzling circle. And you haven't even got started on the filling yet. So rather than slopping flour and eggs around the kitchen, head to Four Frogs Crêperie this July for their special French crêpes.
The crêperie has four venues in Sydney – the Circular Quay restaurant, Mosman, Randwick and Lane Cove venues – and they're all dedicated to perfecting traditional French crêpes and galettes (that's the savoury version). While they already have a significant French accent here, they'll be adding even more French influences to their dishes throughout July to celebrate Bastille Day (July 14).
The real star of the show will be the Truffle Galette. Four Frogs have personally sourced three kilograms of the earthy fungi from Robertson Farm in the Southern Highlands to bring back this popular dish – it sold out within a few hours last year – which they will be serving from July 11-14. In addition to the aromatic shaved black truffles, your galette will come with Swiss cheese, prosciutto and a wonderfully gooey egg centre.
But if you miss out on this house favourite, there are plenty more special dishes to experience throughout the month. The name may put off wary diners, but the Snails Galette is sure to be a winner, with its slow-cooked snails simmering in a garlic and parsley sauce, accompanied by potatoes, cherry tomatoes, speck and Swiss cheese.
The Bûche Galette is your other savoury option. The dish features bûche – a creamy fresh goat's cheese – sun-dried tomatoes, pine nuts and honey, and you can add prosciutto if you're feeling fancy. If you're keener on the sweet stuff, you can choose between the Mont Blanc Crêpe and the Black Forest Crêpe. The first is topped with a dairy lover's dream of chestnut cream, meringue and whipped cream, while the second is smothered in cherry curd, Belgian chocolate, brandy cherries and yes, more whipped cream.
You can book your table at any of the venues in readiness for this crêpe-based Parisian feast.