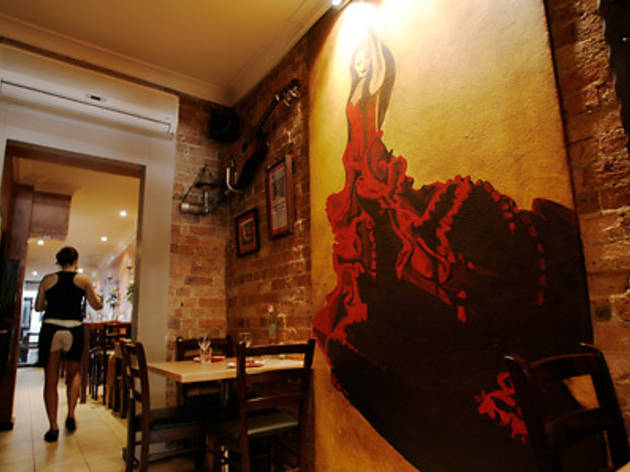 Time Out says
There's an El Bulli in Surry Hills. But how does it compare to the world's best restaurant of the same name? Myffy Rigby travels to Spain – making a pit stop in Suzza – to find out
Spain
Ferran Adria – a culinary blend of Salvador Dali and David Copperfield – changed the way the world thought about food. The godfather of molecular gastronomy, chefs around the world would work here for free just for the honour.
Australia A tapas bar in Surry Hills, it's marked by the giant bull-shaped silhouette out the front of the restaurant. Open for dinner seven nights a week, these guys turn out homey, earthy dishes.
---
Setting

Spain Spanish for 'the bulldog'
Australia Spanish for 'the bull' (according to a waitress)
While the Spanish restaurant is built on a remote beach on the Costa Brava surrounded by blossoms and wildflowers, the Australian version shares its block with The Black Cat, Trimmings and Impressions – guess which two are the brothels.
---
Booking

Spain At least a year
Australia Fifteen minutes
We only got a table by travelling to Spain and calling them everyday until we got our big break – a cancellation. In Australia we're turned away at the door. "I'm so sorry" says our waitress "you'll have to wait fifteen minutes until there's something available. The Strawberry Hills pub is just up the road, though."
---
Décor

Spain Traditional Spanish encasa
Australia Traditional Spanish encasa
In Spain, the walls pay homage to the noble French bulldog after which the restaurant was named. In Australia, the walls are covered in wine skins and for some reason the bar is filled with tequila as well as being kinda hot.
---
Wear

Spain Chanel fancy
Australia Supré easy
Unless you're loaded, it doesn't matter what you wear in Spain – you won't be able to compete with the glitz of the truly rich. In Australia, it doesn't matter what you wear – you're probably loaded.

---
Drink

Spain Cosmopolitan
Australia Cosmopolitan
The Spanish version involves foam vodka mallows stuck to the side of a stainless steel dish filled with cranberry. In Australia it's the classic cranberry and vodka served in a cocktail glass. Listen to the staff and have a sangria instead.
---
Eat

Spain 30 course tasting menu of the wackiest dishes ever to hit a plate
Australia 35 different tasting plates, some of which are wack.

In Spain you might see a sesame sponge that looks like something you'd find by the side of the beach and is texturally like eating rotten lace. A raspberry flavoured candy butterfly sits on a pile of liquorice soil. A piece of paper is folded in half. Open it and find a spider web of fairy floss with multicoloured wildflowers woven through it. The world's best.

In Australia croquetas de jamon are claggy, deep-fried mashed potato dotted with ham but a tortilla (a thick omelette with potato and Spanish onion) is supple and giving with a little bounce. Baby sardines rest in a generous olive oil dressing, chunks of lamb are grilled and generously seasoned while potatas fritas sees cubes of potato deep-fried and drizzled with garlic mayo. Certainly the best on the block.
---
Kms

Spain 18,000km from Central
Australia 200m from Central
After spending days on Spanish buses and trains, we suggest hiring a car or flying. Once in Roses, you'll find yourself being cabbed around perilous, craggy cliffs, zipping past old ruins and wildflowers. All up, it took us three days to get to the restaurant from Barcelona. From Central you can stroll up the back streets past old terraces and ruined, snaggle toothed fences in around ten minutes.
---
Service

Spain Attentive
Australia Aggressive
"You must eat half of this," our Spanish waitress says, pointing to a raspberry bonbon topped with wasabi paste. "Sip all of this," pointing to a spoonful of raspberry vinegar, "and eat the other half of that" pointing back to the bonbon. We dare not disobey. Back in Australia, nobody comes near us for 45 minutes. "Sorry, sorry" says our waitress as she rushes past, dumping a dog-eared menu on our table. Ten minutes later, she comes back: "What would you like?" she asks in clipped Spanglish, "Um, we don't know – what's good?" "I'm frrrom Barthelona," she says, and shrugs her shoulders. Oh.
---
Pay

Spain $1000
Australia $99
---
Verdict

Spain Slick international
Australia Chunky home style
---
Details
Best selling Time Out Offers