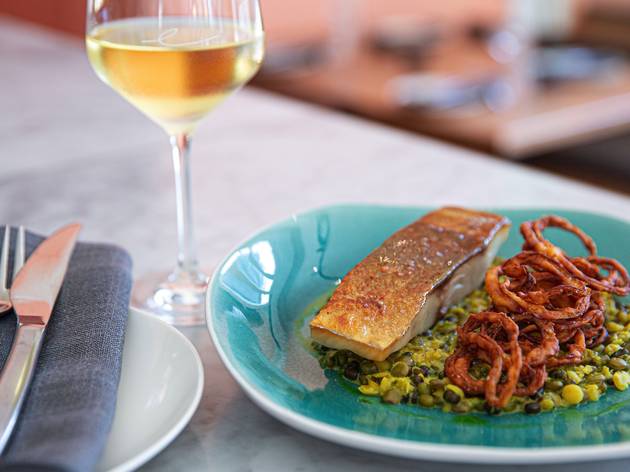 1/10
Photograph: Katje Ford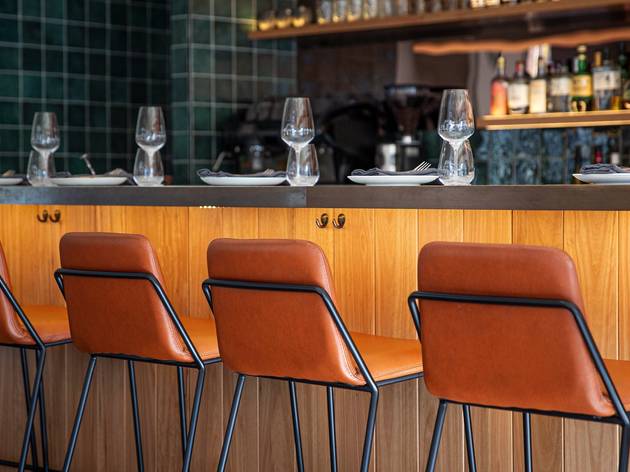 2/10
Photograph: Katje Ford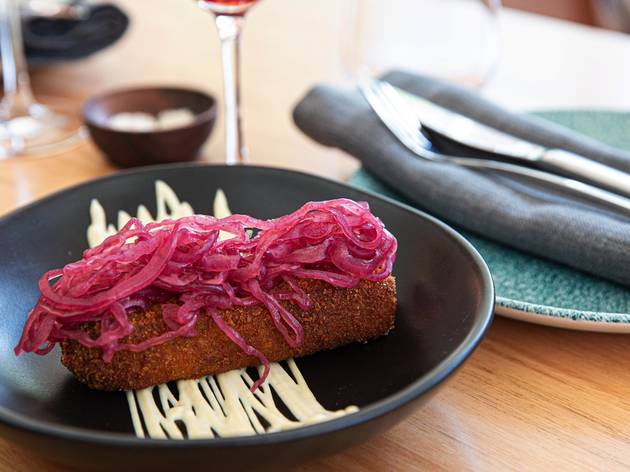 3/10
Photograph: Katje Ford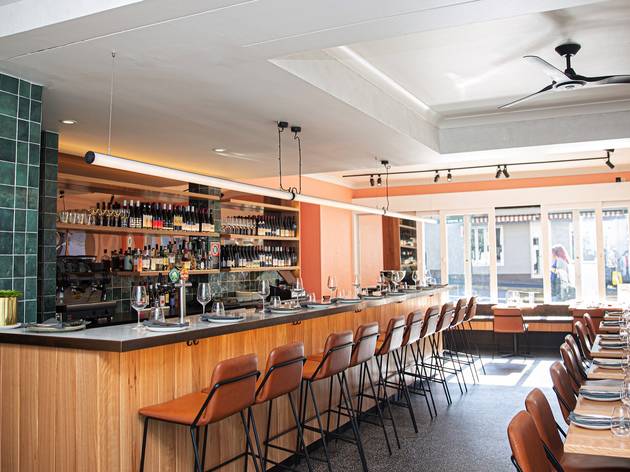 4/10
Photograph: Katje Ford
5/10
Photograph: Katje Ford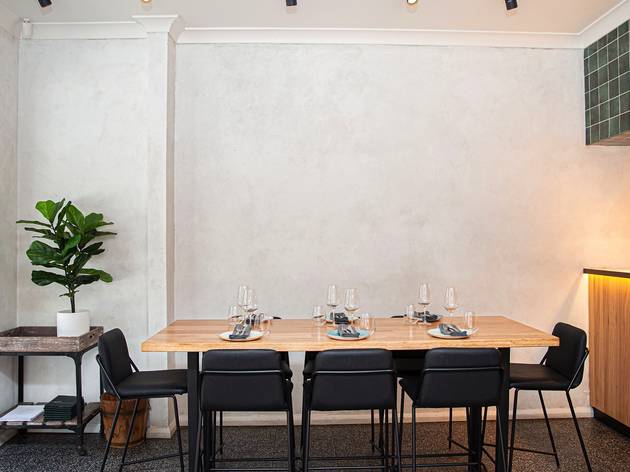 6/10
Photograph: Katje Ford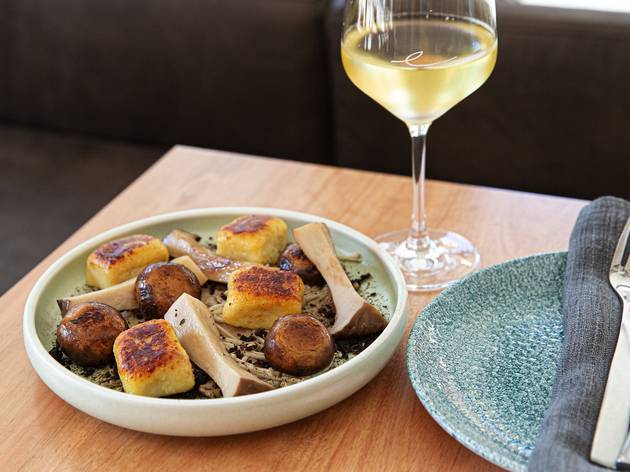 7/10
Photograph: Katje Ford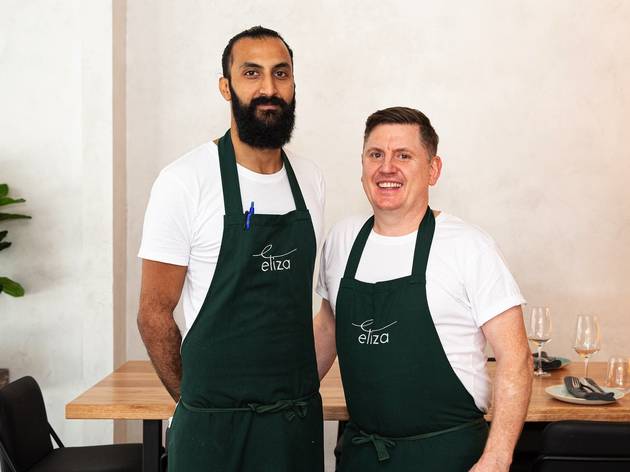 8/10
Photograph: Katje Ford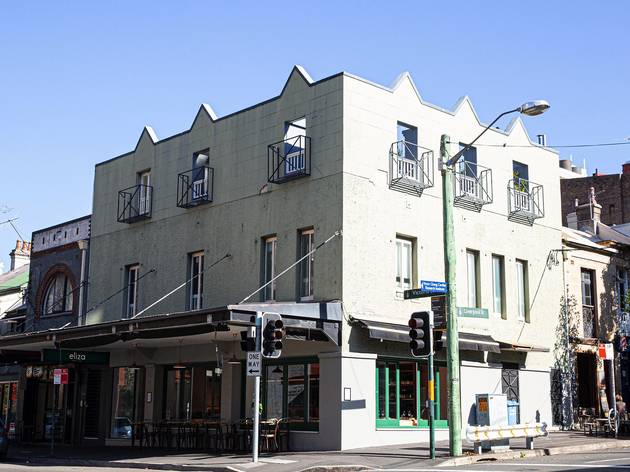 9/10
Photograph: Katje Ford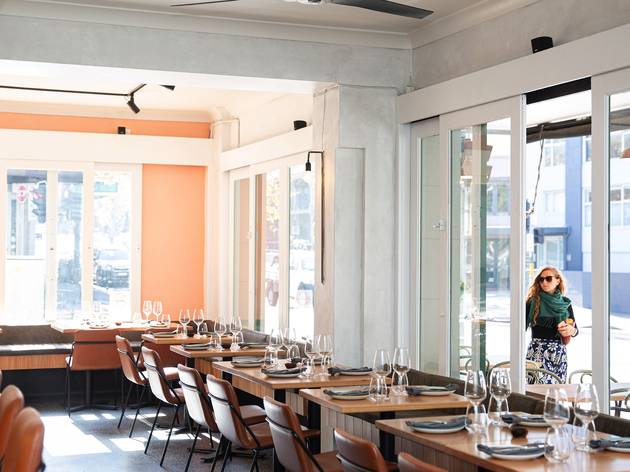 10/10
Photograph: Katje Ford
Time Out says
Big, bold globetrotting flavours find a home on a coveted corner in Darlinghurst
If you were to Google 'what restaurants look like in 2019', there's every chance an image of Eliza might pop up. It's a small, minimal-chic spot with box-ticking, eye-catching details: terrazzo flooring, shimmering bottle-green tiles, warm lighting, polished wood, tightly-stretched tan leather stools and chairs, a single leafy plant. Despite the luxe finishes, the room lacks a bit of energy; a distressed mirror, an abstract snapshot or a graphic vintage print would go a long way.
Thankfully, there's no absence of flair on the plate. Hummus and flatbread might come across as a puzzling start to a short menu at a place like this, but it's an opener that makes you sit up and pay attention. The puffy disc of dough is baked to order and fluffy as a feather doona thanks to olive oil and yoghurt, while the dip is sharply spiced and smoother than an Aesop hand balm. A tidy green pool of parsley oil doesn't add much flavour, but lends an extra dimension of colour and slickness.
Chef-owner Jeremy Bentley made a name for himself at the Devonshire in Surry Hills, and precise technique is what he's all about it. In his hands, spring rolls are finger food made great again – brik pastry wrapping fried to wispy brittleness cocooning tender coarsely chopped prawns you can taste, with a cloud of aerated saffron mayo that's practically weightless on the side. Schnitzel also gets an upgrade, arriving in the form of a crumbed golden baton, beneath a purple tangle of pickled red onions. Iron-rich softened shreds of braised black Angus short rib await within.
Vegetarians, or diners in search of reprieve from all these bold flavours and big textures, won't have much luck here. Pan-fried parcels of parmesan gnocchi are essays in richness in their own right; add a scatter of enokis and king browns, and a blitz of field mushroom "crumbs", and the umami overload becomes a little too real. Likewise a colossal fillet of perfectly roasted Hiramasa kingfish that's overwhelmed by the jazz of coconut-creamy curried lentils and deep-fried strands of onion bhaji. An Earl Grey and berry crème brûlée might not necessarily be what you feel like after all this, but next to cheese and a salted caramel parfait, it's the lightest finale you'll find.
For a venue that considers wine important enough to be part of its name, the list here – caught somewhere between Old World and New, progressive and traditional, and unsure where to plant the flag – could make more of a statement. The plus side is the price tag, which often falls below $80 per bottle, a rarity these days in this neck of the woods and a good excuse to do some exploring. Staff are happy to point you in the right direction, and offer advice with gusto.
Eliza feels like a fun, freewheeling wine bar in a more serious restaurant's body. We're not sure which one she really wants to be, but she's got very smart cooking and sound service going for her. As for the rest, well, that's for you to decide.
Details
Address:
247 Victoria St
Darlinghurst
Sydney
2010

Contact:
Opening hours:
Wed, Thu & Sat 5-10pm; Fri noon-10pm; Sun noon-4pm
Users say