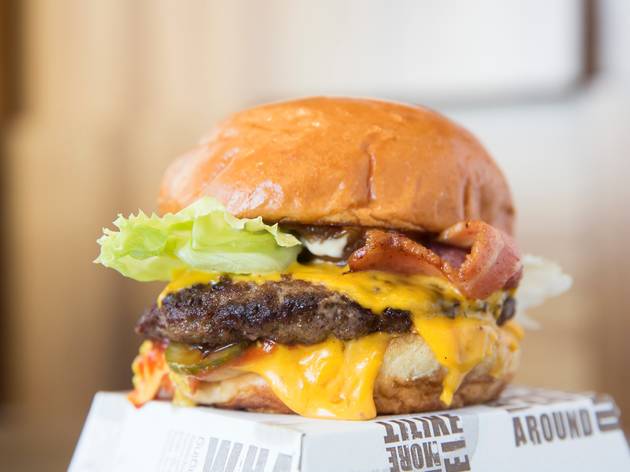 1/8
Photograph: Anna Kucera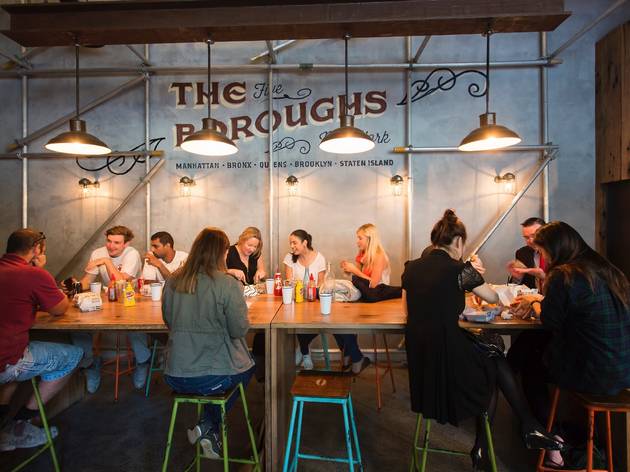 2/8
Photograph: Anna Kucera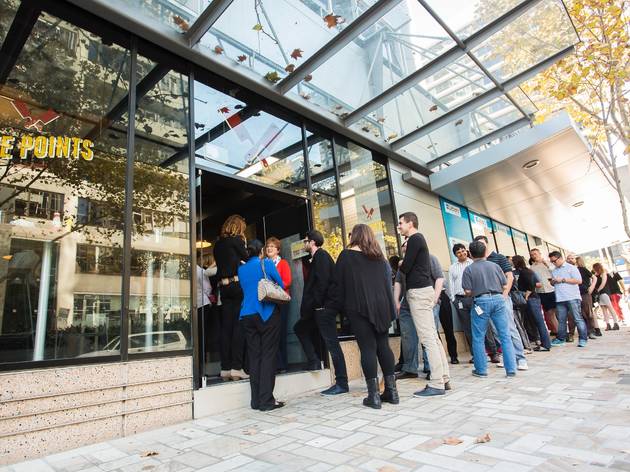 3/8
Photograph: Anna Kucera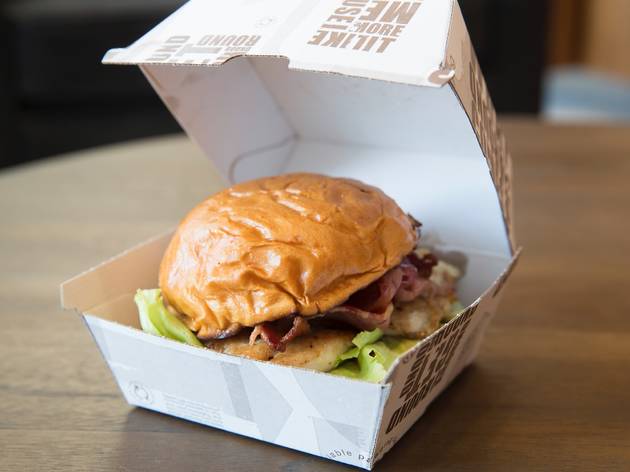 4/8
Photograph: Anna Kucera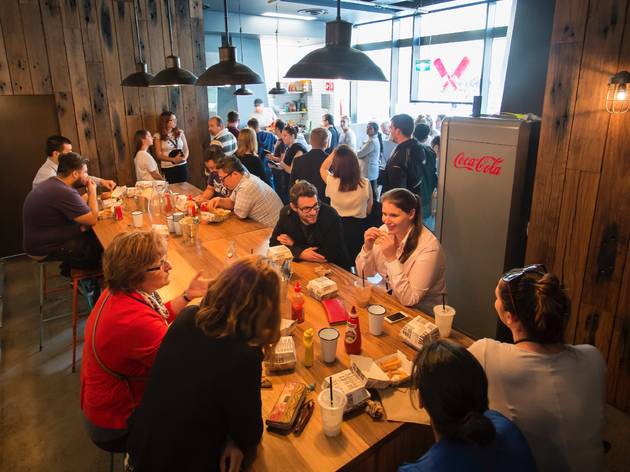 5/8
Photograph: Anna Kucera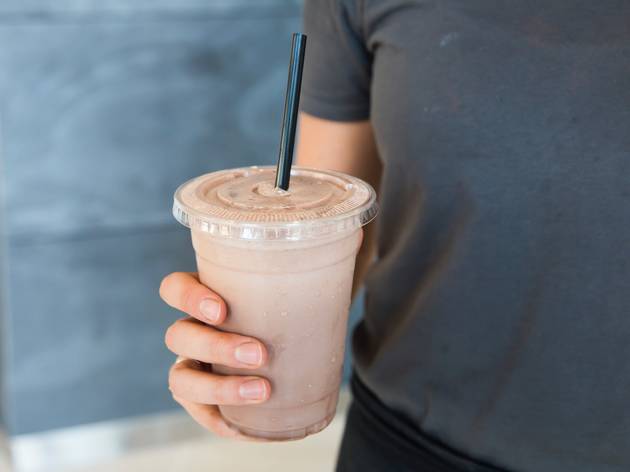 6/8
Photograph: Anna Kucera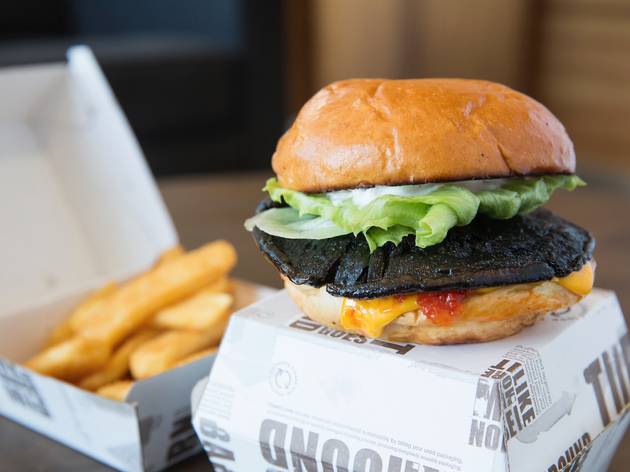 7/8
Photograph: Anna Kucera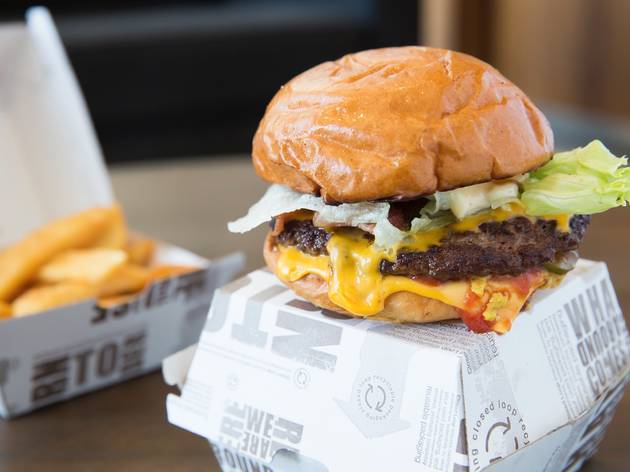 8/8
Photograph: Anna Kucera
Time Out says
Sydney is going mental over these North Sydney burgers. Here's our verdict
The queues started almost immediately. Ever since Five Points Burgers opened up in March, people were losing their shit. Not only is chef Tomislav Martinovic a Fat Duck alumnus, but... great burgers in North Sydney?! We had to investigate.

Here's what our sleuthing revealed: they've made an effort with the New York-themed interior – there's decorative scaffolding, raw concrete walls and industrial chic pendant lighting. Also like New York City, the place is absolutely heaving with people. Even at 11.40am on a rainy Friday, a block-long queue spills out the door. It takes 20 minutes to reach the front, and once we're in, people everywhere are impatiently awaiting their orders. It's like Christmas Eve at the fish markets.
But you're here for the burgers. And the burgers are great. Order the Bronx – a charred but tender patty cooked medium-rare is sandwiched between two melted slices of American cheese, sweet onion jam, a whole heap of sour pickles and a big, crunchy leaf of iceberg lettuce. There's also bacon, tomato sauce and mustard. It sounds like it's going to topple over it's so deeply filled, but the sturdy, soft Brasserie Bread milk bun keeps things in check, and not a morsel falls out while we're in deep.

The Queens chicken burger runs rings around all the dry ones you've had before – the meat is juicy and there's streaky bacon for extra smoke factor. We suggest heating things up with a splash of Sriracha – they wisely keep bottles on the tables. A bit of extra spice wouldn't go amiss on the meat-free Staten Island burger, which is comprised of a whole roast Portobello mushroom jazzed up with (not enough) tzatziki, cheese and marinated capsicum.

The fries are fantastic – because they're beer-battered and extra crisp, with a near-crumbly exterior. Inside, they are fluffy and hot, and will fall apart in your mouth just right. It doesn't really matter if you fear carbs, because this is the side you need to order.
The milkshakes here come in three flavours:salted caramel, vanilla bean and chocolate. Go for the chocolate, and remember this tip: the smaller size is big enough. And if you're hellbent on keeping the whole meal US-style, pimp it up with extra ice cream. It's still not as dense as a thick shake, but is malty and creamy and worth the trouble.
The long wait means that by the time the suits get their food, most are rushing back to their desks for a quick eat at the keyboard. So both times we visit, we bag a seat without any fuss. But Five Points is only open during daylight hours on weekdays – this is North Sydney, after all – so if you don't work near here, you'll want to make plans for a cheeky midday getaway across the bridge.
And if you do work up this way? Well, lucky you. Grab your smartphone, jump in the queue, distract yourself with Facebook and prepare to (eventually) be rewarded with a burger that's worthy of your time. Plus, you can piss off all those snarky mates who work in the cool parts of town by bragging about your new lunch-hour local. It almost makes you want to work in North Sydney.
Details
Address:
Entry via Berry Street
124 Walker St
North Sydney
Sydney


Contact:
Opening hours:
Mon-Fri 11.30am-5pm
Best selling Time Out Offers