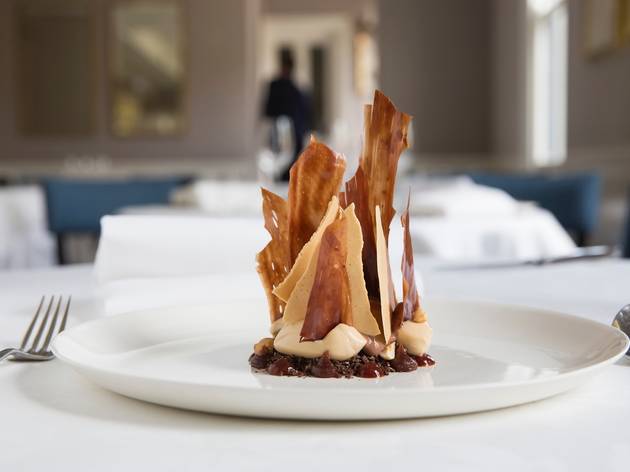 1/5
Photograph: Anna Kucera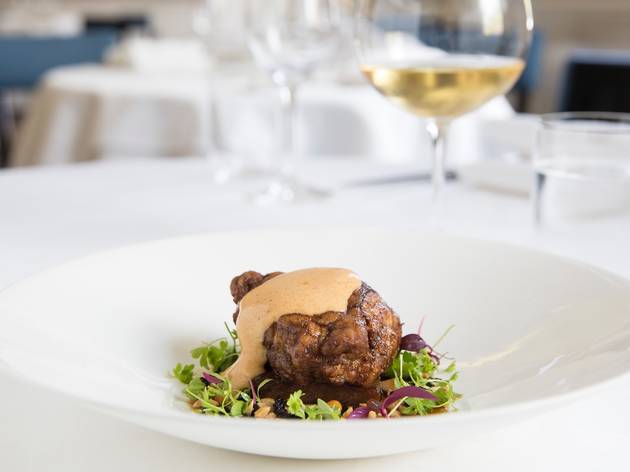 2/5
Photograph: Anna Kucera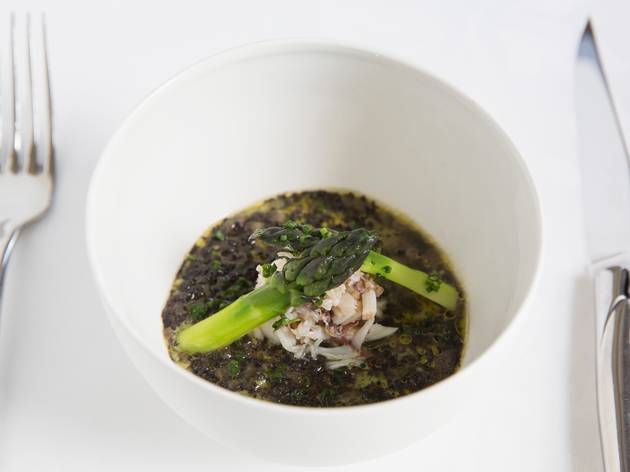 3/5
Photograph: Anna Kucera
4/5
Photograph: Anna Kucera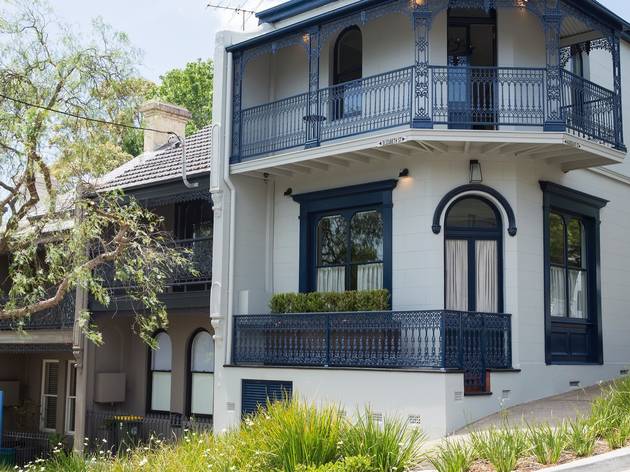 5/5
Photograph: Anna Kucera
All the thrills with plenty of frills at this new restaurant from top chef Guillaume Brahimi
We might not have driven to Guillaume Brahimi's new digs in the vintage Porsche (why drive with the top down when you've got an open window on the 389?) but we can enjoy a cocktail-sized pillowy crab sandwich with the best of them. "What are the chances of coming in for four courses worth of these?" asks a member of our party after scarfing down the two-bite delight of crabmeat, bound with mayonnaise. "Sure," says our waiter, without dropping a stitch. "But we'd need to nip down to Woollies and buy a lot more bread."
The trappings are lavish: polished waiters with major French accents, Hermès wallpaper in the private dining room. You certainly know you're eating in deepest Paddington when you're sitting between one table complaining about the state of business class on Emirates and the other about their new nanny. Further clues: the floor covering is inch-thick sisal, the walls are covered in backlit, gilt-framed Matisse doodles, and Edith Piaf throatily romps through La goualante du pauvre Jean. Truly, today, we are the poor people of Paddington.
Kick off with the rich yet gently flavoured creamed asparagus sporting a layer of finely chopped truffle and sweet striations of mud crab. It's easy to imagine how much more heady and perfumed this might be if truffles were in season, too. The real joy to eating this dish is the powerful, almost fizzing Sancerre from the Loire sommelier Tim Seguin pours to accompany it. It does a heroic job of not getting killed by the asparagus – one of wine's great frenemies.
It's Seguin's work that frequently takes things from good to great throughout the meal. He might lift a course of puffy veal sweetbreads and veal tongue with a peppery mataro, highlighting the sweetness and spice of an accompanying gingerbread emulsion, currants and almond bits. A glass of nebbiolo made in the mountains of Lombardy paired with the Patagonian toothfish almost gives us dish envy. Almost.
The kitchen straddles the divide between old-and-new-school pretty successfully. There's plenty on the menu for beef-and-Burgundy loving silvertails and next-gen Paddingtonians alike. Nobody gets away without a serve of Paris mash. "I'm not asking," says our waiter with a grin, as he places a perfect quenelle of the outrageously buttery potato puree next to some rosy slices of flank steak.
Everything about this dish – the thin slices of raw radish, the parsley-rich green sauce, the acid and flavour from the roasted tomato and the grape-sized baked potatoes – is delicious. The only thing letting the side down is the beef. The strangely flavourless and bubblegummy texture gives us the impression it's been partly cooked sous-vide, which is a shame – especially for the price. It'd be lovely to see Brahimi whipping out the old-school skills he mastered in Paris and cooking the meat on the stove or in the oven instead. Its saving grace is an acidic mixed leaf salad, which bookends the mash. (So French!)
Touches like that salad, the good bread and butter, and the fantastic service do a lot to smooth over the bumps in the menu. A selection of gooey and stinky cheeses served on big hunks of Australian hardwood with muscatels and crisp bread to finish, or maybe the dessert of chocolate sorbet, pulled toffee sheets, chocolate bark and Banyuls jelly (a kissing cousin of
Quay
's 'chocolate ethereal') and a glass of chilled fortified dessert wine to send you on your way, and it's hard to not want to come back.
When Guillaume first opened, the idea was a restaurant where locals could drop by for one course and a glass of wine. In just a few short months, though, that option has disappeared. Now it's a $145 four-course menu or a $175 dégustation, and the idea of dropping in has been replaced by the reality of booking weeks – sometimes months – in advance.
A neighbourhood restaurant? Not so much. This is a capital-R Restaurant that just happens to be in a neighbourhood. Still, there's something intensely likable about being looked after this well, even for just a couple of hours.
Venue name:
Guillaume (Closed)
Contact:
Address:
92 Hargrave Street
Paddington
Sydney
2021

Opening hours:
Tue-Thu 5.45pm-late; Fri, Sat noon-3pm, 5.45pm-late