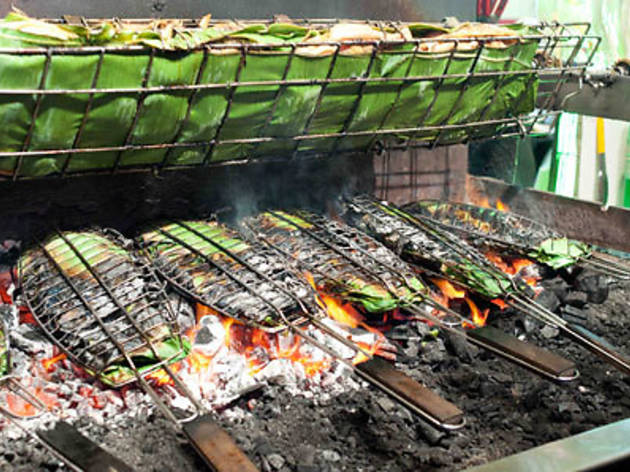 You can smell it from a block away. It's the smoky hiss of charcoal and the tantalising aroma of slowly barbecuing fish and chicken wrapped up in banana leaves. Every Aussie loves a barbie, but this is food by fire, Vietnamese-style. It all happens on the weekend, when Hai Au Lang Nuong starts up the massive barbecue that faces onto the street, giving passersby a bird's eye view of all the action.
This corner restaurant is hugely popular with locals, filled with Vietnamese families and big groups of friends. The decor is bright and lurid, a dizzying collection of mirrors, posters and giant TV screens playing Vietnamese pop videos. The shuttered windows are rolled open so you're exposed to the street, an open-air experience that feels more Saigon than Sydney.
The ga chay bo nuong than grilled chicken ($40 for a whole) is the big house specialty, an organic free range chook delivered fresh off the barbie. The skin is caramelised and a little charred; the flesh is mouthwateringly succulent and juicy. If you close your eyes you get a faint hint of sweetness from the banana leaf wrapping. Dunk the chicken into the saucer of sweet chilli sauce and follow up with mouthfuls of the accompanying glutinous sticky rice.
It's not often you find bo la lop nuong than ($25) in Sydney restaurants: little cigars of lemongrass and black pepper beef wrapped up in glossy betel leaves and then speared onto a skewer. The real magic happens when you cook these on the charcoal grill at your table, charring the leaves so they release their spicy fragrance. Marinated deer, crocodile, beef or ox tongue ($25 each) are just some of the DIY grill options on offer. Sear them well then make your own rice paper rolls, bundling them up with a bounty of vermicelli noodles, pickled vegetables and mint and perilla leaves.
Hai Au has all the Vietnamese classics like canh chua hot and sour soup ($15-$25) and bo tai chanh ($15) raw beef salad with lemon. But there are plenty of more interesting dishes, like a zingy lotus stem salad ($15) and clay pot stewed scampi ($18 for two) smothered in a heady seafood sauce. The bun rieu ($10) is on the lunch menu but they'll serve it at dinner if you ask nicely. It's a heart-warming tomato and crab soup with vermicelli noodles, bobbing with crab roe, cubes of pig's blood and curls of squid. The adventurous should seek out the crispy duck tongues ($18) or the crisp pork offal ($15), fatty tubes of large intestine served with a spicy tomato sauce.
Venue name:
Hai Au Lang Nuong
Contact:
Address:
2/48 Canley Vale Road
Canley Vale


Opening hours:
Mon - Sun 10am - 10pm
Price:
Up to $60
You may be interested in: