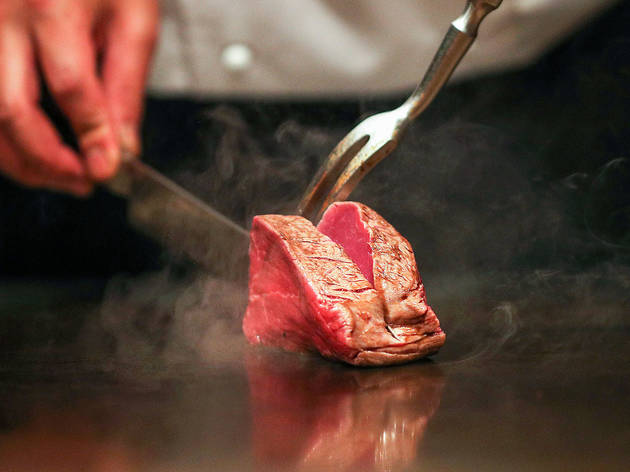 Time Out says
Have your fried rice and play with it too at this teppanyaki joint in Haymarket
Before freakshakes and multi-platform brunch platters, the mealtime gimmick dujour was teppanyaki, that crowd pleasing combo of grilled meats, utensil flipping theatrics and don't-wear-a-white-shirt food tossing games.

These days teppanyaki is less in vogue, but there are still a few places chugging along, diligently serving families, tourists and corporate business lunches the full Benihana experience. At Hisshou on the Haymarket end of George St, our chef - let's call him Ken - turns the flipping and slicing of meat on a grill into a percussive symphony of tap, scrapes, and sizzles; he'll write your name in salt and twirl a squeezy bottle of teriyaki sauce like Tom Cruise in Cocktail.

Opt for one of their set banquets that start at $50 a head. Land and sea proteins are served between a few cold entrees and the obligatory fried rice and veg to finish. Save your scrutiny for their deeply eclectic drinks list instead, which offers everything from bargain bin chardys to Hennessy XO and double shots of something called Suntory Lena Banana Liqueur. Our server proudly hands us a separate menu of "over 150 cocktails", almost all of which seem to feature Midori, Blue Curacao or Tia Maria. Sure, there's a few demure inches of sakés and shochus but now is the time to embrace this liquid time warp.

It all kicks off with a crisp leaf salad tossed in a tangy sesame dressing, miso soup, two polite oblongs of salmon sashimi and a little mound of tsukudani – beef that's been simmered down in soy, sugar and mirin. It doesn't look like much but it's surprisingly delicious - like a bulgogi beef jerky.

With the support act over, Ken steps up to the hotplate, adroitly uncasing a couple of fat king prawns, pressing and rolling them around the oil-dressed grill until they're snappy to the bite. Don't let the chef toss away the prawn heads, either. They'll happily cook through the plump slivers of ruddy tomalley for you to gnaw on, full of such salty-sweet-briny goodness that you wish you could ask for ones from the next table, too.

The following meat dishes are mostly defined by their degree of salt and/or pepper. That's not to say that Ken is phoning it in, resting on his spatula-flipping laurels. The morsels he slides onto our plates are deftly cooked - tender, juicy and even. The perch fillet is simultaneously firm and flaky, the chicken teriyaki springy in flavour and texture, and the tenderloin has a lightly charred outer and deep pink centre. Provided are little saucers of soy vinaigrette and peanut miso sauce if you're seeking additional flavour dimensions beyond the 2D.

A surprising highlight is the fried rice, a strictly chicken, carrot, shallot and egg concoction - no new age scallop and tobiko business here - but it is full of crispy bits and the essence of all the meats that have previously danced across the grill is absorbed into the rice.

Of course, an evening at teppanyaki isn't complete without games, and Ken's playbook is straight outta 1999 - catch the bowl, now catch the raw egg, now he's throwing omelette in your mouth - oh look fire! This is by-the-numbers, greatest hits stuff. This is the Going Home by Kenny G of teppanyaki. We, and the neat young family we're sharing a grill table with, are loving it. The three young kids are eagerly eating the food Ken slides onto their plates, the parents are enjoying a cider each, and no-one, young or old, is crying or playing on an iPad. In our current, complicated times, that's basically a modern miracle.
Details
Address:
752 George Street
Sydney
Sydney
2000

Contact:
Opening hours:
Mon-Fri 11.30am-3pm & 5.30-11pm; Sat 5.30-11pm; Sun 5-10.30pm
Users say