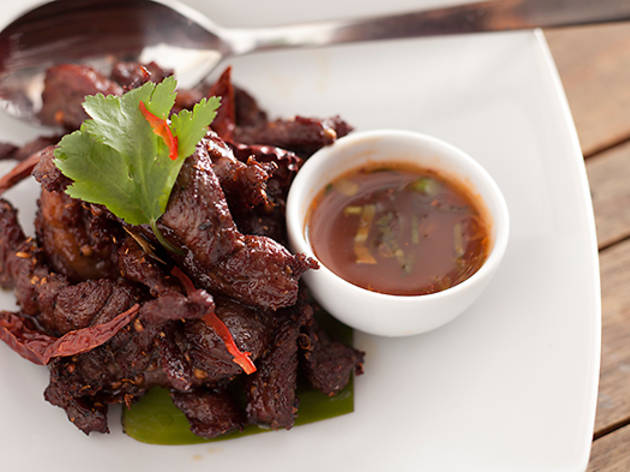 1/11
2/11
3/11
4/11
5/11
6/11
7/11
8/11
9/11
10/11
11/11
[CLOSED] Disappointed by Spice I Am's Victoria Street Branch? Love the original on Wentworth Street but can never get in? We hears ya. But never mind those bollocks, because here comes House. If you're among the some who like it hot, it's the restaurant you'll want to run, nay, sprint to right now.

It's the same team from Spice I Am, doing not the tricked-up top-dollar stuff that Darlinghurst is known for, but the street food of northeast Thailand. You won't find a lot of coconut milk or stir-fries on the Isaan-leaning menu but there are a lot of salads, grills and fermented and dried and sour gear. It's fitting that Sydney's hottest new Thai restaurant also does the hottest salad we've eaten in Sydney. A bit like a som tum, tum zua sees shreds of green papaya mixed up with fermented kanom jeen rice noodles, cherry tomato halves, green beans and Thai eggplant dressed in piquant lime, garlic and preserved fish. It's thermonuclear with tiny bird's eye chillies, the seeds coating the noodles. Forget rice, milk or water, the only thing that's gonna get you through this burn is some serious stones.

The restaurant lives in the space adjoining the Triple Ace Bar. What was once an unremarkable red-sauce joint is now a massive courtyard strung with lanterns, promising happy, beery times when the hot weather returns. The sturdy wooden tables should be big enough to fit around six hungry farangs or eight slender Thais on each. Framed Thai movie posters (our favourite is The Overture: 'He Fights Through His Music') line one slatted white wall, and while you might complain about the noise of traffic and trains rumbling along Elizabeth Street on the other side of the fence, old Bangkok hands reckon it's pretty authentic.

Speaking of authentic, larb ped is a slightly less violent way of experiencing an Isaan specialty. Roughly minced duck is fried with ground roast rice - a crunchy meaty, tangy mess. The salad is finished with little deep fried duck bits, green onions, deep fried shallots and a whole lotta chilli. It's brought to the table with a glass filled with cucumber sticks, cabbage leaves and holy basil. The idea is to take a bite of cucumber or cabbage to assuage the heat, and you can try wrapping bits of duck salad in the basil leaves. Yum. It doesn't all have to be so fiery, of course. Order the chicken with coconut and banana blossom steamed in a banana leaf; delicate and fragrant, it's a far cry from the rich, sour pungency of some of the other dishes.

It's also great to see Sujet Saenkhan shaking the pans in the bright open kitchen. A co-owner, Saenkhan is Spice I Am's original chef, and things on the plate sparkle that much more brightly when he's in the house. It's a good looking and stylish group Saenkhan has working the place: everybody on the pass is resplendent in their bright orange neckerchiefs, and the incredibly nice floor staff are in denim and white tees emblazoned with fluoro pink.

Our plan of attack involves settling in with some beers (the drinks - and the toilets - are courtesy of the pub); there's no Singha at the Aces but they have Tiger, Kirin and Tsingtao, and there's always Pale on tap. The grills section of the menu has "bar snacks" written all over it. We can speak for the likes of juicy, sweet pork skewers (moo ping) and the sun-dried-then-deep-fried beef strips (nua daed deaw - a little like eating very soft jerky). What we want is to go back for the gai yang - marinated charcoal chicken. With any luck it'll have that same tender juiciness that's a rarity in most other local Isaan kitchens.

Neither of the desserts we have are on the menu. There's the chocolate pudding, baked in a little cup and topped with a scoop of coconut ice cream and there's the dessert they dub the BTS - Better Than Sex. It's basically a thick slice of fried bread covered in sugar and caramel and covered with a big scoop of coconut ice cream. It's certainly better than bad sex.

We're not sure if Berta, Sydney's other hottest new opening, is going to be getting the overflow from House or vice versa but we can tell you it's essential eating either way. Get into it.
Read more about Sydney's best Thai restaurants.
---
Venue name:
House
Contact:
Address:
House
202 Elizabeth St
Surry Hills
Sydney
2010

Opening hours:
Daily 12 noon-2am