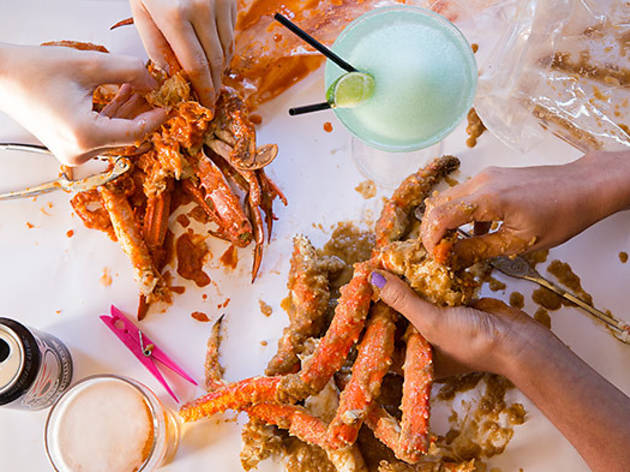 1/8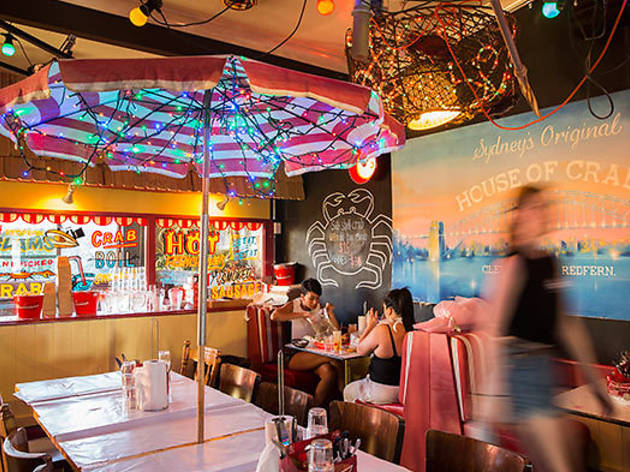 2/8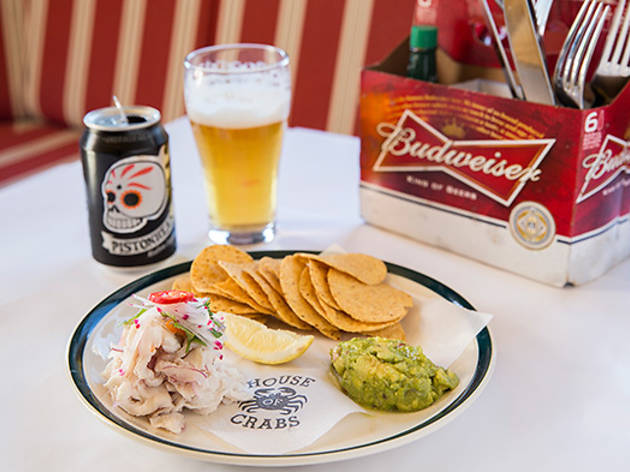 3/8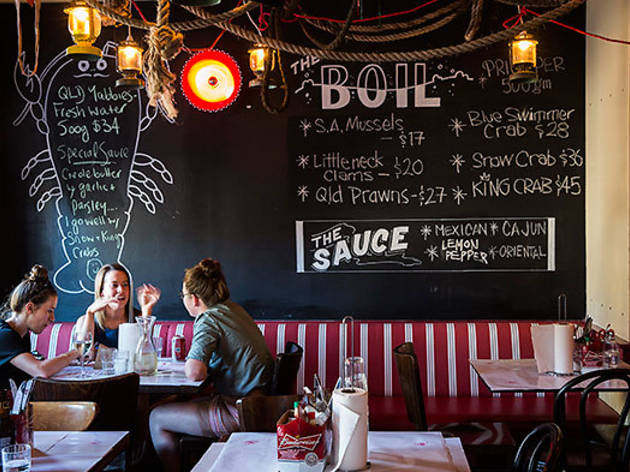 4/8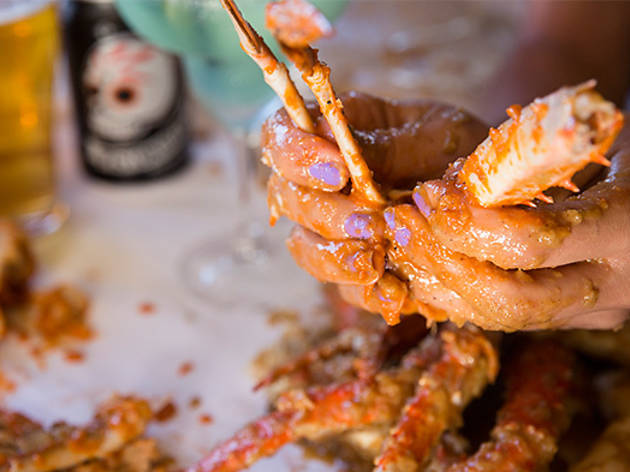 5/8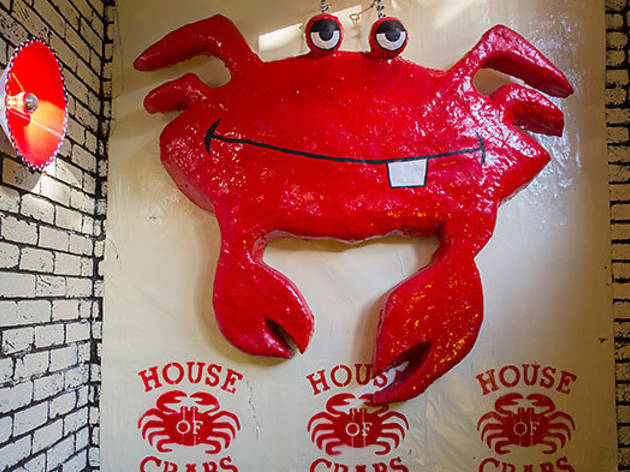 6/8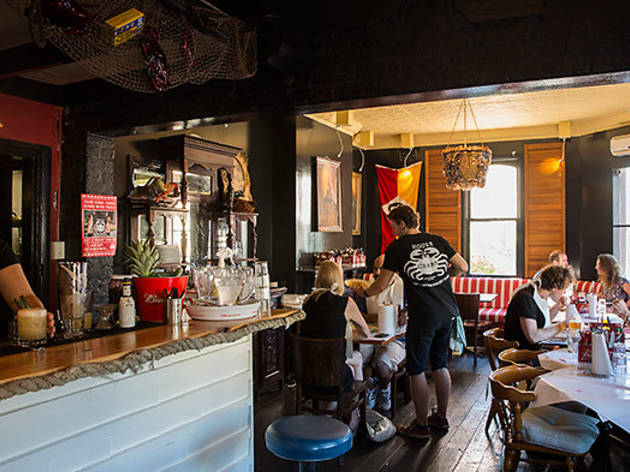 7/8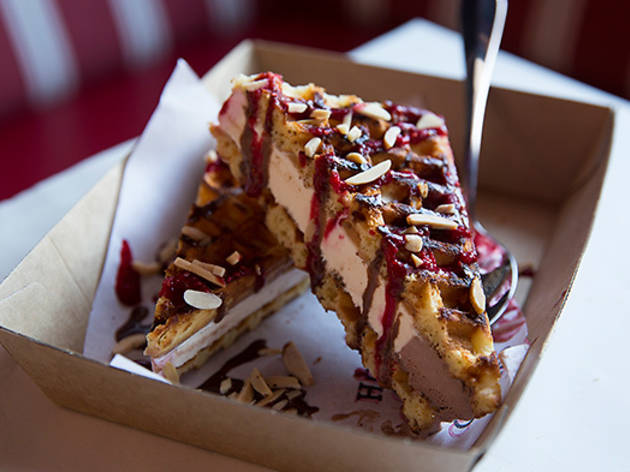 8/8
Be prepared to leave poise at the door - there's nothing dainty about smashing a bag of full of crabs
You'll find this homage to the American seafood shack above the Norfolk. As is the case for all the heavily themed Drink 'n' Dine ventures, they lay the nautical paraphernalia on with a trowel. There are glass fishing floats, plastic crabs and old ropes adorning the bar, a canoe hanging from the ceiling, feathered macramé lampshades and shutters on every window. It's like they typed "nautical stuff" into eBay and bought everything that was under a tenner.

And while their love of random tat is going strong, so too is their love of classic rock. Your soundtrack for the evening is likely to include Creedence Clearwater Revival, JJ Cale, Steppenwolfe and the Doors, plus a little Eminem to keep you on your toes.

Old Budweiser six-pack cartons are filled with cutlery, crab tines, claw crackers, kitchen shears, hot sauce and rubber gloves. A helpful staff member will arm you with a plastic bib. There's also a roll of hand towel on the double-papered table as a last line of defence.

Prime your palate with a cleansing Pistonhead Kustom lager from Sweden. Cold, clean and easy to drink, it's as serviceable a beer in a can as you could ask for. They also have super sweet frozen Margaritas, or you can dial it back with their version of an Arnold Palmer: a semi-sweet mix of vodka, black tea and lemonade. It's low on the fizz so you can slam it down fast.

As popular as the lobster fries are with our crab-cracking compadres – that's a bowl of skinny fries topped with cheese, bacon, corn kernels and a lobster fragrant gravy – it's the light and tangy bream ceviche, well seasoned guacamole and corn chips that get our vote for the pre-crab snacks.

Once you're ready for the main act it works like this: 500g lots of mussels, clams, prawns or crabs are boiled up, placed in a plastic bag, doused in the sauce of your choosing – our pick is the mild Cajun - and delivered to your table.

The massive king crab legs provide the greatest yield but you'll have to fight for it – the rubber gloves are no match for its sharp spines and shards of broken shell. It's also worth noting that both the king crab and the snow crab are frozen imports from Alaska. If you prefer to eat local, go for the fresh blue swimmer crabs instead.

They only have one dessert on the menu. It's a slice of proper supermarket Neapolitan ice cream sandwiched between two soft waffles and topped with chocolate, tart raspberry sauce and slivered almonds. It's a two-person job but it's one worth doing.

It's the demolition derby of dinners and that's what makes House of Crabs so much fun.
Venue name:
House of Crabs
Contact:
Address:
305 Cleveland St
Surry Hills
2010

Opening hours:
Lunch Friday noon-4pm; Dinner Tue-Sat 6pm-midnight