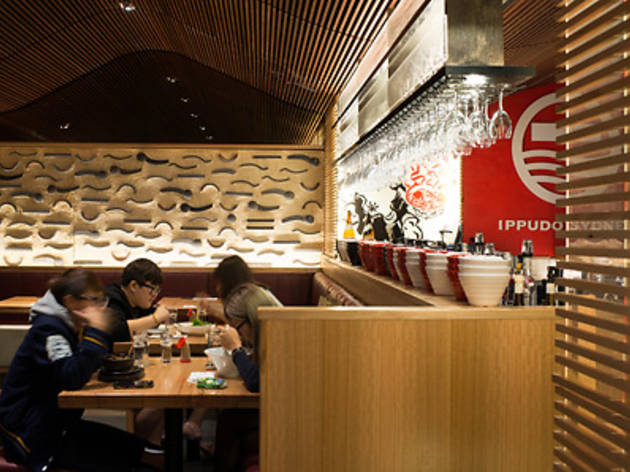 1/9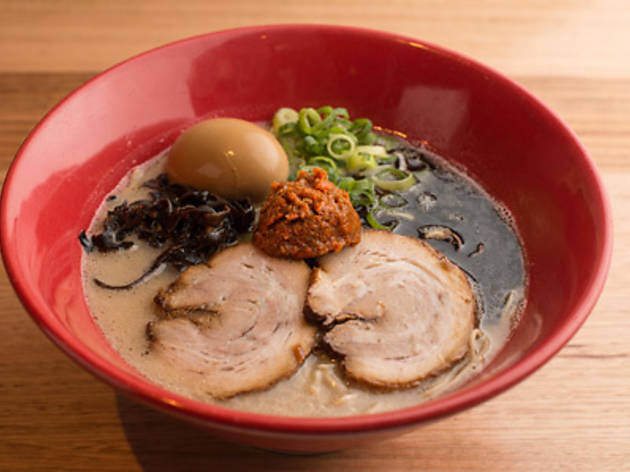 2/9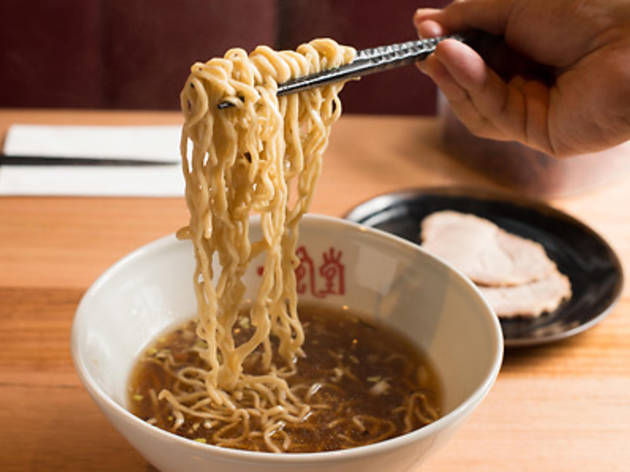 3/9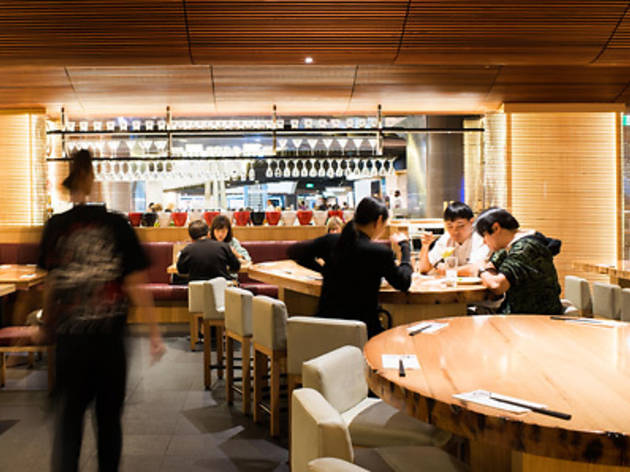 4/9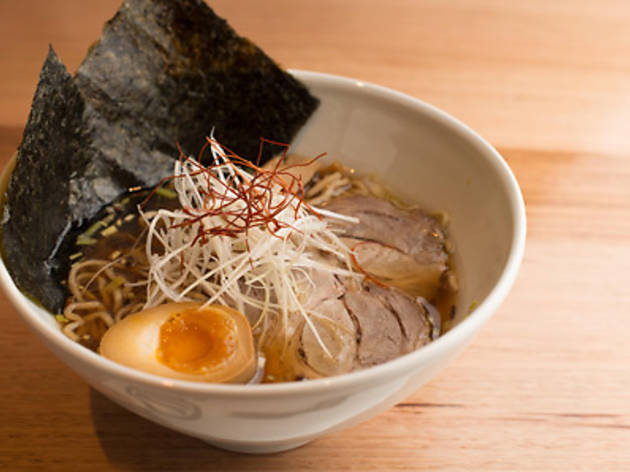 5/9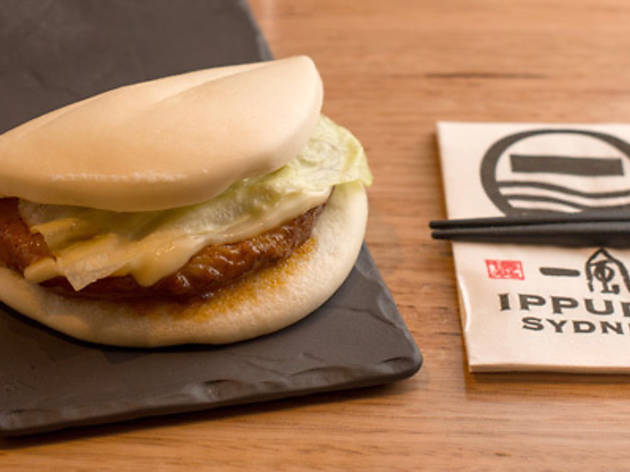 6/9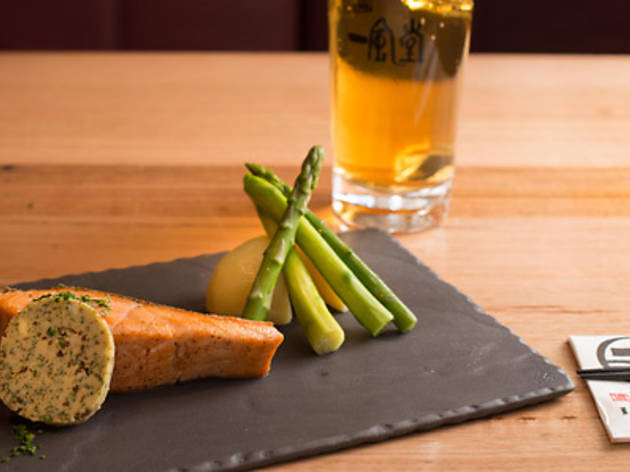 7/9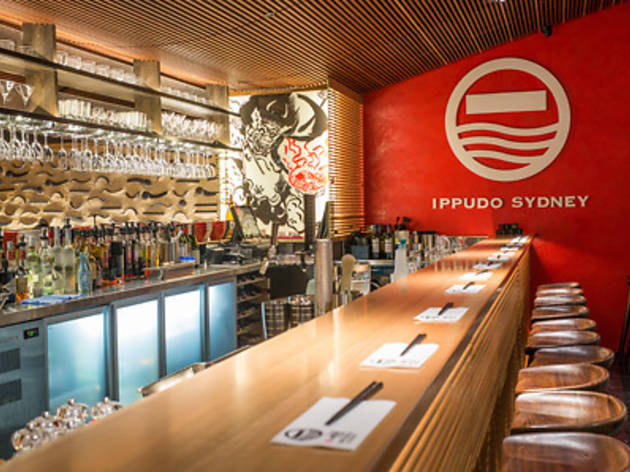 8/9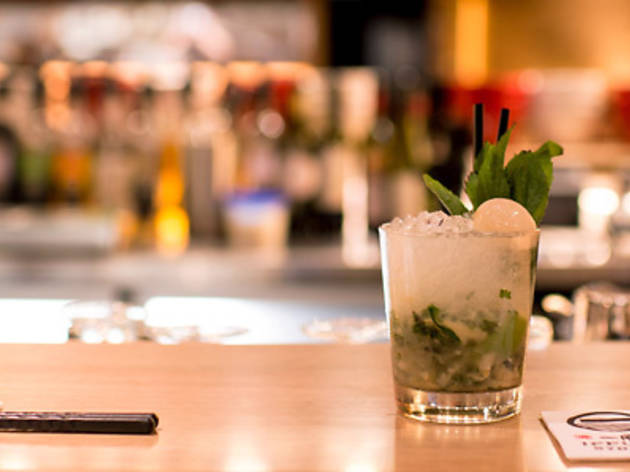 9/9
After conquering New York, Tokyo, Seoul, Singapore and Hong Kong, the ramen masters at Ippudo have finally opened a Sydney branch in the new Westfield
When was the last time someone yelledirasshaimase!" at you while Aimee Mann crooned in the background? Anyone? No, us neither. Which is why we're so excited about Ippudo – the Japanese restaurant that's attracting big crowds and long queues.

It's here that you can prop up the bar at the entrance of the restaurant and order a Japanese craft beer (we try an Ise Kadoya Imperial Red Ale micro-brewed in Mie and an Ocean Kujukuri pilsner from the Kankiku brewery in Chiba) and a fluffy steamed bun (they look very similar to the ones Momofuku made famous).

There's a version stuffed with slices of pork belly, Japanese mayo and iceberg lettuce, and another filled with clusters of deep-fried prawns – it's our favourite. Sweet and super-peppery crisp chicken wings are the perfect accompaniment to an Asahi (they're got it on tap) if unfamiliar Japanese micro-brews don't tickle you.

The thing is – and this applies to lunch as well as dinner – you want to get in as early as you can. We arrive at 6pm and we still have to linger at the bar for twenty minutes or so while we wait for a table. Had we left it another half hour, we'd be at the back of the massive queue with no hope of a pre-dinner ale. You've been warned.

Once you're in, it'll be a good quick time. Service is super-friendly and the food comes thick and fast. Every table is laden with seasonings – there are both white and black pepper grinders, a sesame seed mill, soy sauce and chilli oil.

Ippudo's specialty is ramen – specifically, tonkotsu ramen. Here, the pork stock base is surprisingly light in texture (some pork-based broths are so high in gelatin it's like moisturising your mouth) but big on the porky flavour. The noodles, as opposed to the springy yellow numbers you might be used to seeing, are needle thin. And the result is a light, bright noodle soup that doesn't have you reeling as you leave the restaurant.

It's not all noodle soup here, though it is a pork-fest. Gyoza – here, guppy-shaped fried dumplings filled with minced pork – have delicate little thin skins that tear at the mere suggestion of a chopstick. 'Samurai' pork ribs are rich, sweet and fatty – they're almost like a pork short rib. We really dig the soft tofu that comes to the table in a hot stone bowl with a bubbling (literally – it's that hot) mix of miso and (you guessed it) pork mince and bits of chopped-up noodle and spicy, salted cucumber with a drizzle of sesame oil. It's the perfect way to freshen up after all that protein.

But. The Caesar salad (which we admittedly order for the 'WTF factor') is a disconcerting mix of cold bits of roast pork, cos lettuce, tomatoes and salad cream. Desserts don't fare much better. The 'Blue Mountains', a massive sundae of green-tea ice-cream, whipped cream, red-bean compote, chopped nuts and mandarin segments, goes back to the kitchen unfinished. As does the lamington – a sponge with a red-bean jam centre, covered in some sort of green 'stuff'. Boo.

Don't get us wrong - we really like Ippudo. It's fun and, for the most part, delicious. Get there on the early side and make yourself a noodle party.
Venue name:
Ippudo
Contact:
Address:
Westfield Sydney, Level 5
2000

Opening hours:
Mon, Tue 11am-10pm; Wed-Sat 11am-11pm; Sun 11am-9pm
Price:
$10-$50