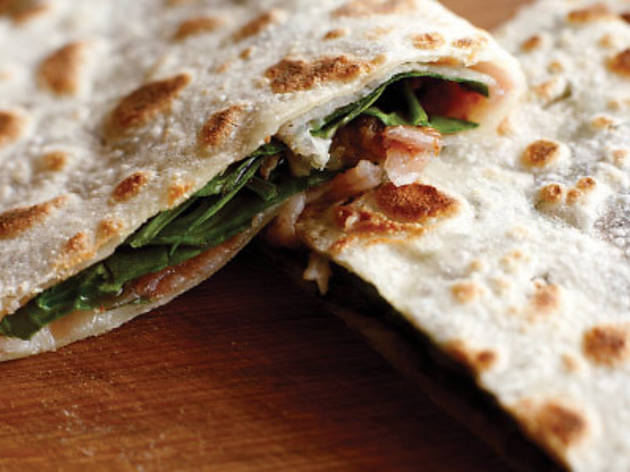 PIzza sandwich-lovers unite!
Walk into this tiny little Bondi eatery that's nearly all kitchen with a cluster of tall tables and chairs to match, and you probably wouldn't say there was anything crazily special about it. That is, until you start noticing the small things: the meat being sliced to order, the menu consisting of only one thing (piadina, a kind of Italian pizza/flatbread type thing originating in Emilia-Romagna) and the good-looking Italian men running the shop.

Thin, slightly scorched flat bread is made from dough that's rolled out super-thin, spread out on a hotplate and holds anything from nduja (a type of soft spicy sausage, a bit like paté; say it like en-doya) to mozzarella, salami, prosciutto or Nutella. An individual serve is enough even if you're super-hungry, but order a few in a group so you can try everything. Sausage, mozzarella and mushroom sees ultra-meaty mushrooms team up with thin slices of Italian-style sausage and globs of cheese while (our favourite) the nduja is spread over the dough with mozzarella and slices of salami – spicy, peppery and totally yum.

The meat, by the by, comes from rising-star-of-smallgoods Tony Sgro and his company, Quattro Stelle. Sgro's the only guy to be doing the super-authentic squashy nduja you see on the piadina here. They do pastry too, and their coffee is excellent. Try a slice of mango crostata or a little tart filled with fig jam and decorated with a shortcrust hippo.

Each pocket of deliciousness is served on a little board replete with thumb nub and "La Piadina" burnt into them. Sit at the bar under the window, take in the breeze and sit among the strawberry, oregano, parsley and bay planted in little terracotta pots along the sill. Spotted throughout the room there's an army of plastic animals (there's a triceratops and diplodocus, as well as a regular old tiger), and deep soul thuds from the speakers. Cookbooks sit in a pile mixed up with the morning papers in a happy jumble. Naturally, there's a scooter parked out the front.

It isn't fine dining, it doesn't have a hub of people cramming in for lunch and it isn't trendy. What it is, though, is a casual, easygoing spot that does great food for not very much money.
---
Venue name:
La Piadina
Contact:
Address:
106 Glenayr Ave
Bondi
Sydney
2026

Opening hours:
Tue-Sat 9am-10pm