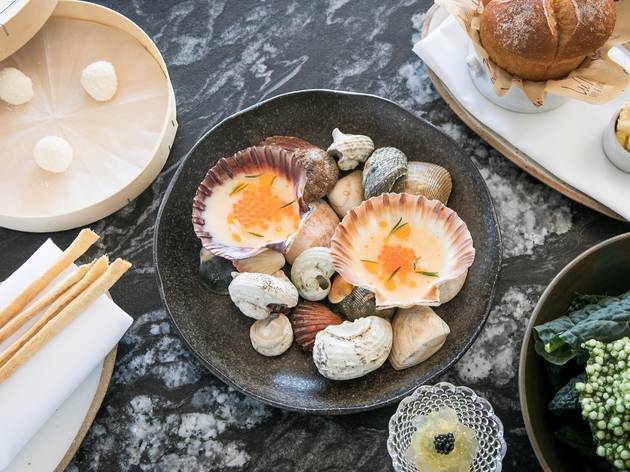 1/16
Photograph: Anna Kucera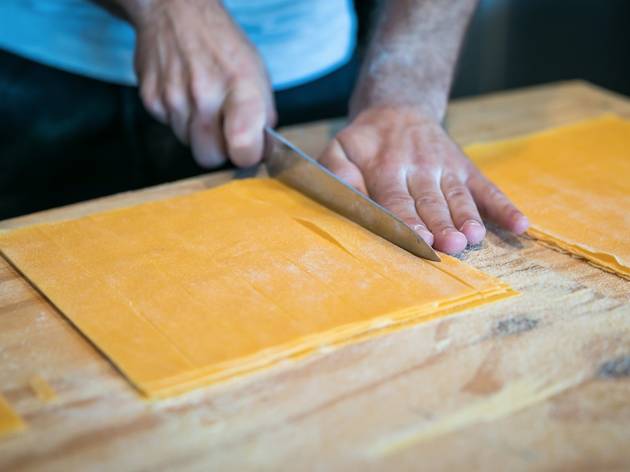 2/16
Photograph: Anna Kucera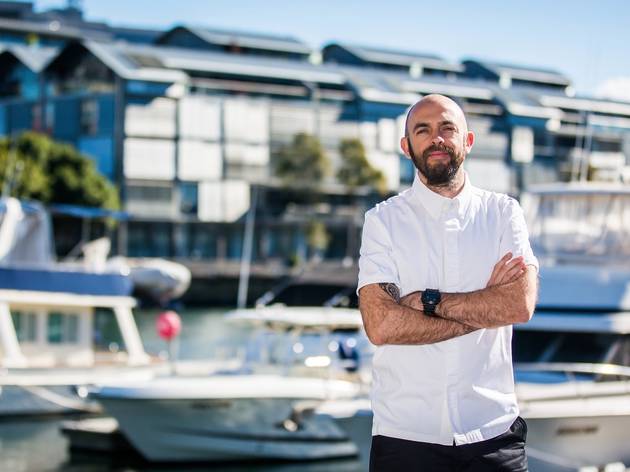 3/16
Photograph: Anna Kucera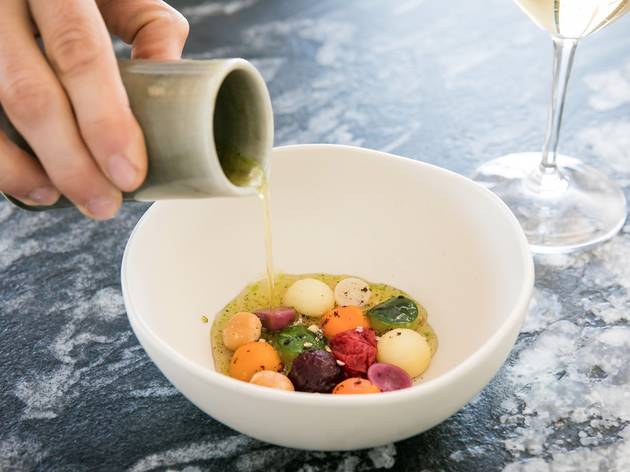 4/16
Photograph: Anna Kucera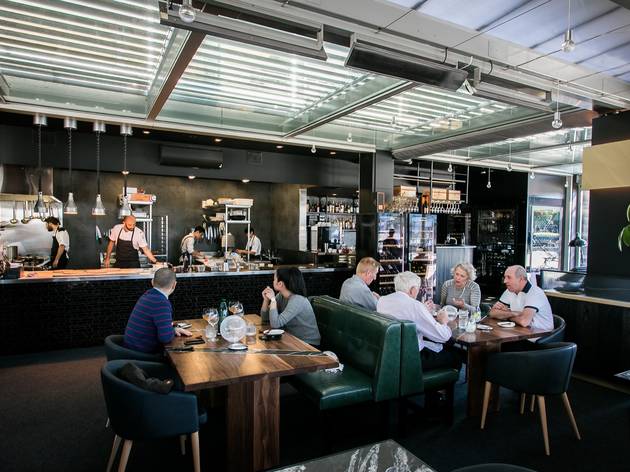 5/16
Photograph: Anna Kucera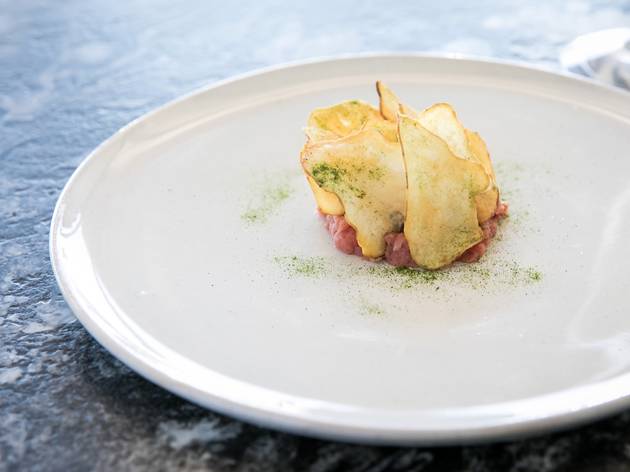 6/16
Photograph: Anna Kucera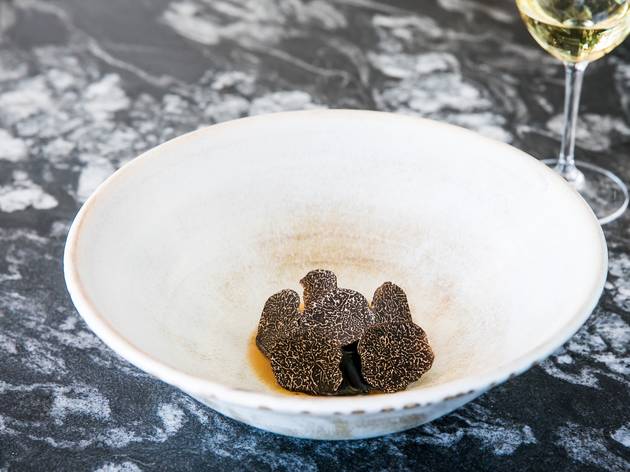 7/16
Photograph: Anna Kucera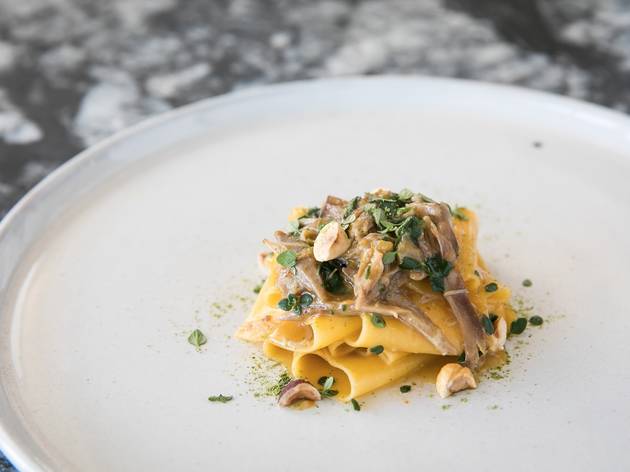 8/16
Photograph: Anna Kucera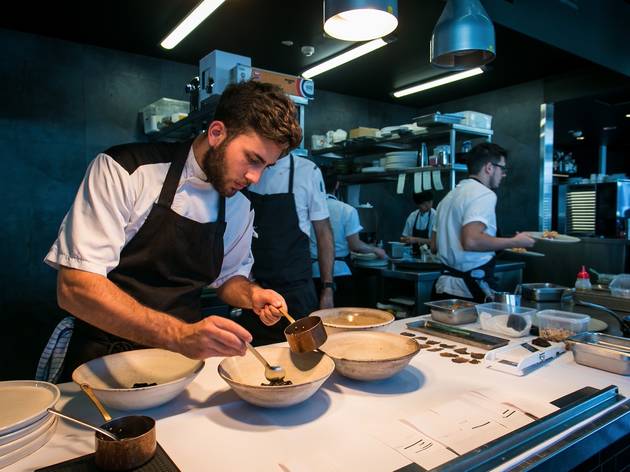 9/16
Photograph: Anna Kucera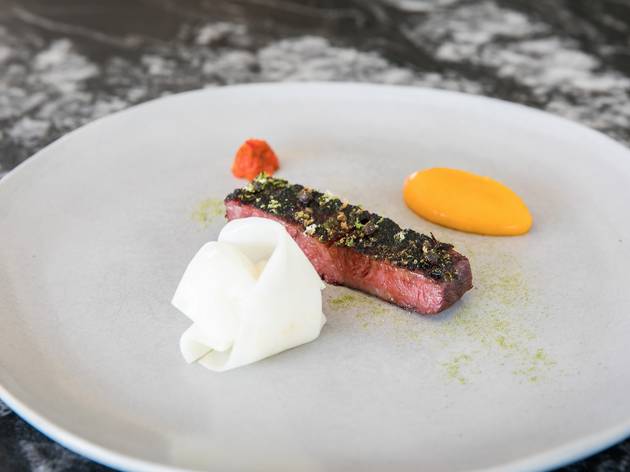 10/16
Photograph: Anna Kucera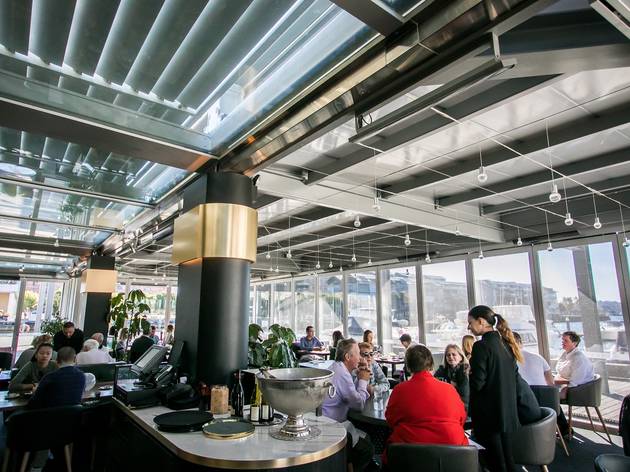 11/16
Photograph: Anna Kucera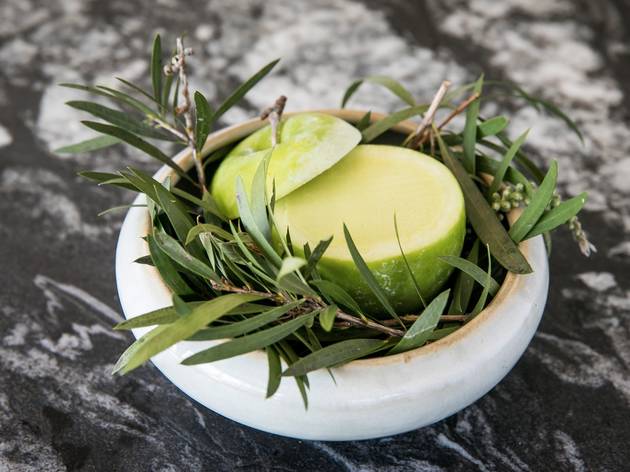 12/16
Photograph: Anna Kucera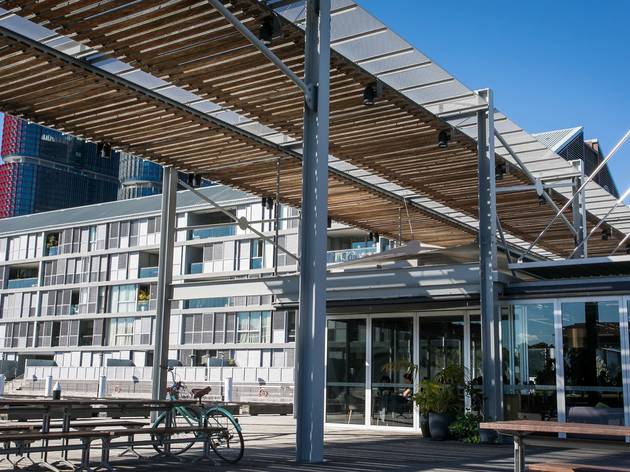 13/16
Photograph: Anna Kucera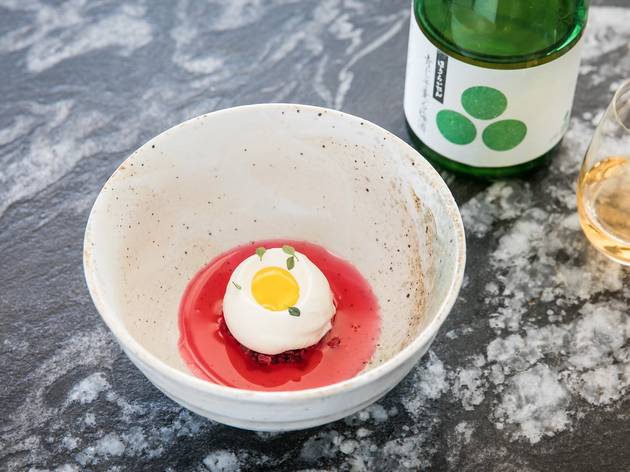 14/16
Photograph: Anna Kucera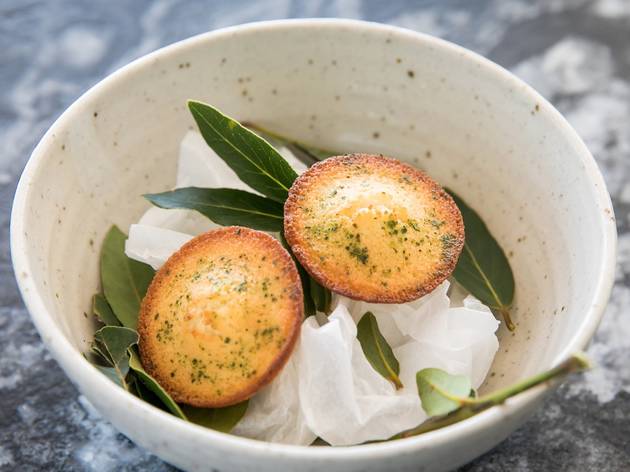 15/16
Photograph: Anna Kucera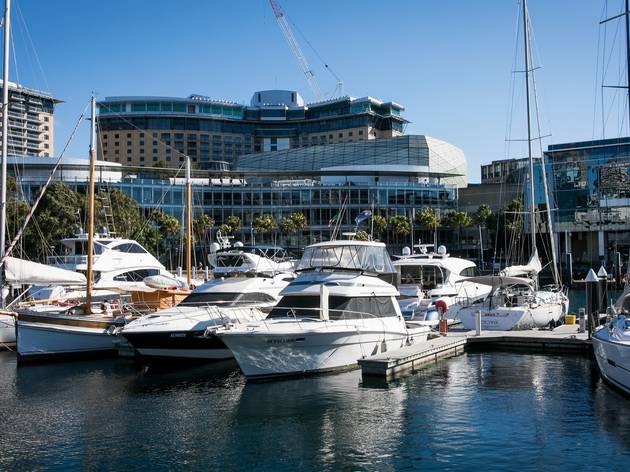 16/16
Photograph: Anna Kucera
Want spectacular food in waterfront surrounds? Look no further
Outside on the street, away from the Star casino, Pyrmont feels like a bit of a No Man's Land for a fancy dinner out. But that was until LuMi Bar and Dining came along, the restaurant from ex-head chef of Ormeggio at the Spit, Federico Zanellato.
It's situated on the wharf opposite the casino, in the old Ripples site. Because of its positioning and extensive glass walls, it feels as if you're almost floating on the harbour, surrounded as you are by water. The design of the space is mid-century-Italian-mod – lime green and purple textiles versus timber and concrete furnishings, and the food is a similar fusion of ideas, most simply described as Italian-Japanese.
At night it's an eight-course degustation for $115 when we visit, which is fantastic value considering how much you'd pay elsewhere. You'll start with a few snacks to get the juices flowing (we suggest ordering a frothy, dry LuMi Negroni Sour to go with these). A little disk the waiter calls a 'frozen mushroom biscuit' has the texture of finely sliced cookie dough, but with the umami depth of mushroom. A chicken macaron is filled with chicken liver pâté, and crushes in the mouth with a delicate bite. Wedges of lettuce coated in pistachio miso don't work quite so well, the flavour of seaweed overwhelming everything else. And as lovely as these are, we can't help but miss the chewy, refined potato focaccia that featured on their inaugural menu last year.
The chawanmushi remains from the original menu however, and is still a showstopper. It's a dish we've seen around a lot this year, and here the tender, savoury soy-based custard comes in a little bowl with a trickle of citrusy sauce poured over the top. It's a delight. Raw lobster flakes are served with shaved kohlrabi and a shiso-based powder, the flavour headily oceanic. The slice of salt-baked beetroot that greets us next is, in contrast, all about the earth. It's served coated in black sesame sauce and dressed with a pungent goat's cheese sauce and cherry-beetroot juice, with hits of horseradish to amp up the earthiness even more. If you like beetroot, you'll love this. If you're borderline, you absolutely will not.
Zanellato is a pasta-maker extraordinaire, and each one of the tiny agnolotti (like little tortellini) served next burst in your mouth, exuding liquid, hot, Gruyère cheese. The porcini butter and cabbage powder balance and nuance the richness of the cheese. The burnt semolina spaghetti is less successful however. The two previous times we've eaten here, the pasta has been the meal's highlight (this reviewer has had dreams of the bottle squid and candied orange tonnarelli) but this time it falls a little short. It's tossed in a quail sauce and topped with fragrant marjoram, but the texture, more reminiscent of Hokkein noodles than pasta, feels awkward and slightly waxy in the mouth, and the flavours are dull. The beef cheek, however, is meltingly tender, served on a bed of silky parsnip puree, little raw enoki mushrooms for bite and a blackberry powder.
Zanellato knocks it out of the park with his pre-dessert, just as he did with 'Evergreen' when LuMi first opened. It's a little tower of yuzu and mandarin sauces topped with liquorice-flavoured shards. The final dessert of punchy ginger ice cream, passionfruit cream and white chocolate foam topped with more of that cookie-dough-like frozen biscuit (sweet, not savoury, this time) rounds things off beautifully; it's that balanced and refreshing.
LuMi is an exciting restaurant to come to Sydney. It feels as if Zanellato has come into his own, unrestricted by the confines of the palate of Alex Pavoni, who is executive chef at Ormeggio. Most dishes are excellent, and sincerely creative. Sure, we'd prefer a few less powders, which feel repetitive and often overpower the other more delicate elements of each dish. And there's something to be said for keeping what have already become classics on the menu. There are hits and misses at LuMi, but the hits are so high that they feel worth any digressions. Zanellato is a bloody brilliant chef, a shining star of 2015, and this is a restaurant you need to experience to believe.
---
Venue name:
LuMi
Contact:
Address:
56 Pirrama Rd
Pyrmont
2009

Opening hours:
Dinner Wed-Sat 6pm-late; lunch Fri-Sun noon-3pm
Rating Breakdown
5 star:

0

4 star:

0

3 star:

0

2 star:

0

1 star:

1
After reading great reviews about Lumi Dining and after informing my partner this is where I wanted to celebrate my birthday dinner, my partner on a weeknight last week (on loudspeaker and infront of me) called around 7pm to make a booking for my birthday last night.
He was greeted by a female (who I believe was Isabella) then confirmed and took my partner's booking down for last night at 7pm for a nice area. She took his credit card details and informed him that no charges were to be made on the card unless we cancel within a certain period of time and informed him that the booking was made and that we would be contacted a day prior to confirm the booking.
An hour before the dinner last night at 6pm. My partner calls decides to call to double check as he was concerned about not receiving a confirmation yesterday. We were incredibly shocked to find out that no booking was taken down and only to find out an hour before the dinner!
What made it even worse is that both the receptionist Isabela and the venue manager (whose name I believe was Jacquard) constantly gave us attitude and kept acting like we were lying about making a booking! How can you treat your potential customers like that!
After being interrogated and practically made out like we were liars. The venue manager reluctantly stated that the only thing we could do was to be squeezed in at 8.30pm next to a large group. We decided not to go ahead because of how poorly we were treated and due to how late they pushed us back for.
I'm now furious to say that my birthday night was essentially ruined because of the incompetence of the individual that took our details down and due to the rudeness of Isabella and the manager Jacquard for implying in the first place that we were lying about making a booking.
After being so excited to try Lumi dining and after making arrangements in advance just to spend my birthday there I am now officially disappointed at the horrible service and will be telling all of my family and friends how poor the service is.
Now what concerns us is where my partner's credit card details are. If there are unauthorised charges on the credit card - we will know where to look first.
This is the most appalling service we have ever encountered.
2 hours after the ordeal (8pm) we received a call from a different manager/owner, who told us they actually had us booked in but the person who booked us in booked the reservation another a different first name with the same surname. The other manager realised this when their 7pm booking didn't show (which was meant to be us) and when they cross checked the mobile number and surname we gave in the initial phone conversation at 6pm today to the booking made. Which should have been done from the start of the phone call at 6pm by the male venue manager, jacquard. Instead the venue manager decides to give me attitude and accuse me of lying about making our booking!!! The other manager then tells us to come back and to apologise for the issue offers a measly bottle of champagne!!!! After ruining my birthday and having staff insult both myself and my partner, asking us to come back in later and just offering champagne is an even bigger insult! Horrible experience without even visiting!