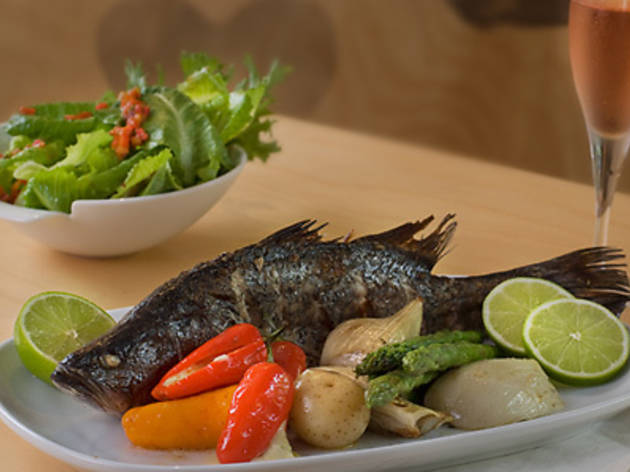 Time Out says
It's all about the beef at Mu Mu
While fine dining restaurants bitch and moan about having to put a steak on the menu (and then charge upwards of $60 for it), restaurants devoted purely to the noble bovine are going gangbusters all around town. From established chophouses like Prime to Rockpool Bar and Grill, steak is the new steak.
Chef Craig Macindoe's menu is a mix of little tapas-y things and straight up grill greatest hits. Grilled feta is warmed through and served with lemon, oil and oregano. It really needs some bread or some sort of carb raft to provide some relief from all that rich, creamy cheese, which gets a bit sticky in the mouth after a while. Onion rings are a super cute idea, but they need to re-think their batter if they're going to be served as a tapa - here, they're those crisp floured ones, not the plump American style that you might expect. They'd be a great touch on top of a steak or a chop, say, but don't work as a snack plate.
But if you hit the steak, you're in for a treat. The scotch (sourced from the pastures of Dungog, just outside Newcastle near Scone) is juicy and pink, well seasoned and encrusted with smashed capers and parsley with a nice fat coverage. Ribs, on the other hand, are a bit disappointing. The house-made barbecue sauce lacks the sticky, finger coating richness that make ribs so exciting. And no bib! What's the point of eating a rack of ribs in a steakhouse if they don't embarrassingly bib you?
It's true that it's become incredibly fashionable to serve proteins like steak and fish bereft of sides like they do in Italy, but in most restaurants they're usually offered, even if you have to purchase them separately. Here, it seems they'd rather you appreciated the meat without tainting it with frivolities like greens or salad.
The wine list is a nice mix of Aussie, French and Spanish varietals and there's plenty to like with an even coverage of prices. There's also a bar where you can wait for your table or even just prop up with one of their classic cocktails and some tapas. Word is they're working with Spanish importer Javier Degen to create a jamon bar, too.
And while we're sad as hell they're out of the brown sugar pavlova, we're mollified by the gingerbread ice cream sandwich that sees slices of soft ginger bread sandwiching vanilla ice cream with a scattering of stone fruit. This could be a really solid offering for Crows Nest if the service stepped up a couple of notches and they ironed out the kinks in the menu.
Details
Best selling Time Out Offers