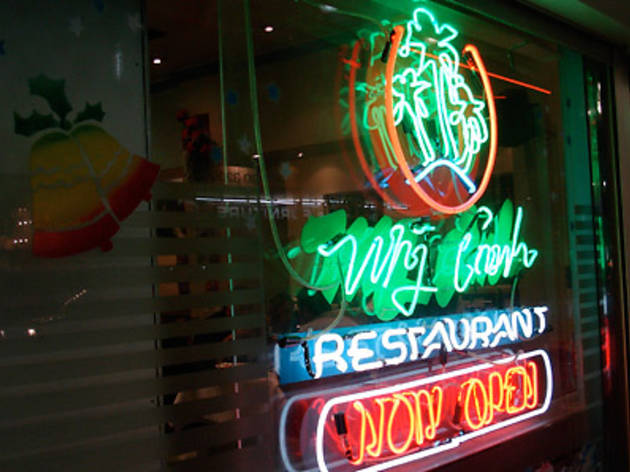 For the best pho in Bankstown, you'll want to head to Pho An but for everything else you can't look past My Canh
You can eat here pretty late (they close at 11pm) and even at this time there are kids in highchairs being fed spoonfuls of noodles and chucking around bean sprouts. The menu is huge with the usual deep fried gear but there's also fish maw (no, it's not a giant gaping mouth of some mythical scaled beast, it's the air dried bladder of a large fish) and crab-meat soup. The eats are splendid here and cheap, too. The banh xeo - a type of Vietnamese pancake filled with fresh bean sprouts and slices of pork - is served with a fish and chilli sauce, basil leaves and lettuce that you wrap around pieces of the pancake.

One of the most interesting dishes is the salad of papaya, prawn, pork and jellyfish served with prawn crackers - a texture fest with the chew of the jellyfish, the tang and bite of the green papaya and crunch of crisp deep fried shallot. Or try the vermicelli rice salad with little pieces of broken up spring roll and sweet pork with fish sauce and crunchy little bits of toasted peanut. To drink, you can either stick with tea or try a soda chanh (lemon soda) - lemon juice, sugar, soda water and lots of ice - refreshing and cool. And if you're up to it, there's a dish of minced beef with the faintest whiff of coconut that you scoop onto prawn crackers straight out of its little foil nest.

The menu here is huge and no matter what your culinary predilections, if you're a fancier of Vietno food there's plenty here to chose from. And check out the big sign in the front window - they welcome breast feeders with open arms.
Venue name:
My Canh
Contact:
Address:
29-31 Greenfield Pde
Bankstown
Sydney
2200

Opening hours:
Daily 11am-11pm, Tue 5pm-11pm